The "worrying" threat of clashes with Russia should not prevent Britain from joining airstrikes against Islamic State (IS) in Syria, Michael Fallon has insisted.
The Defence Secretary reiterated the Government's commitment to holding a fresh Commons vote, saying there was an "inescapable logic" to extending the military action across the border from Iraq.
He also accused President Vladimir Putin of "prolonging" the bloodshed in Syria by propping up Bashar Assad's regime, the Press Association reported.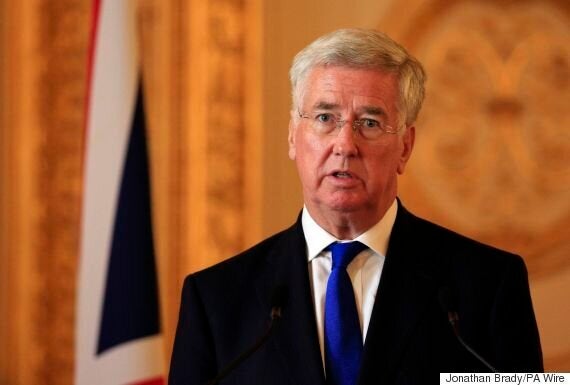 Michael Fallon says the UK should join airstrikes against the Islamic State and not worry about clashing with Russia
Asked about the prospect of the RAF hitting IS - also known as Isil - targets in Syria, Fallon told the BBC's Andrew Marr Show: "The logic is inescapable. Isil - that is a huge threat to this country, to the stability of Iraq, to the stability of the whole region - has carried out barbarous acts. Isil is run from north east Syria where Assad has not been in control for a couple of years.
"It is run from north east Syria, its command and control is there, its logistics and supply routes in to Iraq.
"The others in the coalition have been striking at these targets, they would like us to take part but we don't yet have parliamentary authority to do so."
Fallon criticised the Russians for killing hundreds of civilians by dropping bombs indiscriminately in Syria, and insisted 80% of their targets had nothing to do with IS.
"What they are doing is propping up the Assad regime, making the resolution of all this more difficult, they are prolonging the conflict and civilians are being killed," he said.
Fallon denied that Russia had succeeded in "closing off" the skies over Syria, pointing out that the US and allies were flying missions over Raqqa in the north east.
Asked about the risk of a collision or accidental clash with Russian forces, Fallon said: "I am worried. When you have this activity you have on the Turkish border, which is a Nato border ... you have seen incursions into Turkish airspace."
But he insisted: "I don't think we should let Russia divert us for a moment from our focus against Isil.
"Don't let us forget that Isil beheaded British hostages, they were behind the slaughter of 30 British holidaymakers on a beach in Tunisia.
"They have been killing Christians, they have been killing gays ... they are a very direct threat to the peace in the Middle East and they are a very direct threat to us here in the UK.
"We should not be diverted by Russia from tackling Isil harder."
Fallon appealed for Putin to "come and work with us on a political solution".
"Assad cannot be part of Syria's future and Russia really ought to be working with us to get a better and more comprehensive government in place that will bring an end to this bloodshed," he added.
The Commons refused to authorise airstrikes in Syria two years ago. Labour leader Jeremy Corbyn has indicated he opposes a broadening of military action against IS but a significant number of the party's MPs are thought to be ready to support such a move to protect civilians.
Popular in the Community