A group of cleaners are protesting at the Foreign Office after, they claim, they were disciplined and, in some cases, lost their jobs for asking to be paid the Living Wage.
The Living Wage Foundation and Citizens UK staged a protest on Monday morning with those cleaners, who gave speeches claiming they were "bullied" for their campaign.
Labour condemned this but a more complicated story began to emerge as the cleaners' employers said no one was disciplined or sacked though there were redundancies for unrelated reasons.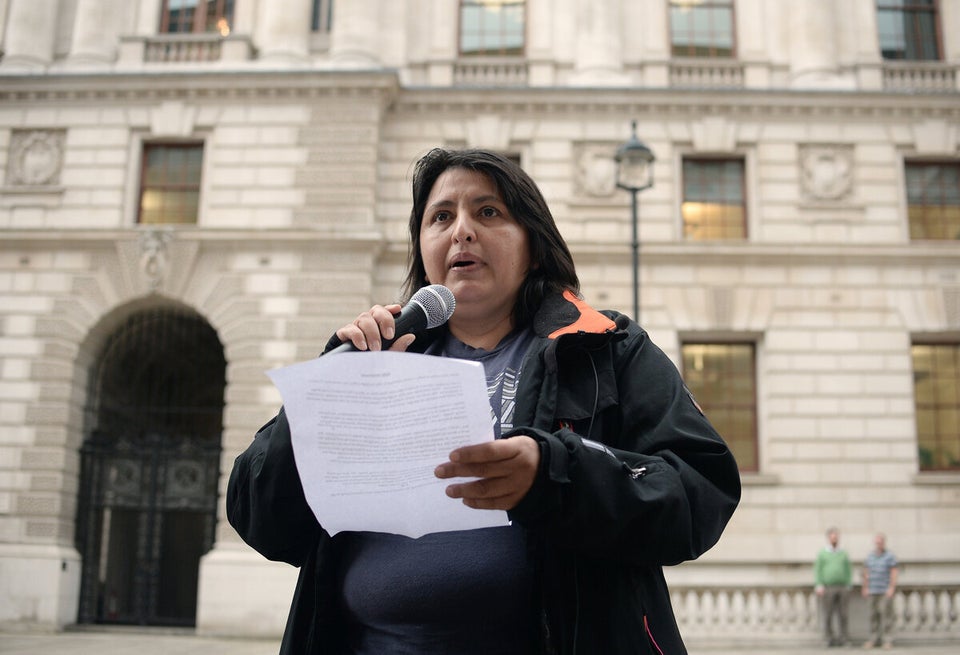 Foreign Office Cleaners Protest For Living Wage
Interserve, the Foreign Office's contractors, said the redundancies were because the Foreign Office was vacating its Old Admiralty House building and fewer cleaners were needed.
Shadow Foreign Secretary Hilary Benn said: "It is extraordinary that cleaners working at the Foreign and Commonwealth Office appear to have been called in by their employer because they had had the temerity to write a letter to the Foreign Secretary about their rates of pay.
"Philip Hammond need to investigate Interserve's conduct immediately."
Fourteen cleaners, who were paid £7.05 an hour, above the minimum wage of £6.70, co-signed a letter to the foreign secretary in July asking to be paid the London Living Wage of £9.15 an hour.
Three of them now face redundancy and believe they were targeted for their campaign on pay, according to The Guardian, which also reports they were investigated for "bringing the contract into disrepute".
The cleaners affected marched with community leaders and civil servants at the protest today.
Kathy Rojas, one of the cleaners who was made redundant, told the protest: "Because of my living wage campaign, my bosses bullied me - but I didn't stop."
Before the protest, she told The Guardian: "I was one of the best cleaners there. I never had any trouble with my job. Some clients sent emails saying I was great.
"They made me redundant and kept people who were in the company two years and had grievances against them for bad behaviour and not me."
In a statement, a Foreign Office spokeswoman said that Interserve assured the ministry no one was made redundant over the living wage campaign.
She said: "We are in the process of vacating the Old Admiralty Building, which has reduced the number of cleaning staff required.
"We have not taken any disciplinary measures against any cleaning staff. Our contractor, Interserve, have assured us that no one has been made redundant as a result of a letter asking for an increase in pay.
"From April 2016 all Interserve staff will benefit from the new mandatory National Living Wage."
"It would not be appropriate for the Foreign Office to comment further on an internal investigation being undertaken by our contractor."
She added that Foreign Office Minister David Lidlington had written to Citizens UK on Saturday, in response to a letter from them raiisng concerns about the cleaners' treatment.
He wrote: "I would regard it as wrong were any cleaners to be victimised because they had written to Ministers to set out their concerns."
Interserve told HuffPost UK the redundancies and living wage campaign were not related. The company is expected to release a more detailed statement imminently.
Related