Becky Watts told a friend her stepbrother graphically described how he would kill her in the years leading up to her death, a court heard.
Nathan Matthews, 28, is accused of murdering the 16-year-old with his girlfriend Shauna Hoare, 21, in a sexually motivated kidnap plot in Bristol on February 19.
The couple allegedly dismembered Becky - Matthews's stepsister - into eight parts, which were discovered in a shed 80 metres from their home on March 3.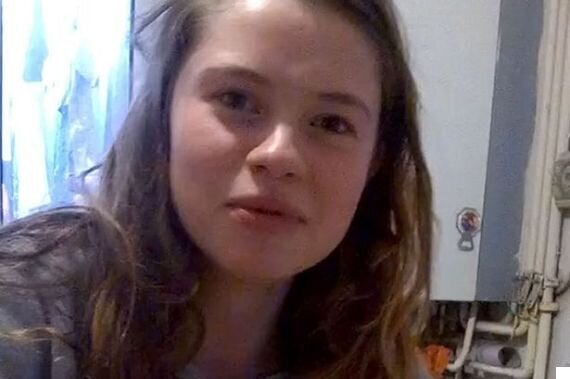 Becky Watts went missing in February. Her body parts were found in March
Bristol Crown Court heard Courtney Bicker, 17, one of Becky's best friends, gave an interview to police hours before the grim discovery was made outlining her relationship with the pair, the Press Association reports.
"Becky's told me a few times, like this has happened a number of occasions, that Nathan would graphically describe - this is her exact words - how he would kill her," she said.
"And he said a few things, like, in the past like a bit gruesome, like, not necessarily about killing someone but about like wounds and stuff.
"He'd describe it quite in detail but she mentioned it a few times, like it was troubling her the fact he said that and she did seem a bit scared of him."
Ms Bicker said Becky first mentioned the threats in 2013, when they became close friends, and again in 2014.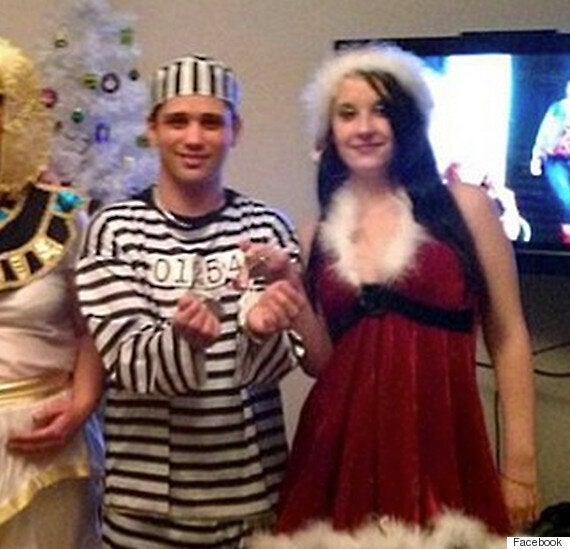 Nathan Matthews pictured with his girlfriend Shauna Hoare at a Christmas fancy dress party
She told police Matthews had never made such threats in front of her but Becky would tell her about them.
"I've heard him saying things like, little jokey comments like about hammers and stuff, like jokey stuff like that," she added.
"He said it to us and these weren't really alarming at the time obviously. She mentioned it a few times meaning that she felt he was serious, like she said that I think it scared her."
Ms Bicker said Matthews had told Becky how he would kill her but she never found of what method he would use.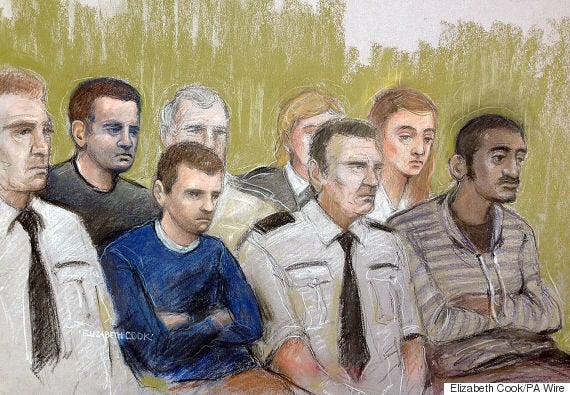 Left to right back row: Nathan Matthews, two dock officers, Shauna Hoare (front row left to right) dock officer, James Ireland, dock officer and Donovan Demetrius at Bristol Crown Court
"I think he said multiple different things because she brought it up quite a few times and it's like she said, 'he keeps graphically describing how he's going to kill me'.
"Obviously, I think she must not have taken any notice of it to still be around the guy."
Ms Bicker said she could not remember details of what Becky had told her but claimed Matthews had mentioned a sledgehammer on one occasion.
"They would just have a normal conversation and he'd bring it up," she said. Becky is alleged to have died in a sexually motivated kidnap plot
"Like, he'd bring up graphic kind of things now and again. She would have said if he hit her, I'm pretty sure she would have said that but I don't think any violence occurred.
"Every time she spoke about the stuff he did to her, like collectively, like she'd say it like usually all at once she seemed like she was scared of him."
Becky told Ms Bicker her stepbrother had threatened her "quite angrily like a proper threat" because she was doing something he did not like.
On another occasion, Becky recalled how Matthews had become "aggressive" in the lead up to the wedding of his mother, Anjie Galsworthy, to her father, Darren Galsworthy.
"When he was given his suit he got really angry and he basically threw a fit and she said that he's got anger problems," the teenager said.
Ms Bicker went on holiday to Butlins in 2014 with Hoare, Matthews, Becky and Mr and Mrs Galsworthy.
"She was repeating it before that he made some comment about ripping out her toenails, something like, with a... with a hammer or something," she said.
"I was sat on the couch next to Becky and he was standing in front and he actually did actions and stuff.
"Like pulling out the toenail with the end of a hammer or something like that, it was... we were just about, oh 'cause Becky checked her toenail at the time we went to Butlins before on the pool at Butlins and it was like... I think he was mentioning like ripping out her toenail based off that.
"Becky was like, like funny I guess, it was like that's his sense of humour kind of thing. But obviously she mentioned to me multiple times like you know, he graphically described how he would kill me kind of thing.
"It's like she wanted it off her chest and tell me and she obviously couldn't tell anybody else."
Ms Bicker told police Matthews owed Becky £100 but the teenager felt she couldn't mention it to her stepmother, as she would side with him.
The court heard Matthews purchased an Xbox from Becky, which she later bought back from him and he kept some of the "expensive games".
"He owed her money and he always ripped her off every time and she thought this is my family, they shouldn't rip me off like this and she's mentioned that to her grandma as well," Ms Bicker said.
"She spoke quite badly about him to her nan. He would kind of rip her off, give her a bad price and when she wanted the Xbox back he didn't give her all of it back, he kept some of the cables."
Ms Bicker told police Matthews was controlling of Hoare, who "got along quite well" with Becky.
"Becky said that Nathan wouldn't let Shauna cut her hair short and said he would buy her clothes to wear, it seemed really controlling but I don't think she realised it," she added.
Matthews, of Hazelbury Drive, Warmley, South Gloucestershire, denies murder and conspiracy to kidnap.
He admits killing Becky, perverting the course of justice, preventing the burial of a corpse and possessing a prohibited weapon.
Hoare, of Cotton Mill Lane, Bristol, denies murder, conspiracy to kidnap, perverting the course of justice, preventing burial of a corpse and possessing a prohibited weapon.
The residents of the Barton Court property, Karl Demetrius, 30, and his partner Jaydene Parsons, 23, admit assisting an offender after the teenager's body was discovered in their shed. Both maintain they were unaware of what the packages actually contained.
Donovan Demetrius - Karl's twin brother - of Marsh Lane, Bristol, and James Ireland, 23, of Richmond Villas, Avonmouth, a work colleague of Karl, deny the charge.