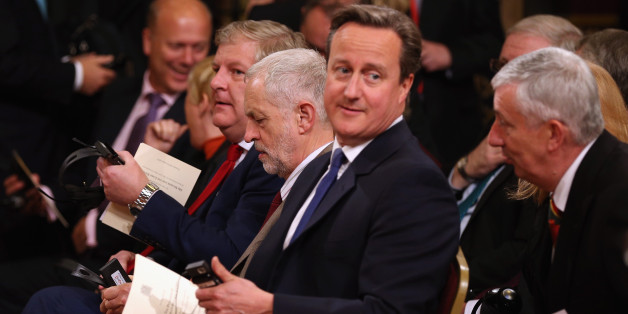 Dan Kitwood via Getty Images
Jeremy Corbyn has denied claims he joked about an "ex-prostitute" with David Cameron, after lip-readers claimed the Labour leader relayed a piece of unusual gossip to the prime minister in footage taken from a meeting on Tuesday.
Corbyn was filmed without audio talking to Cameron as they sat next to each other in parliament's Royal Gallery as they waited to hear Chinese President Xi Jinping give a speech.
The press excitedly tried to discover what he said. The Daily Mail and The Sun reported lip readers' claims that Corbyn told the Prime Minister: "It was difficult because, erm, that's his ex-wife who is, erm, apparently an ex-prostitute."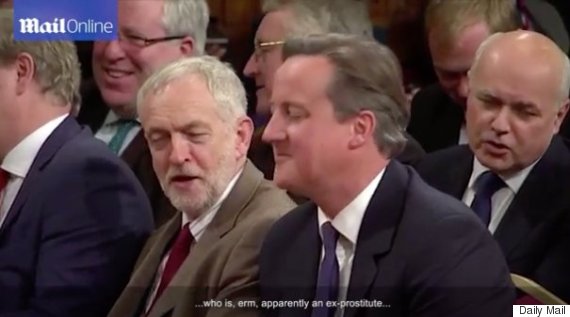 This is great https://t.co/mjcXqBa5xf pic.twitter.com/eTfWGZwlD7

— Ned Donovan (@Ned_Donovan) October 21, 2015
Watch: David Cameron & Jeremy Corbyn seem deep in conversation ahead of President Xi Jinping's speech at Westminster https://t.co/25O4it4UQL

— Sky News (@SkyNews) October 20, 2015
@paulwaugh Mine's on 'proletariat'.

— Robert Kaye (@rpkaye) October 21, 2015
Cameron says simply 'oh' and then turns the conversation to the fact self-employment levels are "down gradually", the paper reported.
But Corbyn's spokesman has denied this what the Labour leader said, telling HuffPost UK's Paul Waugh: "He didn't say it."
Jeremy Corbyn spokesman says he denies he said the word 'prostitute' in Cam chit-chat yesterday. "He didn't say it"

— Paul Waugh (@paulwaugh) October 21, 2015
My money's on Corbyn having said 'peripatetic music teacher' rather than 'prostitute' #lipreader

— Paul Waugh (@paulwaugh) October 21, 2015
Words that rhyme with "prostitute" include constitute, convolute, obvolute, execute and prosecute.
Despite Corbyn's immediate denial that he used the word "prostitute", it didn't stop reporters and pundits speculating about who the two politicians may have been talking about.
'It was difficult because, erm, that's his ex-wife who is, erm, apparently an ex-prostitute." Peach of a story! Who? https://t.co/8psVm3dXOc

— Kevin Maguire (@Kevin_Maguire) October 21, 2015