Chinese President Xi Jinping was challenged over his record on human rights in public today, however it was not by David Cameron.
At a press conference in London, journalists were given just two questions. One from the British press. And one from the Chinese press.
The BBC's political editor Laura Kuenssberg decided to skewer both the British prime minister and the Chinese president on Beijing's human rights record and the UK's decision to pursue deeper business ties.
She asked Cameron: "If you were a steel worker who had lost their job yesterday at the same time as seeing President Xi being ferried down Whitehall in a golden carriage how would you have felt?
"Is there any price that is worth paying in order to further our business interests with China?"
Turning to President Xi said asked: "Why do you think members of the British public should be pleased to do more business with a country that is not democratic, is not transparent and has a deeply, deeply troubling attitude towards human rights?"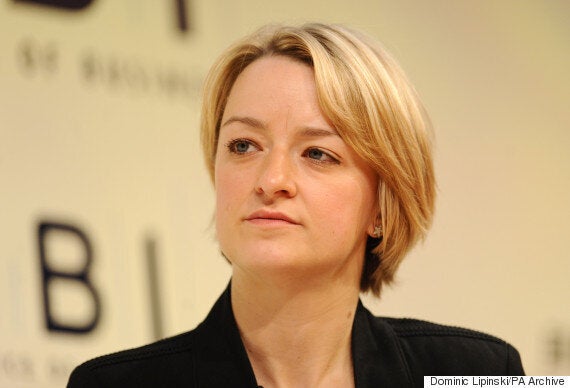 BBC political editor Laura Kuenssberg
President Xi replied to Kuenssberg: "Coming to human rights issue that you asked China attaches great importance to the protection of human rights. We combine the universal value of human rights with China's reality and we have found a part of human rights development suited to China's national conditions.
"With regard to protection of human rights, looking round the world we know that there is always room for improvement. All countries need to continuously improve and strengthen human rights protection to meet the need of the time and the people.
"On the issue of human rights, I think the people of our respective countries are in the best position to tell, and China is ready to, on the basis of equality and mutual respect, increase exchanges and cooperation with the UK and other countries in the area of human rights."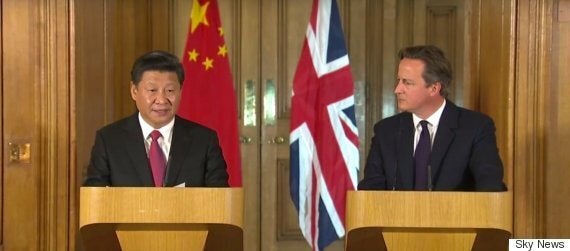 Cameron said he wanted to "completely reject" the premise of Kuenssberg's question that it was a choice between human rights of business deals.
"My contention after five years of doing this job is that you can have both indeed you must have both," he said.
"The stronger our economic, trading, business and other partnerships, the stronger our relationship and the more able we are to have the necessary and frank discussions about other issues."
The UK government's decision to roll out the red carpet for the Chinese president has proved controversial, not least due to job losses at British steel plants which have been in part blamed on China flooding the global market with cheaper metal.
Labour leader Jeremy Corbyn raised concerns about human rights at meeting with President Xi last night. However it was not in public.
Cameron and chancellor George Osborne, who recently visited China, are hoping for extra China investment in Britain including in a new nuclear power station.
The former director of strategy for Cameron has hit out at the prime minister's welcome for visiting Chinese president Xi Jinping, calling it "one of the worst national humiliations" since Britain begged for money from the International Monetary Fund in the 1970s.
In an interview on BBC Newsnight on Tuesday, Steve Hilton slammed the banquets and processions being held for China's leader on his state visit, saying the country was a "rogue state" and that he didn't understand "why we are sucking up to them".
He said we should impose sanctions on China, rather than "rolling out the red carpet".
Hilton, who advised Cameron until 2012 and now runs political data company CrowdPac, compared the embarrassment of China's visit to when Prime Minster James Callaghan was forced to ask the International Monetary Fund for a £2.3 billion rescue package in the 1970s, the largest ever bailout request at the time.
Popular in the Community