David Cameron has threatened the House of Lords not to block his tax credit cuts – or face a constitutional crisis that could trigger a flood of new Tory peers.
In his strongest warning yet, the Prime Minister said that he was 'delighted' his controversial welfare cuts had been backed by the Commons and said the Lords 'should listen very carefully'.
Labour pounced on his 'delighted' remark, but Mr Cameron pointed to the last huge confrontation between the two Houses of Parliament in 1911, which led to peers being allowed only to delay rather than block legislation.
His warning came as independent crossbench peer Baroness Meacher watered down her own 'fatal' motion criticising the tax credit cuts, admitting she had come under huge pressure from ministers to avoid a constitutional clash.
But Labour's Baroness Hollis tabled her own motion, to be debated next week, which aims to force the Government to cushion the blow of the cuts or face them being halted altogether next April.
And the Liberal Democrats - who with Labour form an anti-Tory majority in the Lords - tabled a 'fatal motion' of their own, vowing to flatly turn down the cuts.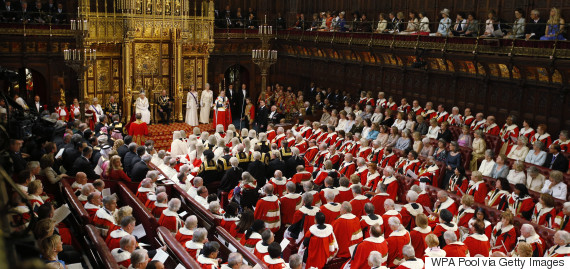 The House of Lords: flexing its muscles - or backing off?
After a frantic few days over intense pressure on the Treasury to look again at the impact of the cuts, Jeremy Corbyn and other Labour MPs repeatedly raised the issue at Prime Minister's Question Time, citing Tory MPs' own worries about the plans.
Tory backbencher Jacob Rees-Mogg raised the problem of the Lords, claiming that any move to block the cuts would be "a serious challenge to the privilege of this House".
Mr Rees-Mogg asked: "Does he further share my concern that this would then entitle him to review the decisions of Grey and Asquith in relating to creating more peers to ensure the Government could get its financial business through?"
This was reference to the 1911 Liberal Government, which threatened Tory hereditary Lords that it flood the Lords with peers unless they accepted a new legal curbs on their powers.
Appearing to confirm HuffPost's exclusive that Tory peers could be created in retaliation, Mr Cameron replied: "My Honourable Friend makes an important point."
Referring to the 1911 Parliament Act, he said "Clearly under that Act, it's supposed to be that issues of finance are decided in this House."
The Prime Minister then pointed out that the Commons had voted for a 'statutory instrument' which implements the tax credits cuts, as well as against a Labour motion on Tuesday that tried to reverse them.
"I think the House of Lords should listen to that very carefully and recognise it is for this House to make financial decisions and it is for the other House to revise other legislation," he said.
Asked to clarify his remarks afterwards, the Prime Minister's spokesman said 'you've got the Prime Minister's words' and pointed to the historic 1911 Parliament Act's restrictions on the Lords' powers.
But Labour MPs also seized on Mr Cameron's line during PMQs that he was 'delighted' that the Commons had voted to reject Labour's motion.
He told the Commons: "The tax credit changes are part of a package that includes a higher national living wage and tax reductions and I think that is the right approach...and I'm delighted that once again this measure passed the House of Commons last night in a big majority."
The Artist Taxi Driver let rip at the PM's line.
And Twitter reacted swiftly too.
David Cameron saying he is "delighted" at the tax credit cut is a Labour PPB in the making. #PMQs #bbcdp

— Liam Hill (@liamjlhill) October 21, 2015
If Cameron has to say he shouldn't have used the word 'delighted', or better still tries to defend it, that's Jezza's first major victory.

— Damian McBride (@DPMcBride) October 21, 2015
Cameron says he is "delighted" the tax credit changes were voted through by Tory MPs yesterday. Let's hope he lives to regret it #pmqs

— Michael (@TheRightArticle) October 21, 2015
Cameron's "delighted" moment a sign his #PMQs anger issue still unresolved. The word undercuts the entire Tory "real workers' party" effort.

— Michael Savage (@michaelsavage) October 21, 2015
Low point of #PMQs has to be Cameron telling us he is 'delighted' tax credits cuts were voted through again last night. So #outoftouch

— Luciana Berger (@lucianaberger) October 21, 2015
Ever wondered what "delights" David Cameron? Well, now we know. Turns out it's cutting tax credits for million of workers #PMQs #WorkPenalty

— Owen Jones (@OwenJones84) October 21, 2015
Over in the Lords, the Government's warnings appeared to have worked on Baroness Meacher, who had planned to table a 'fatal motion' that would have killed the tax cuts plan and forced ministers to start again.
Labour's Lords Twitter feed hit back at threats by the Goverment.
For those sabre-rattling re: constitution, Bns Hollis #taxcredits Motion is not 'Fatal' in name. If backed, will put ball in Osborne's court

— LabourLordsUK (@LabourLordsUK) October 21, 2015