More than 180,000 animals were poisoned, given degenerative disorders such as Parkinson's disease or exposed to "severe" toxicity tests in UK laboratories last year, figures have revealed.
For the first time, the Home Office figures have included the level of trauma experienced by monkeys, dogs, rabbits, mice and rats as they undergo testing.
Animal protection groups have lambasted the "shocking" levels of suffering animals endured in British labs last year, in addition to the "completely unacceptable" lack of progress in substituting animals in research.
Advocates of using animals for research purposes said that most modern medicines used by humans were originally trialled on other species first.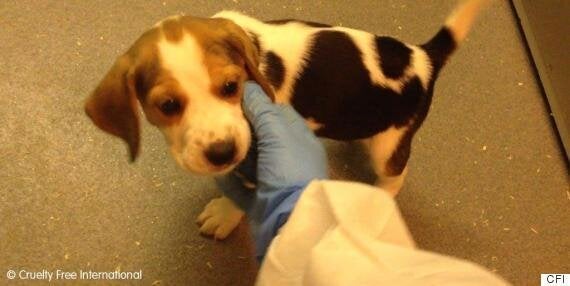 Protected species such as dogs underwent 16,000 tests
In total 3.8 million animals were used in 3.87 million completed scientific procedures in 2014.
Of these, 1.94 million related to the creation/breeding of genetically modified animals, while the remaining 1.93 million were used in experimental procedures.
Mice were subjected to the most experiments last year in 1.16 million procedures.
Protected species such as horses, dogs, cats, and non-human primates were the subjects of 16,000 tests - the same proportion as in 2013.
Breakdown of the 1.93 million experiments conducted in 2014:

Mice - 60% or 1.16million procedures

Fish - 14% or 264,000

Rats - 12% or 234,000

Birds - 7% or 139,000

Protected species including horses, dogs, cats, and non-human primates - 0.8% or 16,000
For the first time, every member of the European Union is required to collect and publish data detailing the 'severity' of tests.
Suffering is measured in five categories: 'Sub-threshold', 'non-recovery', 'mild', 'moderate' or 'severe'. Researchers themselves judged which category an animal was in.
A total of 49% of the overall procedures were categorised as causing animals 'mild' suffering, 14% involved 'moderate' suffering and 5% involved 'severe' suffering.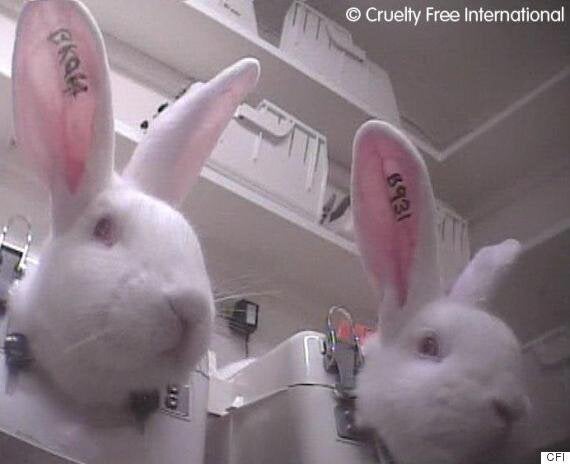 Rabbits were subjected to 14,000 procedures last year
Speaking to the Huffington Post UK, Katy Taylor, Director of Science at Cruelty Free International, set out some of the differences between the categories of "mild" and "severe" levels of suffering.
Dr Taylor said that "mild" examples include injections, general anesthetic and being given some forms of cancer.
She added: "'Severe' tests include toxicity tests where they [the animals] have died or where they are poisoned to death.
"Some undergo Xenotransplantation, where organs are implanted from one animal species into another. And others are given severe forms of Parkinson's disease."
Speaking of the figures released on Thursday, Dr Taylor added: "This is just a proportion of the animals that are being used. It doesn't tell us how effective the experiments are.
"At the moment all the public has to go on is what the researchers tell us. What we would like to see is greater transparency."
Figures show a decrease of 6% in the number of animals used in experiments, but anti-vivisection campaigners say they do not "automatically welcome the drop" as there has been a change in the way statistics have been recorded.
Cruelty Free International cited concerns over the way in which the severity assessment was carried out and say that the actual level of pain and suffering experienced by the animals could easily have been underestimated.
Michelle Thew, chief executive of Cruelty Free International, said: "The UK should be leading the way in reducing animal testing, yet we remain one of the world's largest users of animals in experiments. This lack of progress is completely unacceptable."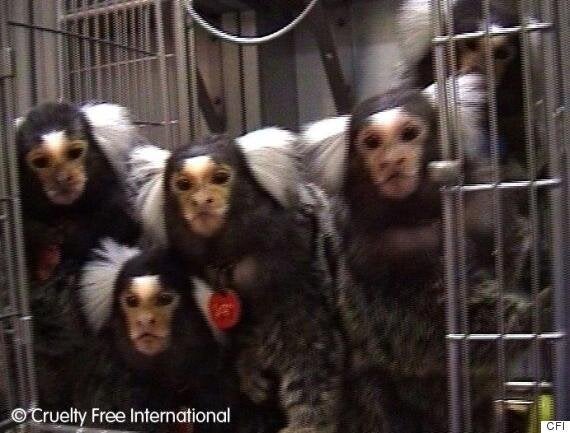 Monkeys are among the 'protected species' used in thousands of laboratory tests
Jan Creamer, President of the National Anti-Vivisection Society, said: "The level of suffering animals are experiencing in Britain's laboratories is shameful.
"Until now, the pain and distress these animals were forced to endure was unknown; the research industry's dirty secret.
"There is an urgent need for greater transparency and accountability in animal research, so these extreme tests can be reviewed and replaced with advanced non-animal methods."
Penny Hawkins, head of the research animals team at the RSPCA, said: "Since 2010, the RSPCA has led a ground-breaking initiative, working with researchers, vets, animal technologists, Home Office inspectors and others to develop practical approaches towards avoiding, reducing and ultimately ending severe suffering.
"This new data further highlights just how important this work is, if we are going to reach the point that everyone tells us they want to see - no more animals experiencing severe suffering. "
Home Office Minister Lord Bates said: "I am encouraged to see a decrease in the number of scientific procedures carried out on animals.
"Today's figures indicate the science community continues to respond to the Government's firm commitment to adopting measures to replace, reduce and refine animal use.
"We are fully dedicated to the properly regulated use of animals in scientific research because it plays a vital role in improving the lives of humans and animals."
Wendy Jarrett, CEO of Understanding Animal Research, welcomed the new way of recording vivisection statistics, adding that most modern medicines for humans were all tested on animals.
Ms Jarrett added: "The majority of procedures that were designated as 'severe' were for regulatory toxicology, so were required by law rather than being research undertaken to discover how the body works, or to try out potential new treatments for the first time."
Related