Prime Minister David Cameron and Xi Jinping were having a swift pint in a pub just hours after UK police were releasing a Tiananmen Square survivor from arrest over a peaceful protest.
The pair, who have been cozying up this week during the Chinese PM's state visit to the UK, were photographed drinking beer and eating fish and chips. The event comes after a joint statement was made on Thursday, where the leaders praised the trip as opening a "golden era" in UK-China relations.
Meanwhile Chinese democracy activist Shao Jiang was recovering from his arrest, having just been granted bail for attempting to block a police motorcade by standing in front of it - in a scene reminiscent of protests at Beijing's Tiananmen Square in 1989:
He was holding two banners, which reportedly read "End autocracy" and "Democracy now." Police can be seen in the footage above, manhandling him out of the road, before arresting him. During his time in over night detention, Police searched Jiang's home and seized his computer equipment.
Johanna Zhang, the wife of Jiang told the Independent: "When I was told by the police he had been arrested, it was like I was back in China again. All he was doing in the morning was holding protest signs. They were Amnesty International signs calling for the Chinese to end the crackdown."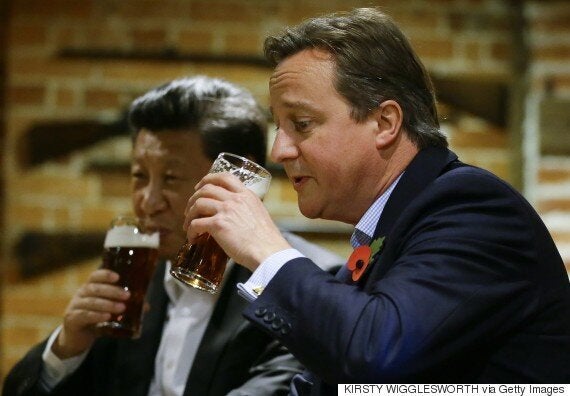 On Thursday evening Cameron and Xi enjoyed a pint
Some human rights activists are suggesting the heavy handed arrests are related to the budding relationship between the two nations and the presence of the Chinese state visitor.
Alistair Currie, spokesperson for campaign group Free Tibet told the Huffington Post UK: "We can't help but wonder whether the police would have had such an extreme reaction to a couple of people waving a flag if they didn't have Chinese officials breathing down their neck.
"We are increasingly concerned that there has been Chinese influence in this case and are appalled that the British Government is allowing foreign influence over something as important as the implementation of justice and human rights."
While Allan Hogarth of Amnesty International UK, said in a statement: "This looks like a very heavy handed response to a peaceful demonstration. The police need to urgently explain to Shao Jiang why they entered his property and took his possessions, and when they will return them."
Two women were also apprehended by police at the events, the activists, named as Sonam Choden and Jamphel Lhamo, both from London, reportedly attempted to wave Tibetan flags at President Xi's passing car, before similarly being dragged away by police.
Jiang was among a group who gathered in secret in a Beijing university to draft the demands of the Tiananmen Square protests in 1989.
He witnessed Chinese soldiers shoot fellow unarmed protesters and was arrested three months after the Tiananmen massacre, spending the subsequent 18 months in a string of overcrowded jails where he was questioned for up to 16 hours a day.
In a statement confirming Jiang's arrest Metropolitan Police told the Huffington Post UK: "At around 16:30hrs on Wednesday, 21 October officers on the security operation for the visiting Chinese President arrested a man in the Bank area to prevent a breach of the peace.
"On Thursday, 22 October all three were bailed to return to a London police station at a later date (TBC) pending further enquiries."
Related