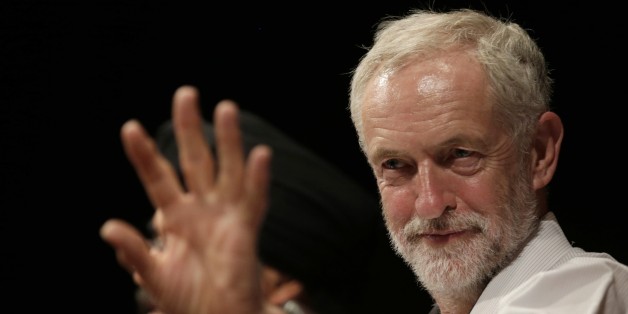 ASSOCIATED PRESS
Jeremy Corbyn had a lot to answer for on Saturday afternoon.
LATEST: John McDonnell Brings Up His Own 'Embarrassing' U-Turn In Letter To George Osborne
It wasn't particularly deserved but that wasn't going to stop the British public blaming him for everything from your hangover to failing to save the galaxy earlier.
Still haven't shifted this hangover 🍻🍷💀 #BlameCorbyn

— Owen Jones (@OwenJones84) October 24, 2015
#BlameCorbyn why didn't you kill Vader when you had the chance? pic.twitter.com/7m7j08KbPU

— greg holland (@Gregandbacon) October 24, 2015
It even led to a rather successful campaign to get people to change their Twitter names to the hashtag.
To ALL our new followers, everyone who's taken part (name change/#-ing), RTers etc!

Just, THANK YOU! 👊 (fist pump!) pic.twitter.com/reeCHSxs9F

— #BlameCorbyn (@The76Percent) October 24, 2015
It all started on Saturday evening with an article by The Telegraph's sketch writer, Michael Deacon, titled 'Don't want cuts to tax credits? Blame Jeremy Corbyn'.
The piece posited that Corbyn was in fact partly responsible for the government's current plans to cut tax credits and and that his supporters should be furious.
He wrote: "Imagine Labour had a more credible leader. A leader the wider public took seriously.
"A leader the Tories felt threatened by, or at least wary of. In those circumstances, the Chancellor might be feeling a little more anxious about tax credits.
"He might back down, for fear that Labour would capitalise on his policy's unpopularity. Yet he doesn't look anxious in the least. And it's all thanks to the Corbynites."
The piece did not go down particularly well on Twitter where the hashtag #BlameCorbyn soon began to trend suggesting other things the Labour leader could be responsible for.
#BlameCorbyn because the moon isn't made of cheese like in Wallace and Gromit pic.twitter.com/LxBfheHCwx

— A Move to the Left (@AMoveToTheLeft) October 24, 2015
#BlameCorbyn ... pic.twitter.com/7kbuf3oT2f

— 990-6907XB71 (@kinoptika) October 24, 2015
#BlameCorbyn for the murder of Bambi's mum pic.twitter.com/GZ1ZgyzHQm

— A Move to the Left (@AMoveToTheLeft) October 24, 2015
The government's plans to cut tax credits has caused a huge amount of controversy not only as a policy but for how the Tories have tried to pass the legislation.
Estimates suggest key workers such as teachers and social workers could be left up to £1,500 a year worse off under the moves.
The House of Lords threatened to block the legislation using a rarely-used 'fatal motion'.
Cross-party campaigners told the Huffington Post UK a crossbench peer is being lined up to table the motion in a bid to prevent George Osborne from putting his controversial £4bn proposals into law.
In response the Tories threatened to suspend the House of Lords or flood it with Conservative peers.
#BlameCorbyn - because I can't find my socks. That thieving commie bugger pic.twitter.com/tkm904thzI

— Will Black (@WillBlackWriter) October 24, 2015
Jeremy Corbyn: Putting Homelessness on the Agenda https://t.co/9oIuDWy0p0 #BlameCorbyn

— Ioan Marc Jones (@ioanmarcjones) October 24, 2015
How anyone could vote a for a man who steals royal babies, I'll never know: #BlameCorbyn pic.twitter.com/r99hGIJsdk

— Tom Pride (@ThomasPride) October 24, 2015
On Saturday, Osborne was been accused of "unspeakable" bullying over tax credit cuts by a peer.
Crossbencher Baroness Meacher complained at the way she and others were treated over proposed "fatal" amendments that would kill off the policy to cut tax credits, the Press Association reported.
She told BBC Radio 4's Week in Westminster: "There has been enormous pressure coming from the Treasury, the Chancellor of the Exchequer, upon peers.
"The weight on me has been unspeakable really. I think it's bullying tactics."
#BlameCorbyn for fighting all his political life for social & economic justice for every citizen & not being in the pocket of the banks

— Harry Leslie Smith (@Harryslaststand) October 24, 2015
Don't blame it on the sunshine, don't blame it on the moonlight, don't blame it on the good times...#BlameCorbyn 😏🎶😆

October 24, 2015
My cat awoke me before 7 to get fed. I #BlameCorbyn - after all my cat obviously heard that you don't have to accept what you're given. :)

— Christian DeFeo (@doctorcdf) October 24, 2015
If a tree falls in the forest and there's nobody there to hear, can you still #BlameCorbyn

— #BlameCorbyn (@fabhorrendo) October 24, 2015
Earlier this week a collection of pre-election TV clippings showed the numerous times David Cameron had promised not to cut tax credits.
During a special episode of BBC's Question Time, aired in April, presenter David Dimbleby asks: "There are some people that are worried about you cutting child tax credits, are you saying absolutely as a guarantee that you'd never have it?"
To which the Prime Minister responds: "First of all child tax credit we increased by 450 pounds..." Dimbleby interjects: "And it's not going to fall?" to which the PM replies: "Its not going to fall."
Fast forward to October, the PM is shown in conversation with Andrew Marr stating: "No, of course we are making some changes to tax credits."
Had to wake up early on a Saturday to drop the wife and kids at the train station - now I can't get back to sleep I #BlameCorbyn

— Fifthcolumnblue (@Fifthcolumnblue) October 24, 2015
#BlameCorbyn - he gave the idea to the Mufti who gave it to Hitler.

— Ben White (@benabyad) October 24, 2015
Have you been sold PPI? If so, #BlameCorbyn pic.twitter.com/iIPrrjniiP

— Messi (@lylescott) October 24, 2015
Unexpected Mishap! #BlameCorbyn pic.twitter.com/XF8vL7vRb3

— fifi ferenghi (@fififerenghi) October 24, 2015