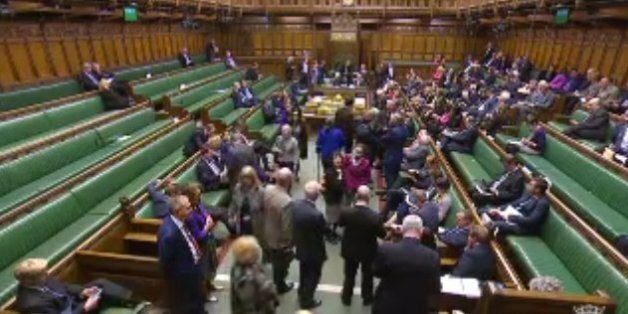 The fight to abolish Britain's "tampon tax" was ignited on Monday, as Tory ministers bowed to pressure and offered fresh concessions to campaigning MPs in a successful bid to stave off their second embarrassing defeat of the evening.
Monday's climbdown earned the Government a tight win, MPs voting by 305 to 287 to block an outright call for removing the 5 percent levy on women's sanitary products, but at the cost of promising to raise the issue with EU leaders.
Currently, tampons are subject to EU tax, meaning that women are charged a government fee to purchase them, on top of the costs incurred by retailers, topped up by profit margins.
Research suggests that some women fork out up to £18,450 across their lifetime to purchase products used for periods.
Labour attempted to call for an end to the tax, with concerns among senior figures in the Conservative Party that the opposition's motion would garner enough crossbench support to force a humiliating defeat on them.
But financial secretary to the treasury David Gauke managed to win over enough of his own party's MPs by committing to raise the issue in talks with European Commissioners.
However, Gauke stressed the law was unlikely to change.
"Without that agreement [of all 28 member states], we are not permitted to lower rates below 5 percent.
"Nonetheless, as this debate illustrates there is very considerable cross-party support for the UK to abolish VAT on sanitary products.
"To that end, I undertake to the House I will raise this issue with the European Commission and other member states setting out the views reflected in this debate - that it should apply a zero rate to sanitary products."
But he added: "I do not want to conceal from the House we don't have flexibility in this circumstances, nor do I want to conceal from the House the challenge that would exist in reaching agreement.
"Other member states do take a different approach... I don't want to pretend this is a formality."
Labour MP Paula Sherriff introduced the bill, and was backed by some Eurosceptic MPs who used their opposition as an attempt to undercut the EU.
Sherriff had told her Commons colleagues that the 5 percent VAT charge "hits the poorest the hardest".
"Imagine, for example, being homeless when that time of the month comes," she said.
"Think what it's like to face a period without even having a bathroom."
SNP MP Alison Thewliss also commented, saying: "It is absurd that while men's razors, children's nappies and even products like Jaffa Cakes, exotic meats and edible cake decorations are free from VAT, women are still having to pay additional costs on what is already an expensive yet vital product."
Concerns were raised that the Government might lose its second landmark vote on Monday, after it suffered a blow from the House of Lords, peers voting to back a Labour amendment that will force George Osborne to mitigate the effects of his tax credit cuts.
Popular in the Community