Daniel Craig made a BIG impression on 'The Graham Norton Show' last Friday - but not necessarily for the right reasons.
The James Bond star was joined by his co-stars Naomie Harris and Christoph Waltz for the 'Spectre' special, although you could be forgiven for not even noticing they were there, thanks to Daniel committing what is becoming an increasingly common crime on the BBC chat show.
One word: manspreading.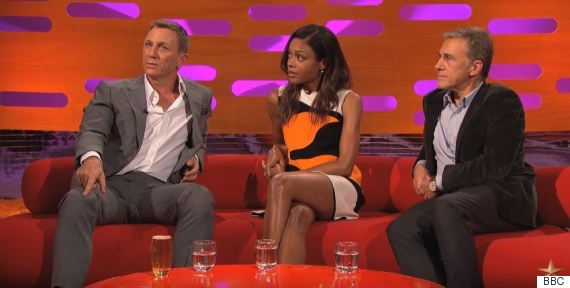 It didn't go unnoticed on Twitter…
Daniel Craig needs to chill out with the manspreading. Jeeeeeez, #TheGNShow

— Missing Miliband (@MrsHudsonsHair) October 23, 2015
Daniel Craig's manspreading on #grahamnorton is absolutely fine because obviously Bond DOES have the biggest balls

— Aisling McDermott (@aismcdermott) October 23, 2015
Great Graham Norton ep. Christoph Waltz, Naomie Harris and Daniel Craig manspreading like his huge crotch needed the space. Thanks, Daniel.

— darling nikki (@viceanglais) October 27, 2015
Yep, taking up the space of two people by spreading your legs as far apart as possible doesn't just occur on the tube (which, FYI, you can now get arrested for on the New York subway), it's now a regular feature on Graham's couch too.
But Daniel certainly isn't the first star to get really comfortable on the show…
See what we mean?
We think it's time Graham staged some sort of intervention with future male stars, for the sake of his other guests - and our eyes.
LIKE US ON FACEBOOK | FOLLOW US ON TWITTER