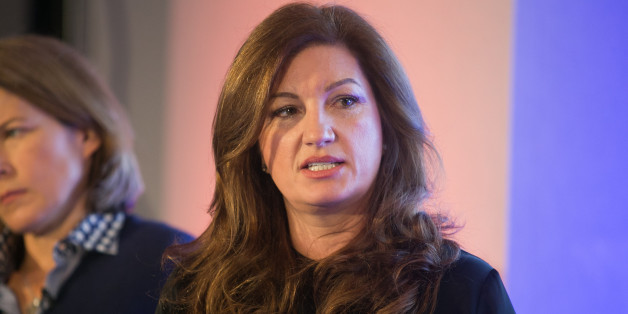 Daniel Leal-Olivas/PA Wire
Fans of 'The Apprentice' have called for a boycott of the show after Karren Brady voted in favour of tax credit cuts in the House of Lords.
Lord Sugar's aide on the hit BBC1 programme was one of 11 millionaires to back George Osborne's plans to slash tax credits.
But her actions appear to have angered many...
@Lord_Sugar no longer watching the apprentice until you sack Karen Brady remind her she gets a wage from tax payers on the BBC #taxcredits

— Jonathan allen (@Jonnyalleno2) October 28, 2015
@Lord_Sugar Knowing your side kick Karen Brady voted for #taxcredits cuts I can't watch The Apprentice anymore. A shame.

— Matthew Quaife (@mattyQ37) October 28, 2015
So millionaire Karen Brady voted for the tax credit cuts, I'm out on the apprentice whilst she's on it then

— Laurence Quinn (@quinn_laurence) October 28, 2015
#bbcapprentice Karen Brady voted for #TaxCreditsCuts - boycott The Apprentice

— Gav (@Socialistdawn) October 27, 2015
Can't believe Karen Brady supported the cuts to tax credits. Guess I won't be watching the apprentice anymore 😴

— Elisa (@elisaeyelash) October 27, 2015
Others pointed out that West Ham football club, of which Baroness Brady is vice-chair, is having much of its new stadium paid for by the taxpayer.
Millionairess @karren_brady y'day voted for #taxcreditcuts - whilst taking £175m from taxpayer to convert a stadium pic.twitter.com/iwoW5UxcJi

— Joe Public (@jpublik) October 27, 2015
Among those who also voted in favour of the cuts were bra tycoon Michelle Mone, composer Andrew Lloyd Webber and Anthony Bamford, heir to the JCB empire.
The Chancellor was forced into a dramatic climbdown over his flagship welfare reforms on Monday after the government's cuts to tax credits were upended in the House of Lords.
The double defeat in the Lords could trigger a constitutional crisis, with David Cameron reacting to defeat by promising retribution, including a "rapid review" to prevent peers blocking fiscal policy in the future.