Almost 70,000 workers are set to receive a pay rise after a new rate of £8.25 an hour was announced for the voluntary National Living Wage.
The figure is an increase of 40p an hour, and is significantly above the national minimum wage of £6.70. The increase comes as a report on Monday revealed nearly six million Britons are paid below the voluntary National Living Wage. The number is expected to rise to a record 6.5 million in 2016 – up from five million in 2012.
The new rate compares with the new national living wage of £7.20 announced by the Government, which is set to come into force for over 25-year-olds next April.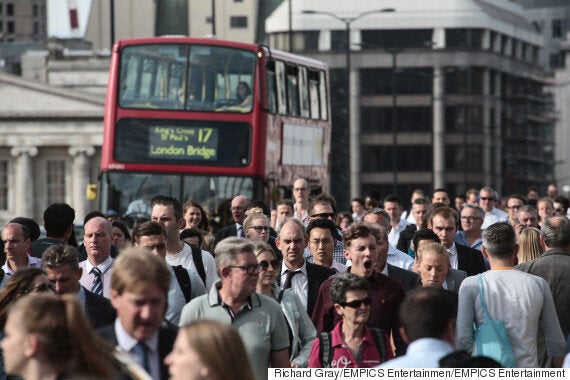 Almost 70,000 workers are set to receive a pay rise after a new pay rate was announced for the National Living Wage
A new voluntary rate in London, currently £9.15 an hour, will be announced later today by the capital's mayor Boris Johnson.
Unilever, Richer Sounds and Lloyds Banking Group are among firms who have recently agreed to pay staff the Living Wage.
Sarah Vero, director of the Living Wage Foundation said: "Today we are celebrating those 2,000 responsible businesses that are voluntarily paying the Living Wage to their staff.
"These employers are not waiting for Government to tell them what to do. Their actions are helping to end the injustice that is in-work poverty in the UK now.
"The living wage campaign is growing at pace. More UK businesses are announcing their Living Wage accreditation.
"They join a growing list of organisations ranging from FTSE 100 companies to independent businesses, small to medium sized enterprises and third sector employers who all share our belief that work should be the surest way out of poverty. The Living Wage is good for people and for business."
Tim Munden, human resources director at Unilever UK said: "As a company committed to making sustainable living commonplace we believe it is right to raise the floor on wages.
"That is why we have been committed to paying our UK employees at least a living wage for some time.
"We are therefore delighted to take this next natural step in gaining accreditation from the Living Wage Foundation.
"It underlines our commitment to a living wage approach across our supply chain and it will ensure that hundreds more people working with us will be paid the Living Wage by the end of next year."
Frances O'Grady, TUC general secretary, said: "It's good news that the number of Living Wage employers is growing. It's a basic standard many more employers should meet.
"But six million people are still scraping by on less than the Living Wage, despite many working for employers who could afford to pay it."
A study by personal services firm KPMG found that almost six million workers are paid less than the national Living Wage.
The figure represents 23% of all employees, up by 1% over the past year.
Over a third of women in their 20s are set to earn less than the Living Wage next year, according to a new analysis published by the Resolution Foundation.
Women in their 20s are 50% more likely to earn less than the Living Wage next year than the workforce as a whole, and over three times more likely than men in their 40s, its study found.
Almost three in 10 men in their 20s are set to earn less than the Living Wage next year, it added.
Adam Corlett, economic analyst at the Resolution Foundation, said: "The number of people earning less the Living Wage has increased rapidly in recent years, with over a third of young women set to earn less than the new rate next year.
"While you'd expect young people to move onto higher wages as they gain experience, the fact that they are moving jobs far less frequently today compared to before the crash is a real cause for concern. This risks holding up their careers and could leave them stranded on low pay for longer.
"More needs to be done to boost wages and pay progression for young people. Greater take-up of the voluntary Living Wage should play a key part in that, along with a renewed focus on better career ladders within businesses and industries.
"If we fail to help young people today we risk scarring their incomes for the rest of their careers."