Fitness guru Sophie Guidolin who found social media fame after weightlifting while pregnant with twins has uploaded a photo of her stomach, eight weeks after giving birth.
The mum-of-four, 26, from Australia admitted she trained during pregnancy for as long as she could because her previous two pregnancies resulted in gestational diabetes.
And now, eight weeks after birth, Guidolin is back on her pre-pregnancy training programme.
Uploading a photo in just her underwear to Instagram, she wrote: "Here I am #8weekspostpartum with the twins. I continued my weight training the best I could (and under the guidance of experts) whilst I was pregnant, however I haven't lifted weights in about three months now."
Guidolin then uploaded a photo of her stomach and responded to those people commenting on her postpartum body.
"So many people have commented on my post baby body," she wrote. "Let me just start by saying- this isn't genetics, or luck. I worked my arse off pre-pregnancy, during pregnancy and eat wholefoods."
Some parents took criticism to her comments, with one writing: "Basically if your fat after having kids its because you don't value your health. Great."
Others were more positive about her transformation after birth: "Sophie, you look great and totally deserve all you have achieved by putting so much effort into all of this."
Guidolin made headlines in June 2015 after she uploaded photos of herself weightlifting while pregnant.
She told HuffPost UK Parents she began training after she gained 30 kilos following her first two pregnancies.
"My previous two pregnancies resulted in gestational diabetes, 10lb babies and needing severe interventions to deliver as I was simply not strong enough, so I wanted to make a positive change," said Guidolin.
She added: "I didn't want to have the same experience this time around.
"I was weight training regularly before I fell pregnant, and my doctor and obstetrician gave me clearance to continue throughout this pregnancy.
"I certainly don't push myself – I believe in listening to your body and if I want to rest for the day I will.
"My doctor and obstetrician are both happy and I'm always guided by my husband Nathan (a strength and conditioning coach) – that is good enough for me."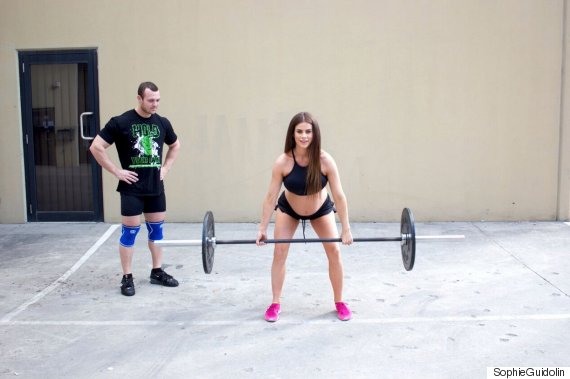 SEE ALSO:

Weightlifter Sophie Guidolin Gives Birth To Twins, Racks Up 25,000 Instagram Followers For Them Overnight

Weightlifter Pregnant With Twins Wants To Dispel Pregnancy Exercise Myths