A corner shop worker is battling to save his sight and requires surgery to remove pellets from his eyes after being shot in the face during a corner shop robbery in south London.
The 44-year-old man has already received hospital treatment for his injuries but still needs surgery to remove ball bearing-like pellets from his eyes after the shooting at Phambra Foodstore in Brixton.
He was shot with what police believe to be a high-powered pellet gun by one of two "dangerous, violent" men who entered his store and stole the cash register before running off. The terrifying scene was captured on CCTV, footage of which has been released by police in their hunt for the robbers.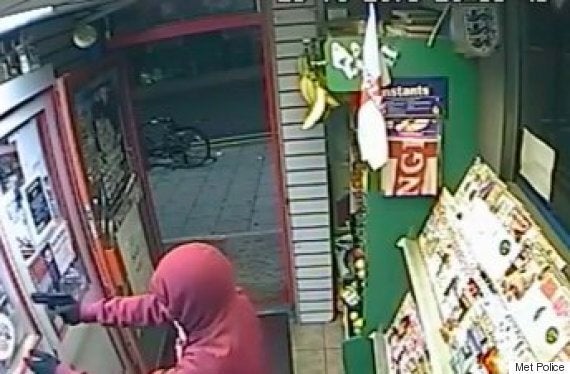 One of the robbers can be seen brandishing what is thought to be a high-powered pellet gun during the Brixton robbery
Detective Constable Ben Turner, of the Met's Flying Squad, said: "This was a vicious attack that could have left a man blinded. We desperately want to find the men responsible for this crime. They used gratuitous violence to carry out this robbery and are clearly dangerous.
"I would ask anyone with information to come forward and help us catch these dangerous, violent men."
The Lyham Road shop was robbed at 8.35pm on October 25.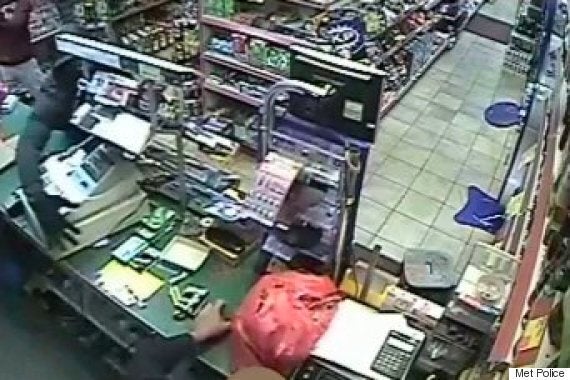 One of the robbers can be seen swiping the cash register during the raid
Both offenders, who fled the scene on foot towards Thornbury Road, are described as being in their 20s and of medium build.
Related