Police arrested protesters after government buildings and police were targeted with smoke grenades, paint and eggs when a London student demonstration turned nasty.
Thousands of young people wound their way through central London, campaigning against tuition fees and government cuts in what was intended to be a peaceful protest, but culminated in riot police being deployed.
Smoke grenades at Home Office @bbcradiolondon #student protest https://t.co/8VXuDD2FNR

— Anna O'Neill (@Annareporting) November 4, 2015
Police officers @metpoliceuk stand near a smoke grenade outside #HomeOffice @BBCRadioLondon @Eds30 #StudentMarch pic.twitter.com/SI6OlJUo56

— Anna O'Neill (@Annareporting) November 4, 2015
What started out as a peaceful demonstration took a turn for the worse as 12 protesters were arrested following a clash outside the Department for Business, Innovation and Skills (BIS) building.
Shouts 'you're breaking his arm, you're breaking his arm' as police detain one man #GrantsNotDebt pic.twitter.com/mpcywSR7DG

— Tom Platt (@Platt) November 4, 2015
Students are also demanding an end to detention centres, which they say are "prisons [which] destroy people's physical and mental health and are places where women experience sexual violence".
Police were also directly targeted, with pictures emerging of the moment an officer was struck by a smoke grenade.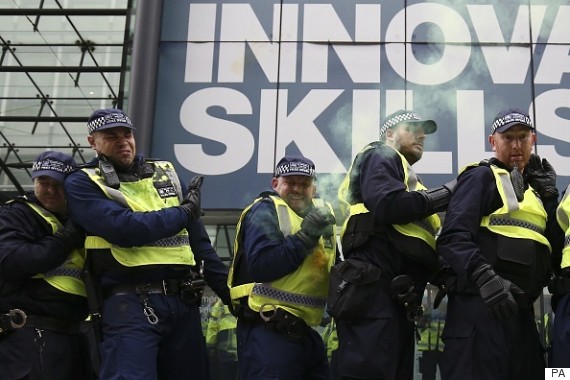 The officer grimaces as a protester hurls a smoke grenade at him
Many of the students are marching under a "No barriers / no borders" banner, calling for an end to deportations which they say are "an act of violence that cannot be justified".
"The government frequently deports people to situations which are life-threatening," the National Campaign Against Fees and Cut's blog reads. "This government has deported students such as Yashika Bageerathi and Majid Ali, the latter of whom is now feared dead. We demand an immediate end to all deportations."
Students also surrounded the BIS building, waving placards, with some wearing scarves over their faces to conceal their identities.
Kettle formed. #NationalDemo #GrantsNotDebt pic.twitter.com/0VT2l2Hop2

— Hamish Gibson (@hamishgibson) November 4, 2015
We've now reached the DBIS #StudentMarch #NCAFC #GrantsNotDebt pic.twitter.com/DH8FejcBKP

— Pi Media | UCL (@pi_media) November 4, 2015
After the building was surrounded, demonstrators tweeted they had been contained by police, with many expressing their disdain at the move.
Pic from outside the Kettle https://t.co/vK09oNmu4b #GrantsNotDebt pic.twitter.com/eLOx37xvh8

— London Student (@LondonStudent) November 4, 2015
Being kettled at the protest after a bunch of people in black with covered faces arrived and police predictably freaked out #GrantsNotDebt

— Helena Edward (@frankenedward) November 4, 2015
Had a peaceful, fun, musical march so OBVIOUSLY we are a danger and have to be held in a kettle #GrantsNotDebt #FreeEducation

— Helena Edward (@frankenedward) November 4, 2015
The Metropolitan Police released a statement confirming a dozen arrests had been made - but denying they had kettled protesters.
"Shortly after 15:10hrs today, 4 November, a small group of protestors threw paint outside the Home Office and another group attempted to push their way into the Department for Business Innovation and Skills (BIS) building but were prevented by police.
"During this spell, a small number of smoke bombs and eggs were thrown at police outside BIS. A cordon was put in place across Victoria Street at the junction with Dacre Street, SW1 to prevent disorder. There was no containment in place.
"Officers have made a number of arrests for public order offences."
In a written statement, Jeremy Corbyn lent his support to the students, saying: "Switching back to a loan in place of a maintenance grant will push the poorest students into higher levels of debt. We must also look again at restoring EMA and increasing college places, so all young people have the opportunity to go to further education and, if they wish, on to higher education too."
Protesters marched against a myriad of issues, namely around the government's treatment of young people and the working class.
"The Conservative government is not only targeting students in their lives as students; they are waging a war on the young and the working classes across society," Hannah Sketchley, a member of the National Campaign Against Fees and Cuts group, wrote in a Huffington Post UK blog.
One piece of footage posted onto Twitter showed riot police running towards a crowd of students.
Riot sqaud is happening #GrantsNotDebt pic.twitter.com/lRI0SMUMtQ

— Damien Gayle (@damiengayle) November 4, 2015
Earlier today Labour MP and shadow chancellor John McDonnell addressed the crowds before the start of the lunchtime march, urging students to "make sure the Tories know we are not going to stand for this anymore", the London Student reported.
In a rousing speech, the shadow chancellor told the assembled students: "Education is a gift from one generation to another, not a commodity to be bought and sold.
"For generations now one generation has handed the baton onto the next, and it's our job to ensure the next generation has a better quality of life than the last."
SEE ALSO: