West Bromwich footballer James McLean has once again divided opinion after appearing on pitch without a poppy, unlike the rest of his team - but many people spoke out in support of his decision.
The Telegraph reported that he was booed by Manchester United fans during the match.
McClean has raised eyebrows in the past over his decision to go without the commemorative symbol and has even received death threats over the issue.
Once again for Saturday's match he appeared without the flower.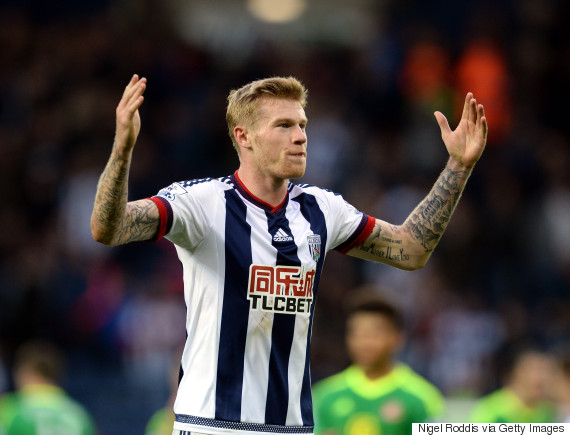 James McClean has refused to wear the poppy on numerous occasions
The 26-year-old winger has previously explained why he refuses to wear the poppy.
In a open letter to West Brom fans, he said: "People say that by not wearing a poppy, I'm being disrespectful but they don't ask why it is that I choose not to wear it.
"If the poppy was simply about World War One and Two victims alone, I would wear it without a problem. I'd wear it every day of the year if that was the thing, but it doesn't, it stands for all the conflicts that Britain has been involved in.
"Because of the history of where I come from in Derry, I cannot wear something that represents that. I have no issue with people that do wear the poppy. I absolutely respect their right to do that but I would hope that people respect my right to have a different opinion on it too.
SEE ALSO:
"If I were to sing the British national anthem, that would be disrespectful to the place I come from, to Derry, to my family, because the anthem represents something in recent history that caused a lot of conflict and pain there. A lot of people are still hurting there so I can't pretend that didn't happen.
"Again, I will stand there in silence while the anthems are played. I will respectfully allow others to sing it. I won't interfere, but I can't take part in that.
"The people that love the anthem are British, that's their culture. I totally respect that, that's great. I wouldn't ask them to sing the Irish anthem.
"My attitude is live and let live, and I don't think we should have ideas forced on us just as I don't want to force my ideas on anyone else…I have to stand by my principles."
He has also said to wear the poppy would be "a gesture of disrespect for the innocent people who lost their lives in the Troubles – and Bloody Sunday especially".
Many people online were quick to criticise at McClean's actions…
James McLean refusing to wear a poppy on his shirt tomorrow. Wanker, hope he gets slaughtered with boos✊🏼💦🖕🏻 #LestWeForget #PoppyAppeal

— Lilly Davis (@lillylcfc) October 30, 2015
If James McLean is against wearing a poppy and hates the queen etc, why does he accept being paid with notes/coins with the Queens head on?

— Dan (@DippyDon_95) October 31, 2015
@DVATW James McLean is a disgrace - glad to reap the benefits of playing but dishonours our heroes refusing to wear a poppy!!

— joyce miller (@agapanthus49) October 30, 2015
But it seemed that more actually seemed to support his decision...
The abuse being thrown at James McLean is disgraceful. The young guy should be applauded for standing by his principles 👏

— Mick McConnell (@mick_dundee86) November 7, 2015
United fans booing James McClean? Utterly clueless poppy fascists. Shameful.

November 7, 2015
I hate James McClean but why force him to wear a poppy to 'show respect' if you know he doesn't feel it?

— United (@UnitedView7) November 7, 2015
I really don't see the issue with James McLean not wearing a poppy. Freedom of choice no?

— Rick (@Rick_avfc) November 2, 2015
Michael Fassbender wore the Poppy last night. I respect that.

James McClean doesn't wear it today. I respect that.

It's a personal choice.

— Joe Mc Callion (@joeymccallion) November 7, 2015
I really don't care if James McLean is wearing a poppy.

I wear one.

But it's his choice isn't it?

October 31, 2015
Hope James McLean isn't wearing a poppy it's like being in Nazi Germany being forced to wear something you don't agree with

— goolash (@MarkSingleton8) November 7, 2015
The poppy is a choice not an obligation.

Massive respect for James McLean not wearing one

— Bobjan (@Bobjan22) November 7, 2015
A number of other high profile figures have gone without the poppy, for various reason.
Actress Siena Miller, Newsnight presenter Evan Davies and Channel 4 newsreader Jon Snow are among those who have appeared without poppies the past - unsurprisingly attracting a wave of criticism.
Speaking about what he termed "poppy racism", Snow said in a blog: "I am begged to wear an Aids Ribbon, a breast cancer ribbon, a Marie Curie flower… You name it, from the Red Cross to the RNIB, they send me stuff to wear to raise awareness, and I don't. And in those terms, and those terms alone, I do not and will not wear a poppy.
"Additionally there is a rather unpleasant breed of poppy fascism out there – 'he damned well must wear a poppy!'. Well I do, in my private life, but I am not going to wear it or any other symbol on air."