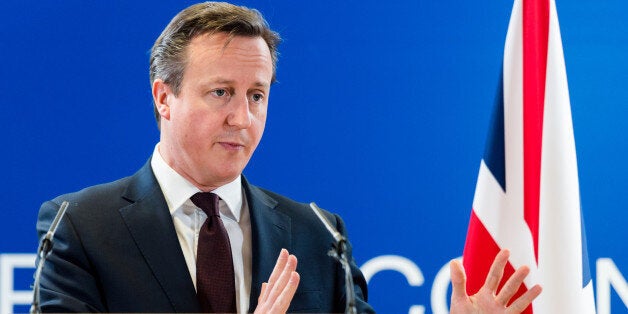 David Cameron is set to toughen up his demands to Brussels with a warning that Britain would still be "successful" if it quit the European Union.
In his strongest message yet that he's prepared to walk away if he doesn't get a better deal for the UK, the Prime Minister will use a keynote speech on Tuesday to declare that "of course" the country could survive on outside the EU.
But Mr Cameron will also reject calls from some Eurosceptics, including Boris Johnson, for a 'double referendum' that would exploit a Brexit vote to get more powers returned to Britain.
The PM will kill off the plan and warn that the referendum, due to be held before 2017, will be the "final decision" on the issue for a generation.
And he will put crime and security, as well as the economy, at the heart of the debate over Britain's future membership of the EU.
Previews of his remarks came as both he and George Osborne were due on Monday to set out their determination deliver spending cuts to put Britain on a stronger financial footing for the next five years.
In his speech on Tuesday, Mr Cameron will make plain that he is contemplating a 'Leave' vote by the British people, should other EU partners fail to respond to his demands to protect Britain from the euro, closer EU union and migration worries.
"If we can't reach such an agreement, and if Britain's concerns were to be met with a deaf ear, which I do not believe will happen, then we will have to think again about whether this European Union is right for us," he will say.
On BBC1's Andrew Marr Show on Sunday, Philip Hammond underlined the stern message, warning that "the British people will not be fobbed off with a set of cosmetic alterations to the way the EU works."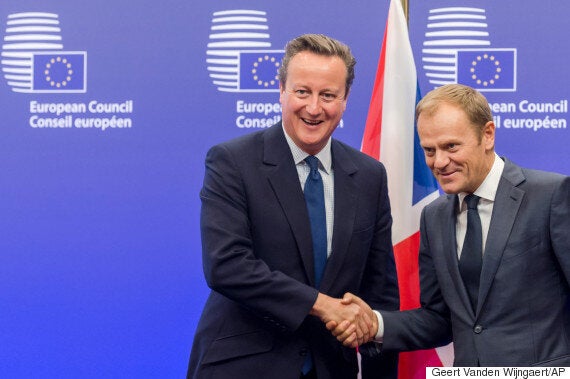 David Cameron with European Council president Donald Tusk
The Prime Minister's long-awaited letter setting out on paper his key demands will be delivered on Tuesday to EU summit leader Donald Tusk.
The Mayor of London last week said that there was 'an attractive future' for Britain outside the EU and 'we should be thinking about it'.
Mr Cameron will say: "I am not saying for one moment that Britain couldn't survive outside the European Union. Of course we could.
"We are a great country. The fifth largest economy in the world. The fastest growing economy in the G7 last year. The biggest destination for FDI in the EU. Our capital city a global icon. The world, literally, speaks our language.
"Last month the President of China spent a week in this country. This week the Prime Minister of India will visit. They see a great future for this country we love.
"No one doubts that Britain is a proud, successful thriving country. A nation that has turned round its fortunes though its own efforts. A far cry from the 'sick man of Europe' at the time we entered the European Economic Community four decades ago."
But he will add that "Whether we could be successful outside the European Union is not the question. The question is whether we would be more successful in than out?"
And the Prime Minister will stress for the first time that the referendum will focus on the economic and national security of the UK outside and inside the EU.
"Today, as we confront fresh threats and dangers to our country, I am in no doubt that for Britain the European question is not just a matter of economic security, but of national security too – not just a matter of jobs and trade but of the safety and security of our nation," he will say.
Last month, the 'In' campaign came under fire for suggesting that Brexit and the loss of the European Arrest Warrant would lead to more murderers, rapists and terrorists on the streets of Britain.
But Mr Cameron will appear to underline those warnings, as he says: "The question is….whether being in the European Union adds to our economic security or detracts from it? Whether being in the European Union makes us safer or less safe? That is a matter of judgment."
However, Eurosceptics may point out that national security and crime are not among the four key areas of renegotiation Mr Cameron has so far been seeking.
In his speech, he will also make clear that the EU referendum will be a personal decision for millions of voters.
"You will have to judge what is best for you and your family, and for our country. It will be your decision whether to remain in the EU on the basis of the reforms we secure, or whether to leave.
"Your decision. Nobody else's. Not politicians'. Not Parliament's. Not lobby groups'. Not mine. Just you. You, the British people, will decide. At that moment, you will hold this country's destiny in your hands."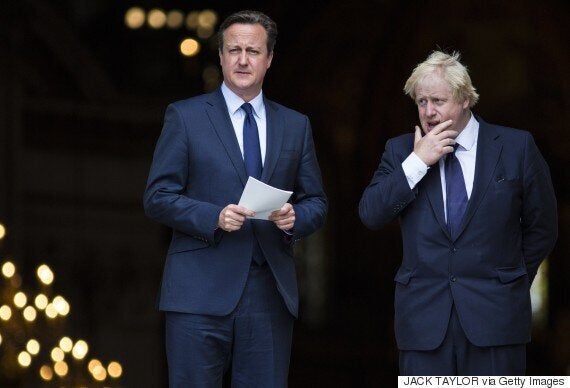 The Prime Minister and Boris Johnson
Mr Cameron will finally kill off speculation that he could stage a second referendum as part of a tactic to get a better deal for the UK from a shell-shocked EU in the wake of a 'Leave' vote.
Boris Johnson and other Eurosceptic Tories have flirted with the idea put forward by Vote Leave chief Dominic Cummings.
But Mr Cameron will say in his speech: "This is a huge decision for our country, perhaps the biggest we will make in our lifetimes. And it will be the final decision."
In a speech to the CBI on Monday, Mr Cameron and Mr Osborne will confirm that four key departments have already settled on spending cuts ahead of the spending review due later this month.
Department for Transport, Department for Local Government and Communities, the Department for Environment, Food and Rural Affairs and the Treasury have all done deals.
"We can confirm four departments have provisionally completed their spending settlements. By making the further savings we need over the course of this Parliament we can prioritise what matters for working families - schools, the NHS and our national security," Mr Cameron will say.
In a major speech at Imperial College, the Chancellor will set out the principles that will underpin his decisions as he sets out how it will spend around £4 trillion in the next five years.
Mr Osborne will not back off his plan to give the UK a budget surplus by 2019/20, despite calls for him to spread austerity for longer to help avoid deep tax credits cuts.
"It is only when you control spending, and live within your means, that you can build a country with security and opportunity at its heart," he will say.
"And that's what the Spending Review I will present in a little over two weeks' time, will be all about… There is still so much more to do – we are still spending too much."
Related