Hundreds more British holidaymakers have been flown back to the UK as "overwhelmed" security staff at Sharm el-Sheikh airport struggled with crowds of passengers desperate to get home after a Russian plane came down in the region in a suspected terrorist attack.
Nearly 2,000 tourists returned to airports across England yesterday and more flights are landing today but Foreign Secretary Philip Hammond warned it would take two to three days for them all to be returned.
Thousands more are still stranded in the Egyptian holiday resort after officials imposed strict security measures following the crash of a Russian passenger plane last Saturday in what is suspected to be a terrorist attack, The Press Association reports.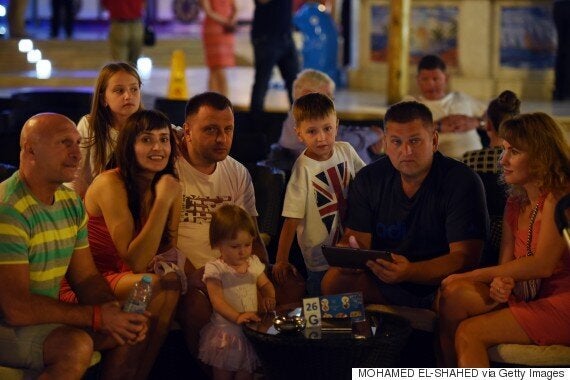 British tourists at the airport on Saturday
Some holidaymakers described chaotic scenes as they left the Red Sea city airport, with people trampled and hurt as they rushed for planes while swamped security staff carried out only cursory checks.
Crash investigators earlier revealed an unidentified noise was picked up by the doomed aircraft's on-board recorders in the final seconds before it broke up suddenly in mid-flight over Egypt's Sinai Peninsula.
Lead investigator Ayman el-Muqadem said they were looking at "all possible scenarios" as to the cause but confirmed the Airbus 321 was still gaining altitude as it disintegrated 23 minutes after take-off, killing all 224 people on board the Metrojet flight.
Militants of the Islamic State (IS) terror group in the Sinai Peninsula have claimed they downed the plane.
Some passengers arriving back in the UK said security at the airport was "terrible".
Marc Standen and his partner Emily Alfeo were due to fly home on Thursday after a week in the resort but arrived back only last night.
Mr Standen, 28, a car salesman from Westgate, Kent, said security guards at the airport wearing bullet-proof vests checked under vehicles with mirrors as they waited in lengthy queues for the airport, but did not check car boots or speak to passengers.
He said: "It was madness. They did a semi-pat down inside and we took our shoes off. I don't think it was very thorough. It was madness. Their security is terrible and they are completely overwhelmed."
Bags taken on board were not checked adequately, he said, and at one point around 400 people tried to squeeze through two glass doors to get to a final security check, leaving some hurt as they got trampled.
Mr Standen, who travelled with Thomas Cook, added: "It is the lack of information that is probably the big problem, but the airport is only going to get worse. They don't have it under control. We have left our two bags behind in a pile in the middle of the terminal, and I honestly don't know if we will see them again."
He added: "We are glad to be home. I am honestly not the sort of person who would normally worry about things, but it was not a good experience."
Five travel firms - Monarch, Thomas Cook, Thomson, easyJet and British Airways - brought 1,945 tourists back to the UK on nine flights yesterday, landing at London Gatwick, Manchester, Bristol and Luton.
A further six flights are expected today, while British Airways will operate one tomorrow. Around 1,500 holidaymakers were brought back on Friday.
A Department for Transport spokesman said: "With a limited number of flights able to leave Sharm el-Sheikh each day for the UK, it is likely that tour operators or airlines will advise some people to extend their stay at their resort."
Tour operators and airlines are expected to cover the costs of extended stays, he added.
A team of investigators from five countries, along with advisers from Airbus, are now examining the wreckage of the Russian plane which has been taken to Cairo.
Mr el-Muqadem said further analysis would be used to try to identify the "noise" picked up by the cockpit voice recorder in the final second before the crash which happened as the aircraft was flying at an altitude of 30,888ft at 320mph.
Debris was found scattered across more than 13km of land.
Mr el-Muqadem said: "It could be lithium batteries with one of the passengers, it could be an explosion in the fuel compartment - all the scenarios are on the table, I cannot exclude anything."
And in apparent dig at countries like the UK and the US, which Egyptian authorities say have refused to share intelligence, Mr el-Muqadem asked for any information to be shared openly.
He said: "The (investigatory) committee noted media reports and analysis – some of which claimed to be based on official intelligence – which favours a certain scenario for the cause of the accident. The committee was not provided with any information or evidence in this regard.
"The committee urges the sources of such reports to provide it with all information that could help us to undertake our mission."
Evidence is mounting to suggest the Russian plane was brought down by a bomb. French television channel France 2 reported that the black boxes from the plane "distinctly show the sound of an explosion during the flight".
There have been reports that security agencies received intelligence based on intercepted communications between Sinai militants which pointed towards a bomb on the plane.
They apparently suspect an explosive device could have been placed inside or on top of luggage by someone with access to the hold just before take-off.
Related