Fleur East might have killed it on Sunday night's 'X Factor' with a stunning performance of her debut single 'Sax', but fellow performer Cee Lo Green did his best to try and steal some of her limelight.
READ MORE:
While Fleur's performance was all bells and whistles Sax, the 'Crazy' singer let his outfit do the talking by appearing on stage in this delightful little number…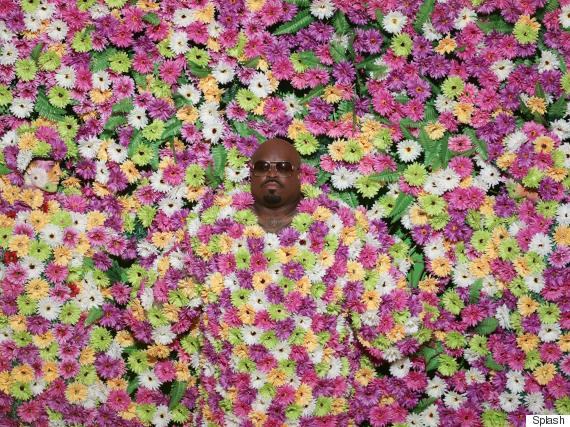 Cee Lo Green (he's in there somewhere, honest)
The US star was on the show to promote his latest single 'Music To My Soul', but it was his gorgeous floral suit that had Twitter in a tizz...
Who wore it better? Retweet for Cee Lo Green. Like for Homer Simpson. #XFactorLiveShows#XFactorpic.twitter.com/NWlHQeJ7Q3

— Thomas Timson (@Thomas_Timson) November 8, 2015
Cee lo green has come as one of those dolls you put on top of the spare loo roll #XFactorpic.twitter.com/cyQ8vtqoNq

— Jon Mann (@jon_mann) November 8, 2015
Cee-loo green #inspired#XFactorpic.twitter.com/3pAf7cIyLV

— Shelley Facey (@shelleyf1973) November 8, 2015
That was literally the oddest thing I've ever watched #ceeloogreen#xfactorresults

— Lola | Laurel.M (@lolaslittleblog) November 8, 2015
Cee loo green is outfit goals lol 😂😂😂 #XFactor

Looks like a flower power teddy bear 🌷🌼🌺🌹🐻

— Ashley (@AshleyCoppingx) November 8, 2015
Cee loo green is definitely having a mid life crisis

— jel (@Jellyjank) November 8, 2015
Has Cee loo Green dyed Kim Ks wedding wall and turned it into a suit! #XFactor 🌺🌻🌸🌼🌷🌹

— Nicola (@nicolabwhyte) November 8, 2015
Cee loo green has over done it with his poppy

— Briggsy the Octopus (@AFChymnSheet) November 8, 2015
What The Fuck Cee Loo Green😂😂😂😂😂 Looking Like Some OAPS Carpet #XFactor

— SG™ (@StefanGissie) November 8, 2015
Never mind that, how the hell does he wash that thing?
LIKE US ON FACEBOOK | FOLLOW US ON TWITTER