David Cameron has been heckled by "foolish" anti-EU campaigners as he gave a keynote speech to business leaders on the crucial upcoming referendum.
The Prime Minister, speaking to the leading business group the Confederation of British Industry (CBI), was barracked by Phil Sheppard and Peter Lyon, both 19, who chanted repeatedly: "CBI = Voice of Brussels."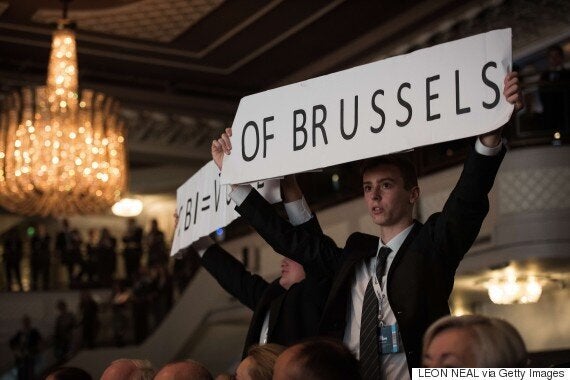 Phil Sheppard and Peter Lyon were helped by the Vote Leave campaign group to sneak in to the event
As Mr Cameron tutted "come on, guys" and warned they would "make fools" of themselves, they were eventually escorted out of the Grosvenor House Hotel in Mayfair, London, by security.
Lyon later told Sky News: "It was the most terrifying thing I've ever done but it was definitely worthwhile. I'm glad I did it."
The pair admitted they had been helped by the Vote Leave campaign group to get into the event by forming a fake company.
The CBI has faced criticism from eurosceptics over not reflecting industry, and small business in particular, by its support for remaining in the EU.
Mr Cameron responded to them: "If you sit down now you can ask me a question rather than make fools of yourself, and standing up and protesting."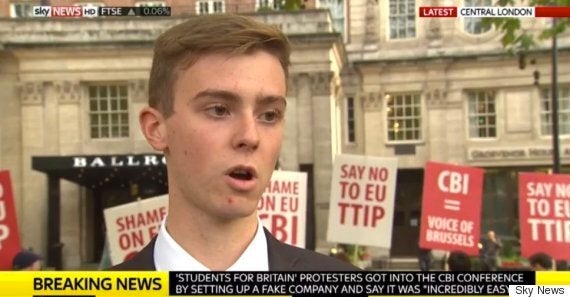 Pete Lyon said: "It was the most terrifying thing I've ever done but it was definitely worthwhile."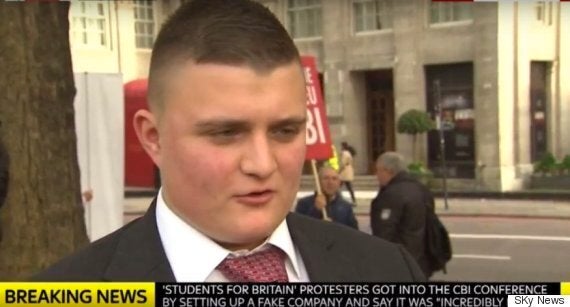 Phil Sheppard said: "Vote Leave formed a company for us that was able to get us in. We managed to get our passes and we pretended to be businessmen."
The duo claimed to be from Students for Britain. Lyon told Sky News: "We were worried about the CBI misrepresenting British business's views. We don't want the public to be swayed by the CBI making claims about the views of British businesses when in reality a lot of particularly small and medium sized businesses in the UK feel that the EU hinders rather than helps them."
Mr Cameron is renegotiating Britain's membership of the EU before holding an in-out referendum by the end of 2017.
Tomorrow, the Prime Minister finally sets out his demands in a letter to European Council president Donald Tusk, and is likely to spell out he wants a curb on benefits for migrants, protection for Britain from the Eurozone and Brussels red-tape slashed.
At the CBI, he made clear he was "not satisfied with the status quo we have got in Europe", and had no "emotional attachment" to the EU institutions. He was just interested in what was right for Britain, he said.
Britain Stronger In Europe, which is campaigning for the UK to remain in the EU, condemned the Vote Leave-organised heckling as a "grubby protest".
"It is a sign of how desperate Vote Leave have already become," said executive director Will Straw.
"Vote Leave will now face serious questions about the conduct of their campaign, and must clarify if indeed they created a fake company in order to disrupt this event.
"Running out of arguments, Leave campaigners are resorting instead to rubbishing the process of securing reform while it is still underway.
"Talking down Britain's reform prospects in Europe simply proves that Leave campaigners are not, and have never been, serious about reform."