The pair, who were smartly dressed in suits, managed to stop the prime minister mid-speech at the Confederation of British Industry event on Monday when they stood up holding a banner and chanting: "CBI voice of Brussels."
Phil Sheppard and Peter Lyon, both 19 and from anti-EU group Students for Britain, snuck into the event after the Vote Leave campaign concocted them a fake business.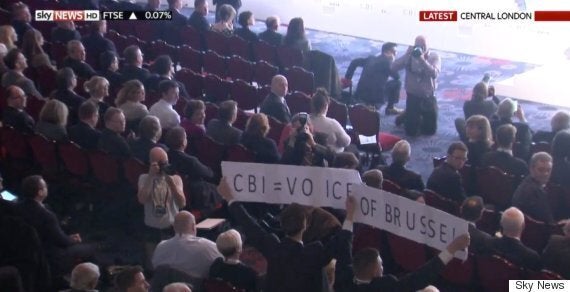 The student activists heckled Cameron during his speech
Clearly annoyed, Cameron told the students: "We're going to have a debate in a minute. If you wait for a second you can ask me a question rather than disrupting what's a very good conference."
After realising the students were going to take no notice of his plea, he clasped his hands and added: "Come on. Come on guys, if you sit down now you can ask me a question rather than making fools of yourselves by just standing up and protesting."
Cameron's audience then erupted into a round of applause, as stewards rushed to escort the peaceful activists out.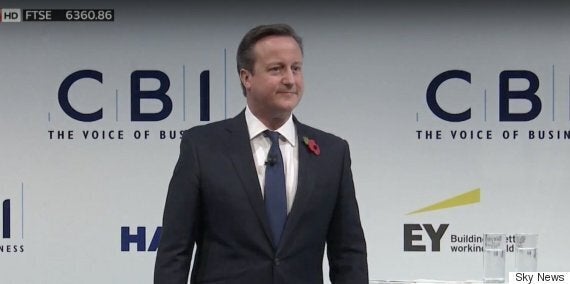 Cameron tries to keep his cool
"I was very nervous before doing the stunt, but that was understandable because after all, I was heckling the CBI in front of the UK Prime Minister," Sheppard told The Huffington Post UK. "When I got up, I was shaking quite profusely.
"I desperately tried to not laugh due to nervousness, which can be seen by the smirk on my face when I was being escorted out. However, I am very proud that I did it."
Speaking to Sky News, Lyon said: "We're worried about the CBI misrepresenting British businesses' views. We don't want the public to be swayed by the CBI making claims about the views of British businesses, when in reality, a lot of small and medium-sized businesses in the UK feel that the EU hinders rather than helps them.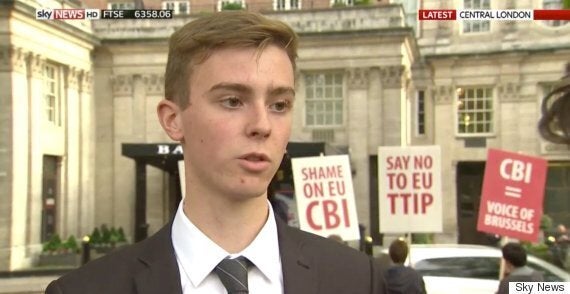 Peter Lyon: 'It was the most terrifying thing I've ever done in my life'
"I think we're sending too much money to Brussels that isn't coming back. If we leave the EU we can take control of our public finances.. and restore the independence of the British parliament."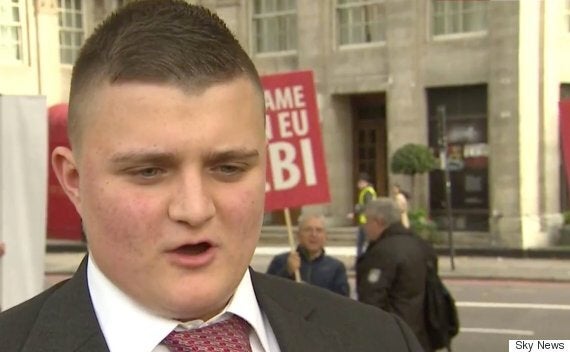 'We pretended to be businessmen'
Sheppard, who is a history student at the London School of Economics and secretary of the student Conservative society, added: "If we leave the EU we can sign more free trade deals with other countries.. such as China."
When asked by the Sky News reporter how the pair got in, he said: "We got in because Vote Leave formed a company for us that was able to get us in.
"And we managed to get our passes and we pretended to be businessmen."
Lyon admitted: "It was the most terrifying thing I've ever done in my life. But definitely very worthwhile. And I'm glad I did it.
"I was expecting the stewards to take us out much more quickly but they just stood there and we kept chanting."
Vote Leave has been contacted for comment but has yet to respond.