Boris Johnson has mocked "corduroy-jacketed, snaggletoothed, lefty academics" who back a trade embargo with Israel, saying such a thing would be "completely crazy".
The London Mayor was speaking in Tel Aviv as part of a Middle East trade mission, which has done little to dampen talk of his leadership ambitions.
Last month, 343 British academics signed a letter, printed as a full-page advert in The Guardian, pledging to boycott Israeli academic institutions over the country's treatment of Palestinian people and its "illegal occupation" of their land.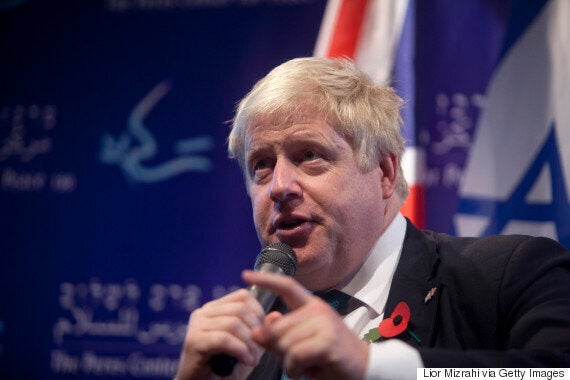 Boris Johnson speaking on Monday in Israel
Mr Johnson told reporters: "I cannot think of anything more foolish than to say you want to have any kind of divestment or sanctions or boycott against a country that, when all is said and done, is the only democracy in the region, is the only place that has, in my view, a pluralist open society.
"Why boycott Israel? And by the way I think there is some misunderstanding over here about it. The supporters of this so-called boycott are really a bunch of, you know, corduroy-jacketed academics.
"They are by and large lefty academics who have no real standing in the matter and I think are highly unlikely to be influential on Britain. This is a very, very small minority in our country who are calling for this."
Mr Johnson also used a panel discussion with former Israeli prime minister and president Shimon Peres to outline the approach a leader should adopt.
He told an audience of around 200 young people that great leaders must risk their popularity by being prepared to "betray" and "greatly cheese off" their supporters.
Mr Johnson, regarded as a candidate to replace David Cameron as Conservative leader, added it takes a "huge amount of guts" to be willing to "forfeit sometimes" this backing in pursuit of doing the right thing.
Senior Israeli politician Ron Huldai also said mayors have the "most important experience" to become prime ministers when he met Mr Johnson.
The Tel Aviv mayor is believed to harbour ambitions to lead Israel's Labour Party.
During his visit, Mr Johnson also tested out 3-D glasses and an electric scooter in Tel Aviv.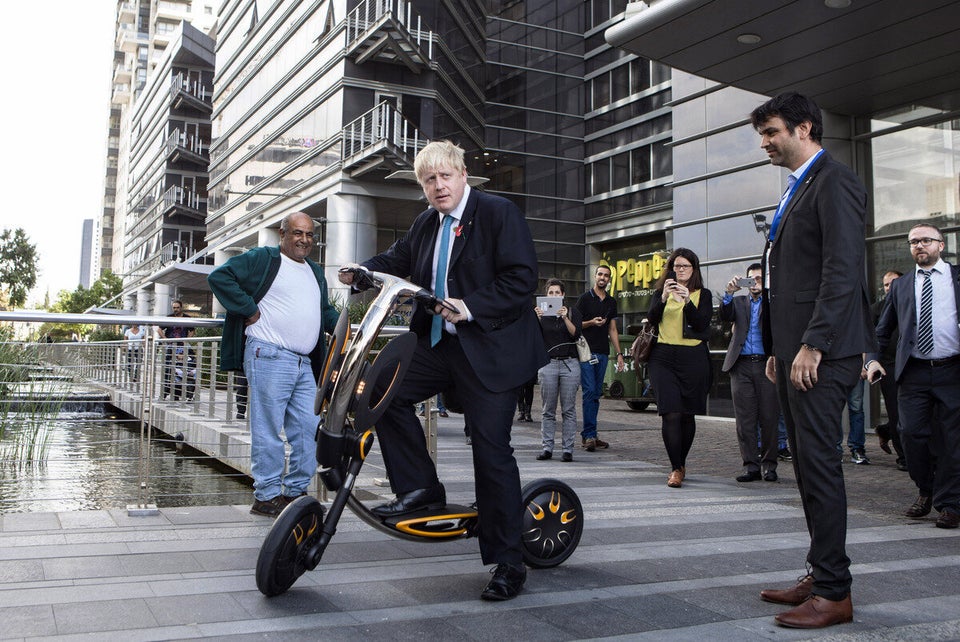 Boris Johnson in Israel
The London mayor travels to Yad Vashem, Israel's official memorial to the victims, to lay a wreath in the Hall of Remembrance where a stone crypt contains ashes of those who died in the extermination camp and a flame burns continuously.
The Conservative MP is also due to return to the sporting arena just weeks after he made headlines by knocking over a 10-year-old boy during a game of street rugby in Japan.
Israeli president Reuven Rivlin will become the latest senior politician to meet Mr Johnson, with the pair attending an event in which Arab and Jewish youngsters will play football - with the mayor expected to join in.
Mr Johnson also joked at his behaviour during his previous visit to Israel a decade ago and make a jibe at David Cameron over "pig gate" at the same time.
He claimed to have been approached by Lord Ashcroft, the co-author of the book that alleged the prime minister had done something with a dead pig as part of a university initiation ritual, who said he had photos of what happened.
Mr Johnson said: "It was such a riotous occasion that I am afraid we ended up dancing on the tables and singing karaoke and generally misbehaving.
"And I thought - this is all absolutely true - I thought it had all been forgotten until quite recently when my friend Lord Ashcroft ... came up to me and said in his most terrifying whisper: 'I know you enjoyed yourself in that restaurant in Tel Aviv - I have the photos.
"That's what he said and I have no idea what photos he was talking about, whether any animals were involved at all but I can say whatever took place that evening was entirely kosher.''
His arrival in Jerusalem marks the start of the second leg of a three-day trade mission to Israel and the Palestinian territories.
MPs have recently condemned random stabbings on Israel's citizens while also criticising the Israeli security forces' aggression against Palestinians.
Mr Johnson plans to visit the Palestinian city of Ramallah before his tour concludes.