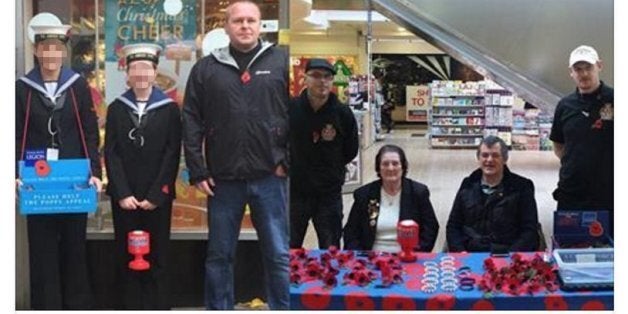 Far right group Britain First has removed an image of young poppy sellers from its Remembrance Sunday social media propaganda after being accused of "exploiting children".
A post on its popular Facebook page carried a photograph of two young sea cadets selling the tributes whilst stood beside a member of the hate group.
Under the caption "protect the poppy", the post suggested that Britain First members were required to stand guard next to the children as they went about raising money for the Royal British Legion's appeal.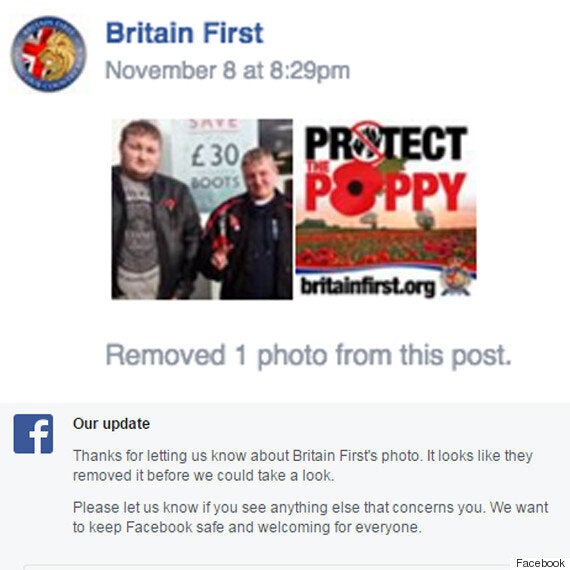 The image was removed from the post after a direct appeal from the Sea Cadet organisation
"Today, across the country, Britain First activists are standing watch over poppy sellers to ensure they don't get any hassle from leftwing anarchists and Islamists," it read.
Parents were quick to support the Sea Cadets stance and criticise Britain's First tactics.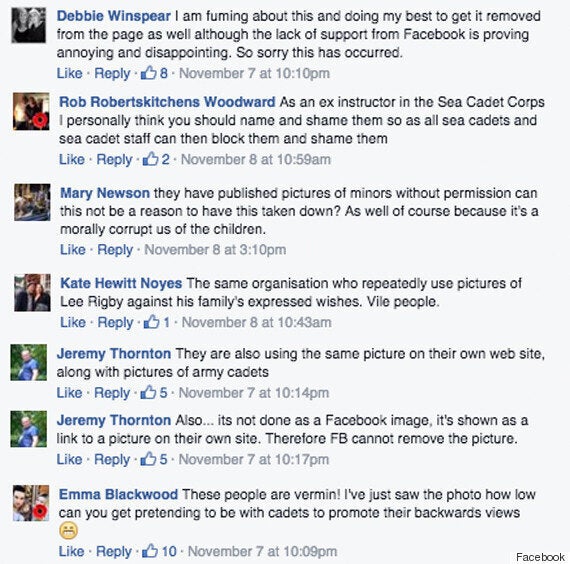 Click here to view a zoomable version of this image
However, while the Facebook photo has been removed, the image of the cadets continues to be used by the group on its website and appears when links to its Remembrance Sunday propaganda are shared on social media.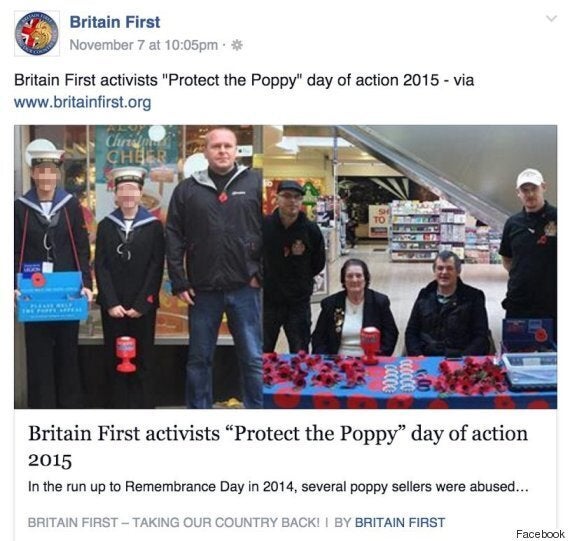 How the image of the cadets appears when links from the Britain First website are shared online
Britain First's "protect the poppy" initiative took place across the country over the weekend in an effort to exploit fears that those wearing and selling the flowers are at risk of being targeted.
"This year, our activists once again stood guard at various Islamified areas," it wrote on its website.
Britain First was lambasted in the comments on both pictures for their apparent subterfuge.
Wendy Winton said: "The cadets were collecting by themselves and were asked to pose for the picture. Sea cadets UK have asked for the photo to be removed and have been ignored."
"This is disgusting," said Lucy Millward.
Julia Katharine Swale accused the group of "exploiting children and posting their images online without permission," which she called "a crime."
Kieran Owen said: "The sea cadets don't want this photo on here, they did not know you were Britain First or 'protecting them.' Take this photo down and apologise for lying to the people on this page."
The national Sea Cadets organisation said: "We are aware that an organisation we do not support or endorse is using an image of Sea Cadets to promote their own political agenda via their Facebook page.
"Sea Cadets is a national charity and an apolitical organisation that is open to all faiths and none and we are fully inclusive. The posts on this organisation's page are not in keeping with the Sea Cadet values or ethos.
"We have contacted them asking them to remove the image. However due to Facebook policy we are mindful that they may not be legally obliged to do so.
"We have chosen not to name the organisation as we don't want to give it any air time."
The Sea Cadets organisation will now issue specific advice to their clubs around photographs with cadets during the Remembrance period.
Britain First did not respond to a request for comment prior to publication.
Popular in the Community