David Cameron will chair a meeting of the Government's Cobra emergency committee in the wake of the terror attacks in Paris which have killed at least 127 people.
Often labelled an emergency council, Cobra meets to discuss high-priority issues that cross departmental borders within government.
Assistant Commissioner Mark Rowley told BBC Radio 4's Today programme that the current threat level to Britain was severe, which means an attack is "highly likely".
Rowley said Scotland Yard had an officer in Paris, gathering intelligence and information on the attacks to share with colleagues in London. He appealed to the public to stay vigilant in reporting anything suspicious.
"The relationship between the public and police needs to be stronger than ever," he said.
According to the Telegraph, police and intelligence colleagues are monitoring suspects in the UK to ensure none are planning to take action in retaliation to Mohammed Emwazi's death.
The announcement comes as the death toll from a series of coordinated attacks in Paris stands at 127. On Friday night the capital was his by two suicide attacks and a bombing near the Stade de France stadium, shootings at restaurants and a massacre inside a popular music venue, in what is the worst violence to hit France since the Second World War.
The British Prime Minister Tweeted: "I am shocked by events in Paris tonight. Our thoughts and prayers are with the French people. We will do whatever we can to help."
In Washington, President Barack Obama condemned the violence as an "attack on all of humanity." He said: "Once again, we've seen an outrageous attempt to terrorise innocent civilians," he said. "This is an attack not just on Paris, it's attack not just on the people of France, but this is an attack on all of humanity and the universal values that we share."
Gunfire and explosions rocked multiple parts of the city and 140 are reported dead after a wave of terror attacks swept the French capital, including suicide bombings, a shooting and a hostage situation. French President Francois Hollande deployed military personnel around the city after declaring a state of emergency and closing the borders.
The death toll at the Bataclan theatre, after gunmen took hostages, stood at around 100 on Saturday morning. French security forces raided the concert theatre, which was hosting an American rock band, killing two assailants. Speaking with The Guardian after escaping the Bataclan, a man described the scene as "carnage," adding there were "bodies everywhere."
Another attack occurred in the city after at least one gunman opened fire outside the Petit Cambodge restaurant in the 10th district, leaving 11 people dead.
In January, the country was witnessed the deadly attack on satirical newspaper Charlie Hebdo and a kosher grocery that left 20 dead. In August, a smaller-scale attack was attempted on a high-speed train. American travelers foiled that plot.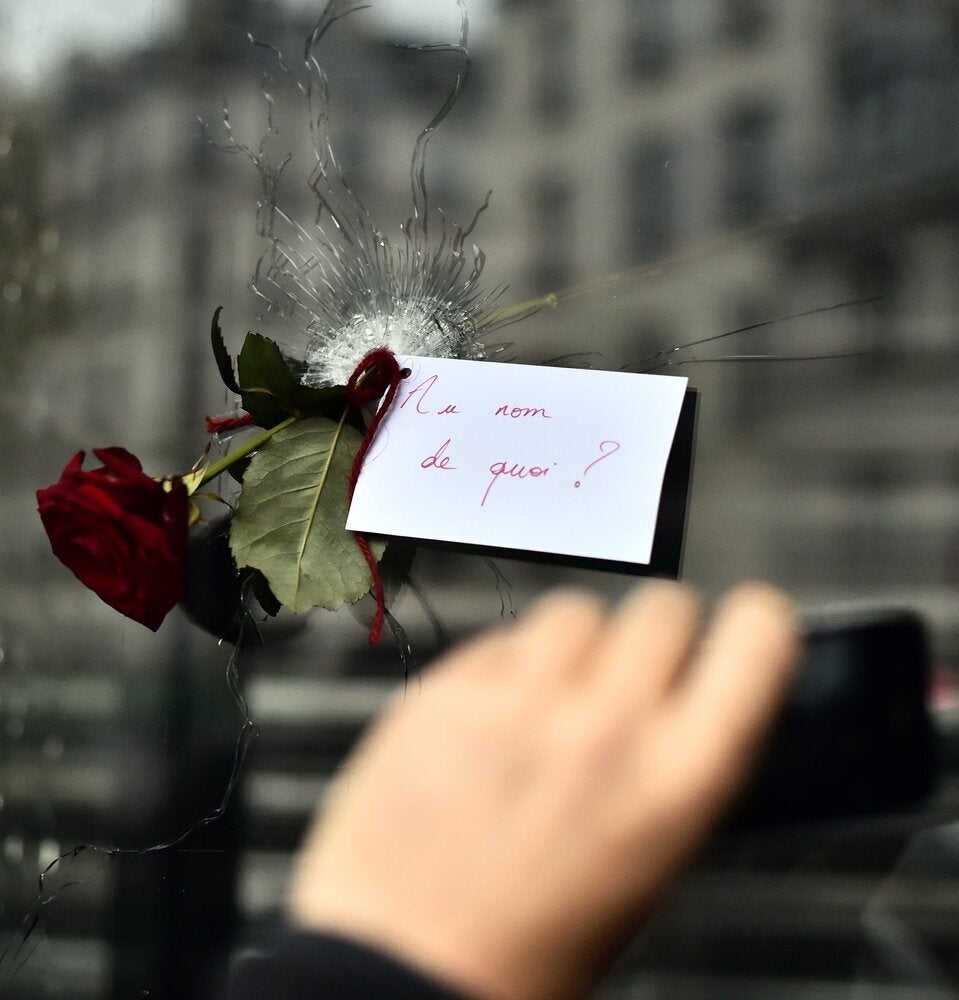 GRAPHIC WARNING: Paris attacks
Popular in the Community