WHAT WE KNOW SO FAR:

129 dead, French prosecutor says, with 352 injured, 99 critically
Locations targeted in suicide bombings and shootings
89 slain at Bataclan concert theatre after hostage situation
Restaurants, football stadium attacked in night of horror
Police leave cancelled and around 1,500 soldiers mobilised
French border controls increased, state of emergency declared
Seven extremists in three teams carried out attacks, all killed
Manhunt under way for accomplices, arrests made in Brussels after police raids
David Cameron chairs meeting of Government Cobra committee
UK police say they will strengthen presence at ports and on the streets
Londoners have sung the French national anthem at a huge rally in Trafalgar Square to show solidarity with Paris after Friday's devastating terror attacks.
One Briton is confirmed to have died in the attacks on Friday that killed 129 people and injured 352, 99 of them critically.
Islamic State has claimed responsibility for the attacks, which were the worst violence in Paris since the Second World War and the deadliest terror attack in Europe since the 2004 Madrid train bombing.
The Foreign Office has warned a "handful" of UK citizens may have died in the attack.
On Saturday night, thousands of people, many of them French residents of London, gathered in the square to show their solidarity with Paris, which has begun three days of mourning while France is in a state of emergency, as police hunt accomplices of the seven fanatics who carried out Friday's attacks.
The colours of the French flag were projected on to the National Gallery and people attended draped in French flags.
As well as singing La Marseillaise and chanting 'Solidarité!', people stood for a minute's silence using their phones as torches.
At one point, the vigil stood silent listening to a single violinist play.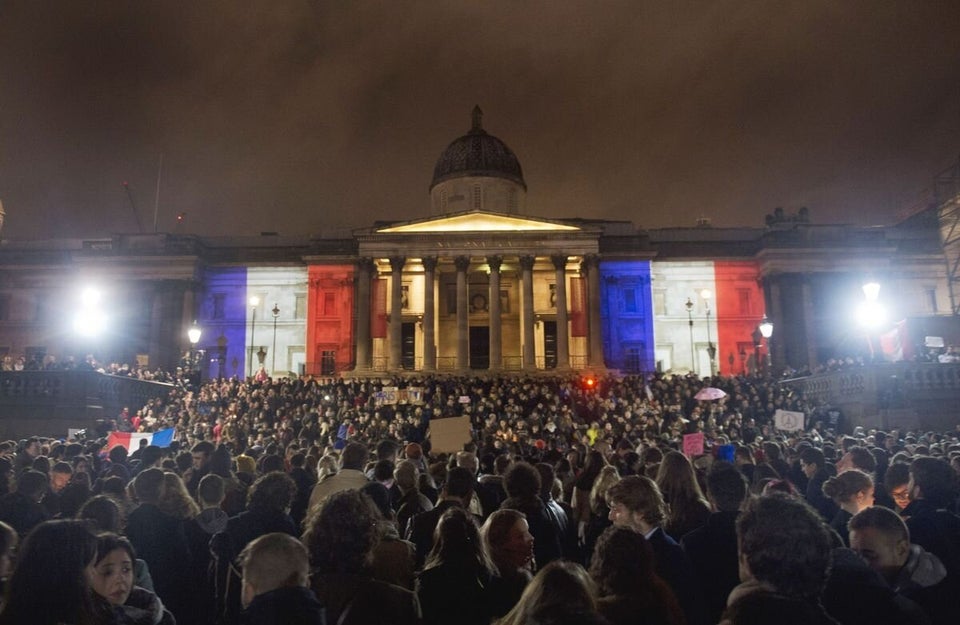 London Stands In Solidarity With Paris
Before the event, the organisers said: "This gathering is supposed to be peaceful. Let's leave the hate home along with our religions and xenophobic convictions.
"We are the French of London, standing with our harrowed grieving nation."
Earlier on Saturday, the colours of the French flag were projected on to Tower Bridge and the London Eye as London sought to show solidarity with its sister European capital city.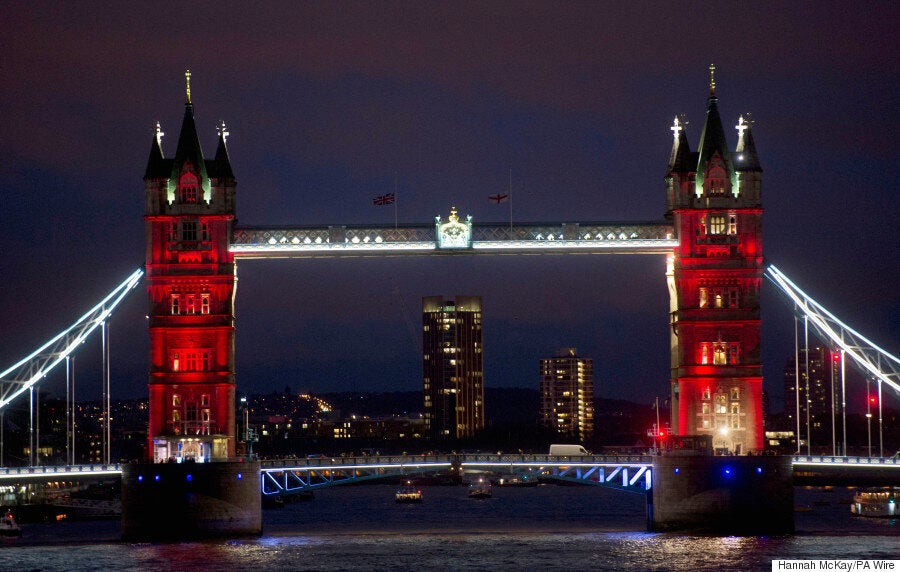 Tower Bridge (above) and London Eye (below)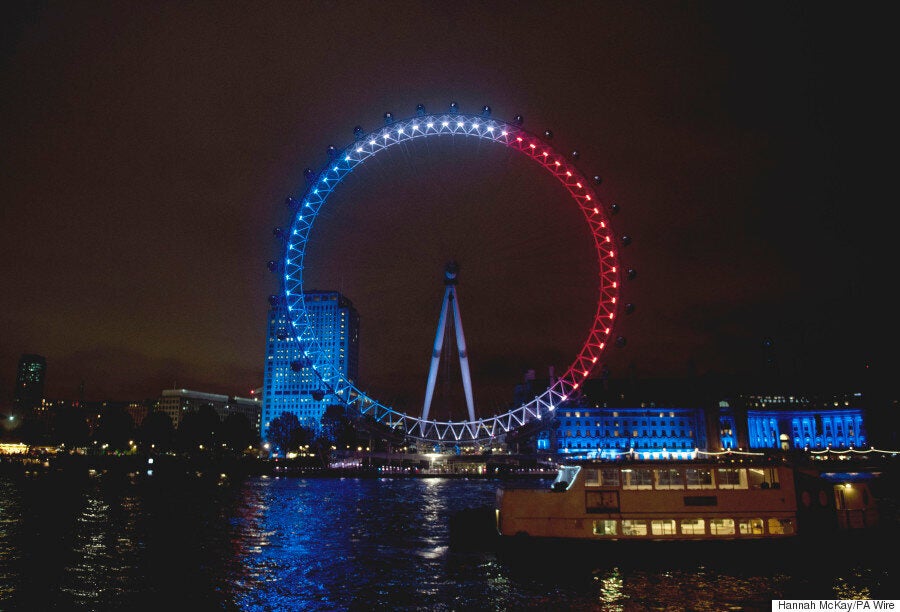 The only Briton confirmed to have died in the attack has been named as Nick Alexander, 36.
He is believed to have been working at the Bataclan theatre, where terrorists attacked a concert and took hostages, leaving 89 people dead.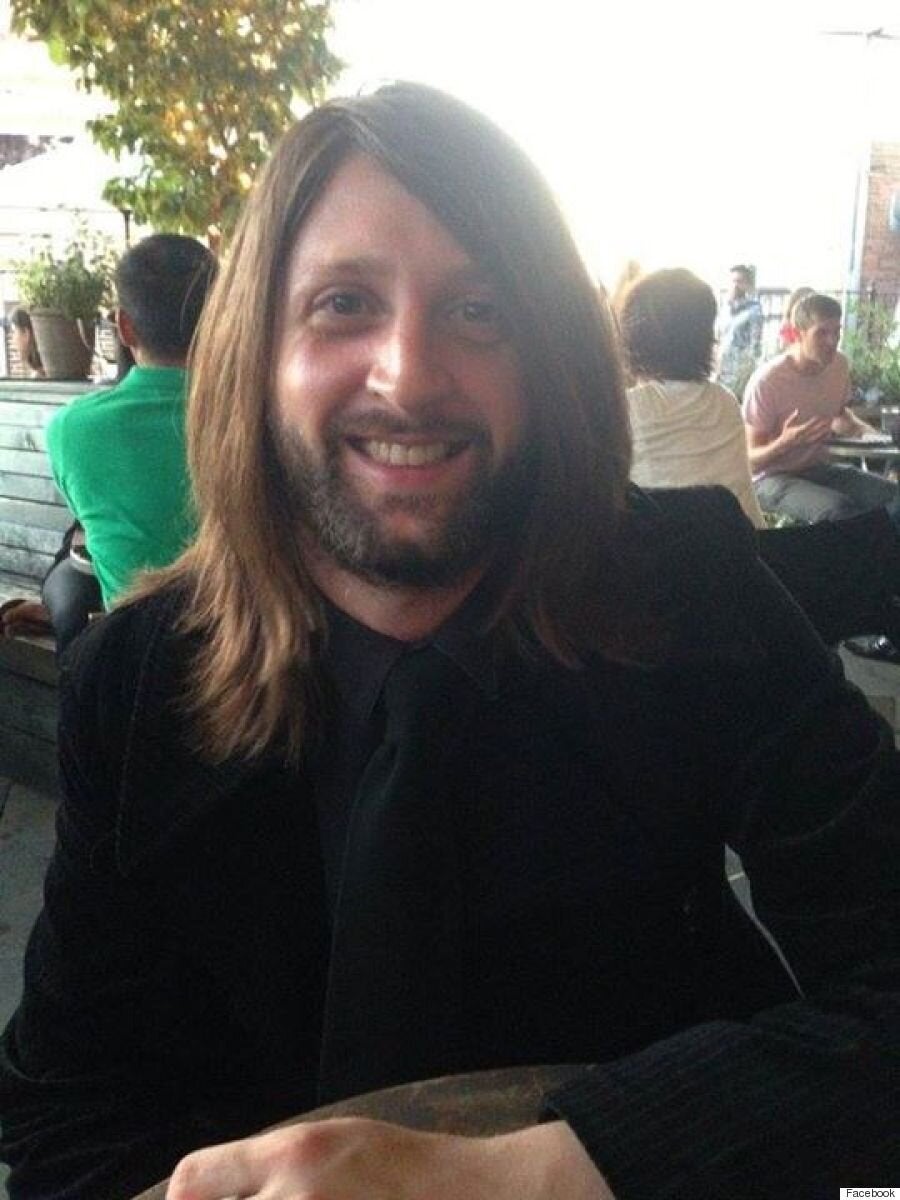 In a statement, Mr Alexander's family said: "It is with huge sorrow that we can confirm that our beloved Nick lost his life at the Bataclan last night.
"Nick was not just our brother, son and uncle, he was everyone's best friend - generous, funny and fiercely loyal."
They added they took "great comfort in knowing how much he was cherished by friends throughout the world".
Mr Alexander is understood to have worked in merchandising for the band Eagles of Death Metal, who were playing at the Bataclan when the terrorists attacked.
In response to the attack, British police said they would review their plans for how to deal with a similar incident in Britain and bolster policing at ports and on the streets.
"People may notice some changes at events at big cities across the country," Metropolitan Police Assistant Commissioner Mark Rowley, national lead for counter-terrorism, said.
"We will constantly keep that under review in the forthcoming days and weeks but we can't let the terrorists defeat us by becoming fearful and withdrawing from the streets. The term I would use is 'to be alert, not alarmed'."
Officials confirmed the safety of many British citizens in Paris, but a team from the Metropolitan Police and extra consular staff were sent to work with the French authorities to establish the fate of other UK nationals in the French capital.
Story continues beneath video
Speaking before any British deaths were confirmed, the Prime Minister warned that the UK should "be prepared for a number of British casualties" as he told the French people: "Your fight is our fight."
He said: "These were innocent victims enjoying a Friday night out with friends and family, no doubt at the end of a hard week.
"They were not seeking to harm anyone. They were simply going about their way of life – our way of life.
"And they were killed and injured by brutal, callous murderers who want to destroy everything our two countries stand for. Peace. Tolerance. Liberty. But we will not let them.
"We will redouble our efforts to wipe out this poisonous extremist ideology and, together with the French and our allies around the world, stand up for all we believe in."