The girlfriend of the British man killed in Paris has broken down at a vigil for those killed in the devastating terrorist attacks.
Nick Alexander, 36, from Colchester, worked in merchandising for the band Eagles Of Death Metal and was among the 89 killed when terrorists stormed the Bataclan theatre during a concert by the group.
The attack was part of a coordinated series of shootings and bombings by seven Islamic State fighters that killed 129 people and left 352 injured, many of them critically.
Mr Alexander is the only Briton confirmed killed in the attacks. His family said they felt "huge sorrow" at his loss.
His girlfriend Polina Buckley began crying and broke down while visiting a makeshift vigil outside the French consulate in New York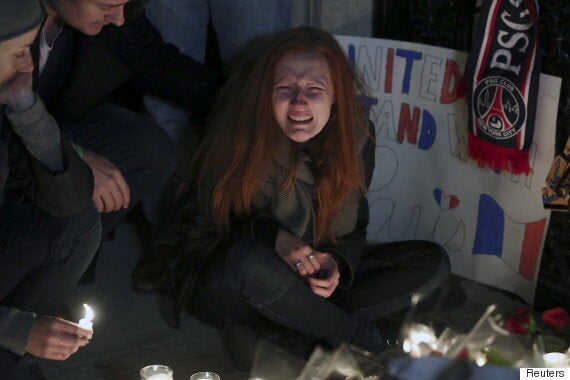 Polina Buckley at the vigil
Miss Buckley revived her Twitter account to ask for help finding him. When it was confirmed he had died, she tweeted: "Sleep tight, my sweet prince."
She also shared an image to Instagram of when he wrote "I love you".
She changed her Facebook profile photo to a picture of them together.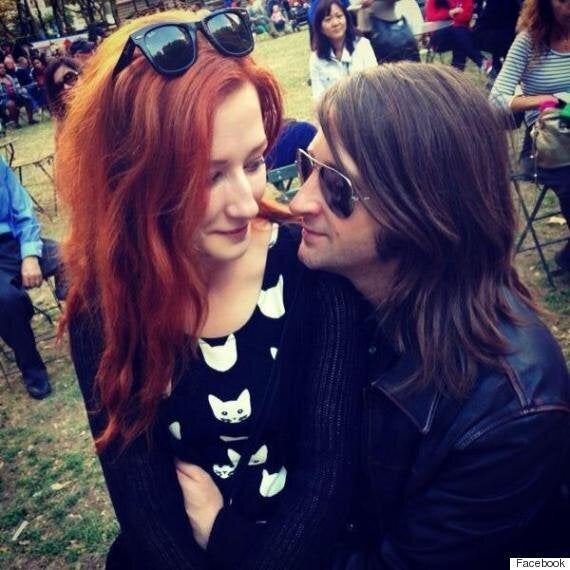 Polina Buckley and Nick Alexander
In a statement after his death was confirmed, Mr Alexander's family said: "It is with huge sorrow that we can confirm that our beloved Nick lost his life at the Bataclan last night.
"Nick was not just our brother, son and uncle, he was everyone's best friend - generous, funny and fiercely loyal."
They added they took "great comfort in knowing how much he was cherished by friends throughout the world".
Helen Wilson, a friend of Mr Alexander's, who was with him when he was killed, told The Telegraph: "Nick was shot in front of me."
She described how they went down on the floor when the gunmen entered and started shooting people who tried to flee.
She said: "Nick was in front of me when we were lying on the ground and somebody moved and they just turned round and started shooting us.
"His back was to me and I couldn't see what happened and I tried to keep him talking and then I tried to give him mouth-to-mouth resuscitation... He couldn't breathe any more and I held him in my arms and told him I loved him. He was the love of my life."
Writer and campaigner Ian Birrell knew Mr Alexander from the Africa Express music project that Mr Birrell co-founded with Damon Albarn.
He said Mr Alexander had "died a hero".