Wembley Stadium was the site of a glorious show of solidarity, defiance and sportsmanship on Tuesday night as over 70,000 people came together to stick two massive red, white and blue fingers up to Islamic State (IS).
The 'home end' at Wembley during anthems pic.twitter.com/8Bg5B8H8Ex

— Paul Kelso (@pkelso) November 17, 2015
An incredible rendition of La Marseillaise sang by practically every person in the building marked the beginning of the England Vs France friendly, played in the shadow of the horrific terrorist attacks in Paris last week.
Utterly spine tingling hearing Wembley sing Les Marseillaise. 90,000 fans united #ENGvFRApic.twitter.com/DEm9TX74Dt

— BreatheSport (@BreatheSport) November 17, 2015
So intense was the sentiment that fans did the previously unthinkable and declared they didn't even care who won.
Can honestly say I really don't care who wins tonight. Tonight is about solidarity and standing together not the result #EngvFra

— Louise Hopson (@louisehopson) November 17, 2015
To be honest, I don't care who wins tonight... Just so long as we all show the Terrorists that they aren't winning! #EngvFra 🇬🇧🇫🇷

— Craig (@Official_Craig) November 17, 2015
After the group killed 129 people in Paris on Friday, tonight's game was held in an atmosphere of anticipation mixed with tension.
This image makes me proud not only to be a football fan but to be English as well. #EngvFrapic.twitter.com/55Wb0B03pV

— Connor Goodinson (@WoodyWoodvine) November 17, 2015
Armed police were on hand to patrol the stadium for the first time ever and a similar friendly in Hanover between Germany and Holland was called off and the stadium evacuated after a credible bomb threat.
Wembley's iconic arch remained illuminated by the French Tricolore, with France's national motto Liberté, Egalité, Fraternité also on display. England fans hold French flags outside Wembley
Tributes were led by Prince William and David Cameron before a poignant minute's silence was observed, players from both teams gathered around the centre circle.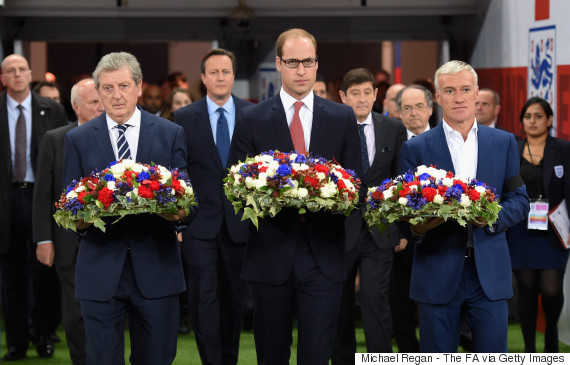 Haunting, immaculately-observed minute's silence #ENGvFRApic.twitter.com/sSOBXQx0Yu

— Henry Winter (@henrywinter) November 17, 2015
That's how a minutes silence SHOULD be done. Major respect. Could have heard a pin drop. #EngvFra 🇫🇷🇬🇧

— Han (@HannahLWren) November 17, 2015
Elsewhere tensions were high as fears of a bomb attack led to the Germany versus Holland football friendly being cancelled.
The stadium in Hanover was evacuated ahead of the match and local media reported an ambulance was found with explosives in front of the 49,000-capacity HDI Arena.
Story continues after slideshow...
Volker Kluwe, president of Hannover Police, told the BBC "there were plans for some kind of explosion".
He added police had "concrete" evidence and warned that people should return home as quickly as possible.
The terror attacks in Paris claimed by Islamic State killed 129 people and injured many more. The death toll would have been even higher if the terrorists had succeeded in their plan to get into the Stade de France where the French national team were playing Germany.
Attacks took place at a number of locations round the capital, the deadliest being at the Bataclan theatre where 89 people were killed and 99 others critically injured.
SEE ALSO: