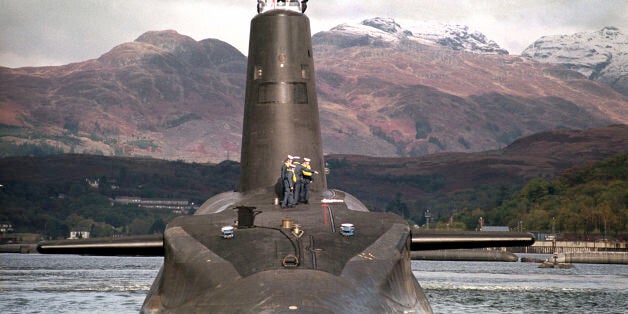 Labour's divide over nuclear weapons is to be exposed once again after the SNP said it would force a Commons vote on whether to scrap Trident.
The Labour leader's spokesman said today the party would not "engage in political games" with the SNP, and that the party's line was "subject to (Ken Livingstone and shadow defence secretary review)".
The review will determine whether the party returns to its policy of unilateral disarmament junked in the 1980s but still favoured by the Left.
The SNP, which has pledged to rid Scotland of nuclear weapons, today confirmed it would use its day of Commons debating allotted to Opposition parties to discuss the decision on renewing Trident, which is expected early next year. A vote will follow and though not binding on the Government has the potential for embarrassment.
The SNP is clearly looking to exploit Labour rifts ahead of Scottish Parliament elections in May where Nicola Sturgeon's party is seeking an historic third term.
Mr Corbyn's official spokesman said: "The policy is in review. We are not going to engage in political games. That's not avoiding the issue. We will come to a conclusion about these issues. The party's position is under review. The issue is subject to that review."
The Conservative Party sees the Labour divide over nuclear weapons as evidence of its frailty on national security.
Labour has appointed Mr Livingstone to help 'convene' the review along with Shadow Defence Secretary Maria Eagle.
It followed a tense Labour Party conference where the party avoided a vote on the issue, but Mr Corbyn told the Today programme he would never push the nuclear button even if he had the chance - effectively disarming Britain if he was Prime Minster.
Seven shadow cabinet ministers - including Maria Eagle, the shadow defence secretary, Andy Burnham, the shadow home secretary, and Hilary Benn, the shadow foreign secretary - criticised the position.
To confuse matters, the Labour Party in Scotland has voted to ditch N-subs, while its leader north of the border, Kezia Dugdale, supports them - the mirror opposite of Mr Corbyn and the party nationally.
SNP MP Angus Robertson, the party's leader in Westminster, told its conference in Aberdeen he would not be "holding my breath" that Labour MPs would join his party.