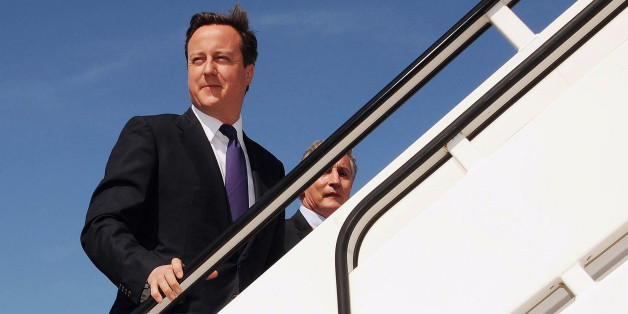 Stefan Rousseau/PA Wire
Prime Minister David Cameron has announced he and his senior ministers will be getting their very own private plane at a cost of £10million.
The concept has been likened to a budget version of the US president's plane, Air Force One.
Needless to say, Twitter jumped at the chance to name the new plane, since the taxpayer is covering the cost.
Suggested names for Cameron's new plane:

• Air Farce One

• The Flying Pig

• SleazyJet

• Aer Dingus

• Airsterity Measures

• Dumbo Jet

— Marty Lawrence (@TeaAndCopy) November 19, 2015
Proposed names for Cameron's new plane:

Titcopter

Air farce one

The winged bastard

Skygit2000

The spruce douche

— TechnicallyRon (@TechnicallyRon) November 19, 2015
@TechnicallyRon 'Cuntcorde'

— David Lewis (@davidclewis) November 19, 2015
@TechnicallyRon@johnnydobbo The Pork Chopper?

— LasVegasDan (@LasVegasWI) November 19, 2015
. @rodti@DocHackenbush I'm new to your politics but if "When Pigs Fly" isn't a contender, nothing makes sense. #DavidCameron

— Dane Rauschenberg (@SeeDaneRun) November 19, 2015
Can we petition to have David Cameron's new plane named 'Spirit of Austerity'?

— rodti macleary (@rodti) November 19, 2015
@TeaAndCopy Swine Flew

— Simm Minogue (@simm_minogue) November 19, 2015
Pigs will definitely fly by the looks of this

#conpigpic.twitter.com/O3uNj9CBfi

— Tahira Mirza (@tahiramirza1) November 19, 2015
Announced just before a round of public spending cuts, Dave's new Voyager A330 aircraft will be taken from the Royal Air Force's existing air-to-air refuelling fleet and repurposed for government use at a cost of £10m.
According to Reuters, 'repurposed' means it'll be repainted, stripped of its tanker duties and have an all-new interior with secure satellite communications systems and an increase in the number of business class seats on board.
Acknowledging the irony of purchasing a private plane while carrying out huge spending cuts, a spokesperson for the government said the move would actually save nearly £775,000 every year on chartered flights.
SEE ALSO: