A video has emerged showing how a woman narrowly avoided execution during the Paris terror attack when a terrorist's machine gun misfired, and how victims bravely ran for cover as a restaurant was sprayed with bullets.
The unnamed woman is said to have escaped a certain death on November 13, when Islamic State fanatics went on a shooting and bombing spree across Paris, killing 129 people, and injuring 350.
The video, obtained by the Daily Mail, also shows a 20-year-old waitress ducking under the bar and supporting an older, injured patron, who was injured during the shooting spree at the unnamed restaurant.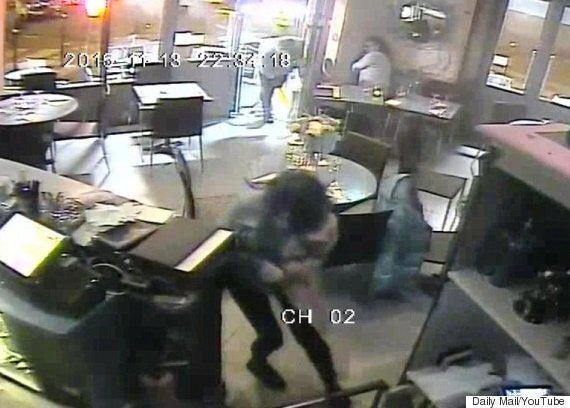 A woman can be seen running for cover as a terrorist opens fire on the restaurant
None of the diners or staff inside the restaurant died during the attack, but a man who was said to have arrived to collect a pizza was shot and killed on the street outside the premises, as did four others. A further eight people nearby were seriously injured.
The gunman is said to be 26-year-old Belgian born Salah Abdeslam, who is still on the run. Sources told the Mail it was possible a second, as yet unidentified gunman, might have involved in the restaurant attack.
The film is the first footage to show the sheer mayhem created by the attacks.
The restaurant is located in Paris's fashionable 11th district, which is popular with middle class people who work in advertising and the media.
The footage emerged amid reports the mastermind behind the terror plot, Abdelhamid Abaaoud, had been killed in an hour-long firefight with police in Paris on Wednesday, where some 5,000 rounds of ammunition were fired. Authorities are still to confirm whether he was among the two people killed.
Popular in the Community