The Labour politician was pictured holding up the letter listing demands from a socialist campaign group on Thursday.
McDonnell's spokesperson said he didn't support the demands, and initially claimed he had never seen the letter, before the awkward photo appeared to suggest otherwise.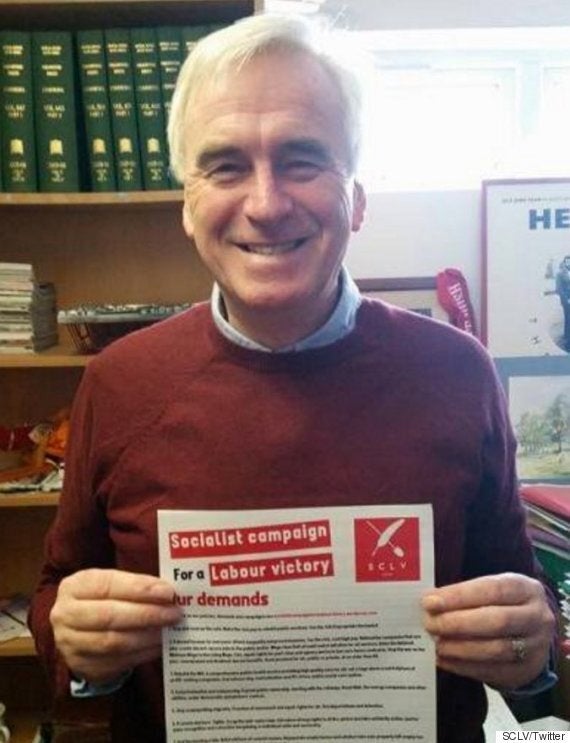 McDonnell with the letter
The letter from the Socialist Campaign for a Labour Victory calls for Britain's domestic security service to be disbanded, and the police to be disarmed.
Questioned over the photograph on an LBC radio show on Saturday, McDonnell said that he thought he had thought the piece of paper he was holding up in he picture was an anti-austerity letter.
In the programme hosted by Ken Livingstone and the former Tory cabinet minister David Mellor, McDonnell laid into Mellor, saying: "While I'm on, can I have a go at David, by the way? I might as well have a pop at you."
"Last night one of my constituents contacted me and said 'Hey, that David Mellor's having a pop at you on LBC again, about this MI5 issue.'"
"I will defend myself," Mellor joked back, "I was merely quoting this letter."
"I know, it's rubbish, it's bonkers," McDonnell told Livingstone and Mellor. "I never signed that letter... I didn't even know it existed until during the week, and then they produce a photo of me with it."
He claimed he had no idea what the piece of paper he was holding up read: "I thought I was holding up an anti-austerity statement that I signed.
"It was a cock-up, so David Mellor get off my back."
Mellor replied: "I'll get off your back, I'm not some sad apology for the Tory party here."
On Friday night, McDonnell also told BBC Newsnight that it was a "cock up" to pose with the document written by the socialist campaign group and that the idea of banning MI5 was "bonkers".
He said that the Labour party has "had a rough week" which he compared to that suffered recently by the Conservatives when there were "allegations about the prime minister and the cadaver of a dead animal".
Asked on LBC whether the Labour party was "fighting itself", he said that some members were having to get used to "democracy being in the party again" and added that "an element of self-publicity going on" among some MPs who were having public spats.
He referred to the Labour MP Vernon Coaker, saying he admired Coaker's recent reflection that: "We're not the old-style top-down hierarchical party any more, we're moving to something different, maybe a bit more like a social movement, not completely sure which but we're going to have to come to terms with it because that's what our members want."
McDonnell added that the media must accept that "there will be dissent within political parties now and that's going to be more common than in the past, it's how we express that dissent that's important."
"On virtually all domestic policy, we're absolutely united," he said, saying that Labour members agreed on their stance on the trade union bill, the NHS and austerity, whereas there are divisions over foreign policy which he said is "problematic for the Tories as well".
Related