Parts of the UK saw a flurry of snow overnight for the first time this winter - and some people simply couldn't believe it.
Snow showers were reported in parts of Scotland, Wales, northern England and the Midlands, at the start of a wintry weekend which could see temperatures plummet to minus 5C.
Even though in some areas it was barely a sprinkling - and soon disappeared - British enthusiasm was out in force.
Some people shared wintery pictures of parks, streets, gardens and mountains online after the snow fell:
But some didn't see any snow at all:
And others really felt they should have done:
Around 3am, North Yorkshire Police tweeted: "Snow is falling and settling in places," The Press Association reported.
The force advised motorists to allow extra time for journeys.
The risk of snow showers will lessen throughout the day.
But although southern areas of the UK will see highs of 6C today, parts of Scotland will struggle to rise above freezing, with temperatures across the country lower than normal for this time of year.
Billy Payne, a forecaster with MeteoGroup, said: "It will be a cold day, especially by recent standards, but even by the November average it will be cold."
The cold snap comes in marked contrast to the recent mild weather which led to it being the second mildest start to November on record, and the Met Office has issued weather warnings for snow, wind or ice for most of the UK.
There will be widespread frosts tonight and into Sunday with 65mph gales due to hit Devon, Cornwall and west Wales.
"The combination of rain, sleet and snow and dropping temperatures will also lead to a risk of ice in places, particularly over high level routes on Saturday morning," said a spokesman from the Met Office.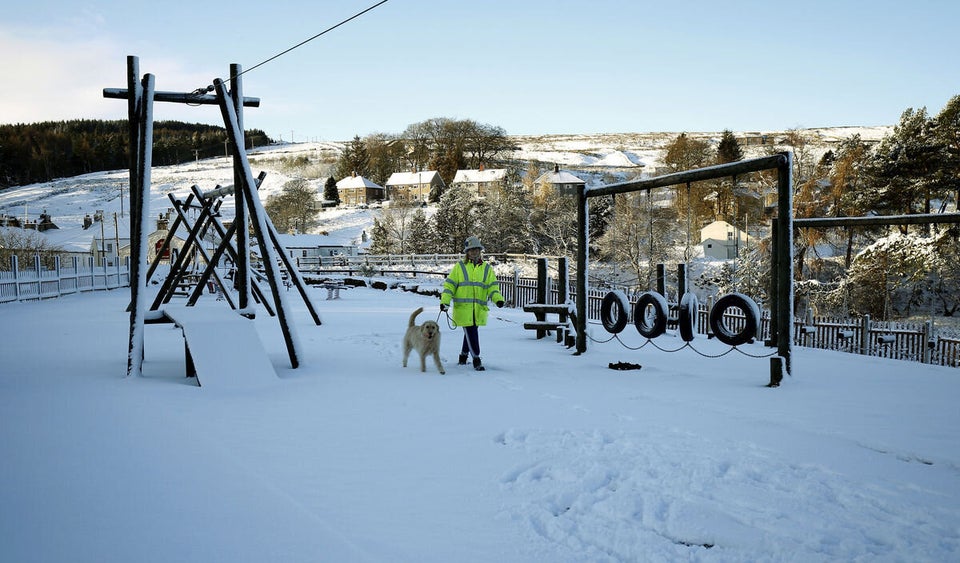 UK Snow November 2015
Frank Saunders, the Met Office's chief operational meteorologist, added: "The Met Office is forecasting strong winds and some snow for this weekend which means there is the likelihood of some difficult driving conditions and possible disruption to transport.
"With this in mind, if you have travel plans over the weekend, we'd advise that you keep an eye on the forecast and warnings for your area."
But the cold spell is not set to last, with warmer weather predicted from Monday and rain spreading eastwards as temperatures rise.
Related