The five things you need to know on Tuesday November 24, 2015…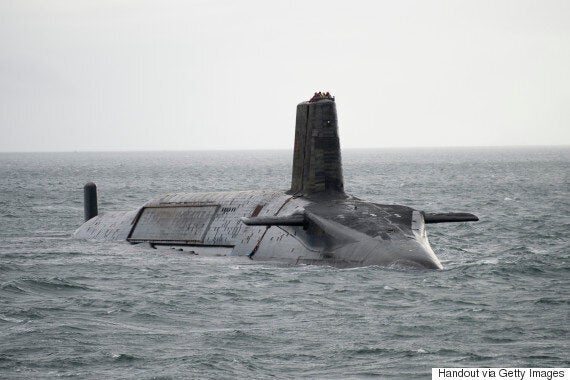 It's the SNP debate and (non-binding) vote on scrapping Trident today in the Commons. John McDonnell told last night's PLP that this was an 'SNP stunt' and MPs have been told to abstain. Some have decided that today is the perfect day to go campaigning in the Oldham West by-election.
But some MPs are unhappy at the idea that they could be disciplined for voting against the SNP motion, not least given that it's still the official Labour policy (as approved at conference) to renew the deterrent. Around 20 or so refuseniks could well defy McDonnell and Corbyn by voting today.
Still, Corbyn's case has got a big boost from former defence secretary Des Browne (who is close to Ed Miliband, don't forget) who has told the BBC that Trident could be rendered obsolete by cyber attacks. Ken Livingstone seized on Browne's remarks. Maria Eagle will feel under siege once more.
The PM himself said that the real vote on the 'maingate' decision to renew Trident would take place at the 'appropriate' time. Ms Eagle has said no such vote is needed given it was in the Tory manifesto. But there are suspicions that the PM could delay it until after October, when Labour's conference could reverse its policy and dump Trident (the PM has wriggle room as the SDSR suggests a delay in the programme). Some in No.10 and the MoD are very worried indeed that a change in official Labour policy would force pro-nuclear Labour MPs into a minority.
As for Syria, David Cameron made plain yesterday he wants MPs to 'consider it over the weekend' and a vote will take place next week. Note that Miliband last night told Newsnight he was 'yet to be convinced' by the PM on Syrian action. Another bit of help for Corbyn.
For some Labour MPs, it's not Jeremy Corbyn who worries them most, it's John McDonnell. The Shadow Chancellor didn't win round many of them at the PLP last night, but he could inflame things even further. The Times's Rachel Sylvester says he is due to speak tomorrow at a "Keep up the Momentum" meeting of the Labour Representation Committee, Waltham Forest Branch, where left-wingers are trying to seize key party positions and have discussed ousting Stella Creasy. Yes, on the same day as the Autumn Statement.
On Thursday, the Hounslow branch of Momentum is due to be launched by Andrew Fisher, the Corbyn adviser who was suspended from the Labour party. If Fisher is reprieved by the NEC, which was the speculation yesterday, this is one to watch. If a social media 'code of conduct' (first revealed on HuffPost) tries to censor MPs, it could get even more hairy.
Sylvester has this quote from one MP: "People know he's not up to it. Every day that goes on more damage is done."
The Times meanwhile splashes on a poll showing that 2/3 of Labour supporters think Corbyn is doing well (compared to 3/5 of the public think he's doing well). As I said yesterday, the most fascinating line in Corbyn's weekend speech was on 'indicative ballots' for members. Well, this poll suggests that things could go his way in this titanic battle between MPs and Corbyistas.
Oldham is worrying some in the party as they see the Corbyn 'shoot to kill' effect on the doorstep. The Times poll suggests that even in the north of England 42 per cent of people support the Tories, compared to 36 for Labour, while in the southeast it is a devastating 55 to 18 per cent.
3) GEORGE PLAYS SIMON SAYS
In the poker game that is the spending review, Simon Stevens' tactics look to have paid off, at least on one big hand. The NHS chief exec had warned publicly that he needed £4bn of new cash 'front loaded' if he was going to achieve 7-day working, plug staff shortages and other big pressures. And overnight the Treasury has announced that's almost exactly (£3.8bn) what George Osborne is set to deliver.
As I've said before, former No.10 insider Stevens is more powerful than most Cabinet ministers (and he knows it) and 'Simon Says' is the game the Treasury is having to get used to. But Stevens may not win every every time and there are worries that public health (another of his concerns) will be hit. Social care may need a hell of a lot more than a council tax local levy, some warn.
Forcing trainee nurses to take out student loans in future, and phasing out state funded nursing bursaries, is another way Osborne is set to raid other parts of the health budget. Yet just as the defence review yesterday contained some £11bn in efficiency savings (ie lots of civilian job losses), watch for the detail. Selling surplus NHS estates will generate a further £2bn for reinvestment, while releasing land for 26,000 new homes, the Treasury said. (Another way to get to that Starter Home target perhaps).
BECAUSE YOU'VE READ THIS FAR…
4) MEETS, SHOOTS AND LEAVES
The Telegraph has a neat scoop that one of the 'Leave' campaigns in the EU referendum has approached the other about merging. No more 'People's Front of Judea' versus the 'Judean People's Front'? Not quite.
The talks were initiated late last week by Arron Banks, the millionaire founder of the Leave.EU campaign, in a letter to Matthew Elliott, the campaign director of the Vote Leave campaign. He referred the matter to the campaign's board, which is due to meet today, in consultation with its MP and business supporters. Nigel Farage likes the idea but Tory sources say Tory donors and others can't work with Banks. HuffPost has an update on another angle on the Vote Leave campaign soon.
The Indy splashes on an ORB poll showing that the Brexit is backed by a majority for the first time. But last night Nick Clegg got his mojo back with a rousing speech at the Oxford Union in defence of the EU. Nigel Farage tried his best with some gags comparing Brussels to a domineering husband and Britain to a wife who wants to leave a loveless marriage. But Clegg won the day, the Union voting 283 in favour of staying in the EU, with 73 against.
Just at the point attention is focused on Labour's in-fighting, some around David Cameron are increasingly irritated at the constant drip feed of Mark Clarke revelations. Newsnight had some more last night, but the Sun's Harry Cole is again proving how good his Tory contacts are. He reports today that party chairman Andrew Feldman's own sister was heavily involved with Team 2015. The Sun also reports that Clarke planned to buy a 'love nest' pad for his mistress with his wife's money.
The Times meanwhile reports that the scandal moved closer to No.10 as friends of Grant Shapps revealed it was a wider board, not just him, who decided to bring Clarke's Road Trip campaign 'in house' as an official party group. Lynton Crosby and Stephen Gilbert, vice-chairman of the party for campaigning, were on the board. Sources close to Crosby are accusing Shapps of seeking to spread blame, while some senior No10 sources are highly critical of the minister too. There are suggestions that further allegations about Shapps' links to Clarke are yet to emerge.
The Indy reports that David Cameron himself invited Clarke to a Chequers tea party due in September, but the invite was cancelled once the allegations surfaced in August.
THE CENTRE FOR SOCIAL JUSTICE AWARDS 2015
Tonight HuffPost UK is a proud media partner of the Centre for Social Justice Awards 2015 tonight. Ahead of the event, I've done an interview with Iain Duncan Smith. He talks about the genesis of the awards, the role of faith in charities, social investment bonds, Kids Company, boxing and Easterhouse. It's up online here now.
If you're reading this on the web, sign-up HERE to get the WaughZone delivered to your inbox.
Got something you want to share? Please send any stories/tips/quotes/pix/plugs/gossip to Paul Waugh (paul.waugh@huffingtonpost.com), Ned Simons (ned.simons@huffingtonpost.com), Graeme Demianyk (graeme.demianyk@huffingtonpost.com) and Owen Bennett (owen.bennett@huffingtonpost.com)