In this season of festivities and gift-giving, one woman has donated the biggest present of all.
Lori Interlicchio, who met her girlfriend on Tinder, decided to surprise her with a box of goodies.
The gifts for her partner, Alana Duran, were particularly special as she was diagnosed with Lupus when she was aged just 12.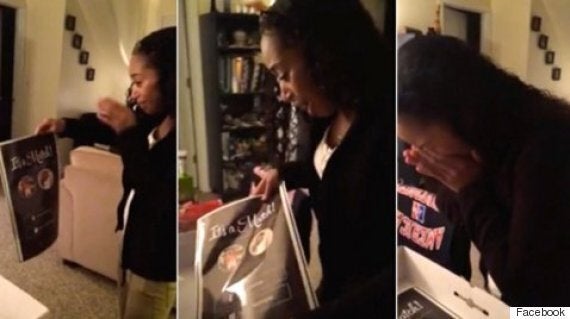 The best present anyone could give
Interlicchio filmed the occasion as she set a ribboned box in front of her girlfriend, not giving any hints to what was inside.
As Duran riffled through the small presents, it was the one at the bottom that meant the most.
After checking whether she was a blood-match, her girlfriend surprised her with the gift of life, providing her with a much needed kidney.
She included a card that read: "Tattoos are cool but I'd rather get matching scars" with the news that her girlfriend could come off dialysis.
Completely overwhelmed, Duran broke down into tears and was left speechless.
Duran posted the emotional video, which has since got over 93,000 views, with the message: 'Who knew that when we both swiped right on Tinder that day, that we would be more than just girlfriends but that she would be my kidney donor!
"It's so funny how things work out. Both of us going into this relationship not expecting anything out of the ordinary. It's just so amazing to me that she was willing to get tested and now she's super excited to donate one of her kidneys to me.
"Lori, I love you so much and I'm so excited that we get to do this together. You're the absolute best."
Lupus is a chronic, autoimmune disease that can damage any part of the body (skin, joints, and/or organs inside the body).
In Lupus, something goes wrong with your immune system, which is the part of the body that fights off viruses, bacteria, and germs.