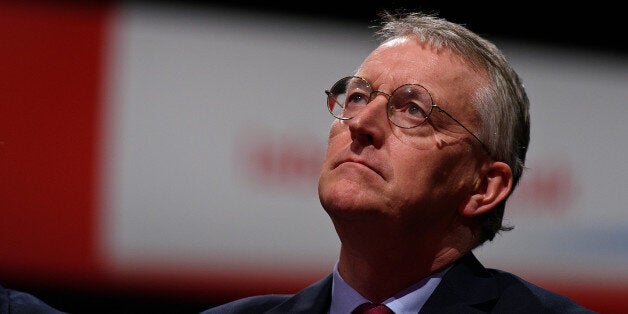 Plans to 'gag' Hilary Benn from speaking alongside Jeremy Corbyn at a crunch Commons meeting on Syria have been stymied by Labour MPs.
Allies of the Labour leader had asked the office of the Parliamentary Labour Party (PLP) to ensure that only Mr Corbyn spoke for the leadership at the PLP meeting next Monday, a Labour MP told HuffPost UK.
But the request was refused and Mr Benn, the Shadow Foreign Secretary, will be now be speaking at the gathering next to Mr Corbyn.
"They wanted to gag him but they can't. It's upto the Parliamentary Committee [the party's backbench shopstewards], not the Leader, to decide how we run PLP meetings," one MP said.
But the wider battle for the future direction of Labour shifted in Mr Corbyn's favour today as the leftwing Fire Brigades Union reaffiliated to the party and a key aide had his membership suspension lifted.
The party confirmed that Mr Corbyn's aide Andrew Fisher had had his supension from the Labour party lifted by the ruling National Executive Committee (NEC).
Mr Fisher had been suspended following a Tweet in which he had urged voters to back a Class War candidate in Croydon rather than vote for the official Labour candidate Emily Benn, Mr Benn's niece.
The Fire Brigades Union today decided to re-affiliate to the Labour Party, 11 years after severing links over a pay dispute with the Blair government, a move welcomed by Mr Corbyn as 'great news'.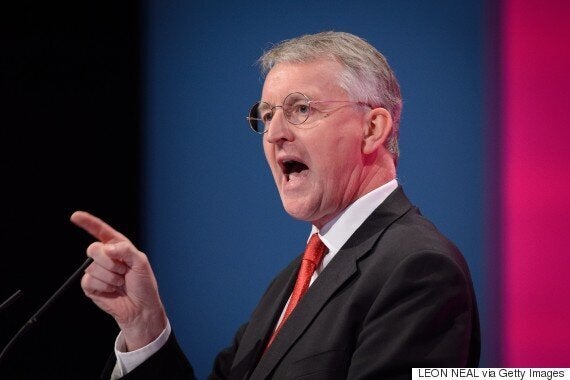 Shadow Foreign Secretary Hilary Benn
The PLP meeting next week will take place after a crucial meeting of the Shadow Cabinet to discuss the party's line on military action in Syria – and plans to impose a whip or allow a free vote.
It will be the first chance many backbenchers have had to quiz Mr Corbyn in person over his letter to them on Thursday night, which set out his personal view that he remained unconvinced of the case for war and 'cannot support it'.
Mr Benn won huge applause at a heated PLP meeting earlier this month, after he denounced ISIL for as "fascists" for their catalogue of behadings, murders of homosexuals, rapes and terror attacks.
He also pointed out that Labour had voted overwhelmingly for RAF airstrikes against ISIL in Iraq and argued against those who said that any intervention in Syria would make the situation worse.
Several MPs as well as shadow cabinet ministers are unhappy at the 'chaotic' nature of Labour's position on a key issue of national importance.
They suspect that Mr Corbyn sent out his letter as a way of sending a signal to the grassroots party members that they ought to put pressure on their MP this weekend ahead of a Commons vote expected next Wednesday.
Some MPs are also furious at an email sent from a Parliamentary email address by leftwinger Simeon Andrews, lobbying them to oppose any bid to authorise military action. "That lit the blue touch paper," says one MP.
Those loyal to the Labour leader insist that he is representing the huge numbers of party members who are sceptical about the UK getting embroiled in another conflict in the Middle East.
In a letter to MPs – which was sent without consultation with the Shadow Cabinet - Mr Corbyn declared: "I do not believe the Prime Minister's current proposal for airstrikes in Syria will protect our security and therefore cannot support it".
"I'm going to carry on doing my job as the shadow foreign secretary which is to speak out about what I think the right thing to do is," he said.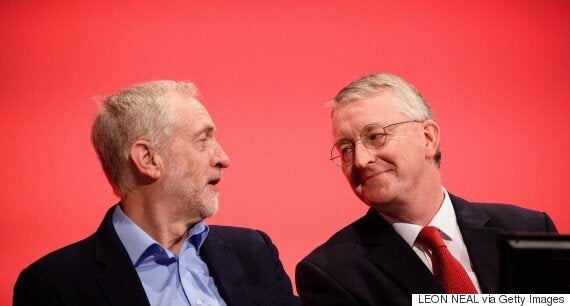 Mr Corbyn and Mr Benn in happier times at this year's Labour conference
Tensions between Mr Corbyn and Mr Benn have bubbled over in recent days as they reacted differently to both the UN's new resolution on Syria in the wake of the Paris attacks and to a confidential briefing from intelligence officials on the threat to the UK.
The disagreements boiled over on Thursday as Diane Abbott appeared on the media following Mr Cameron's statement to MPs and declared the case for military action was unproven. Mr Benn then gave an interview to the BBC in which he made clear Mr Cameron had a strong case.
But the decision on Mr Fisher's suspension is another indication that the ruling NEC now has a pro-Corbyn majority.
Reacting to the news that his suspension had been lifted, Mr Fisher said: "I'm very pleased with the decision. I've been a Labour party member for 20 years and all I've ever wanted is for Labour to be strong and effective, whether in government or opposition.
"With families still facing cuts to their living standards and billions of pounds cut from local services by the Tories in this week's autumn statement, I will continue to support Jeremy, who was elected in a landslide victory just two months ago, and help Labour build towards 2020."
Some MPs believe that Mr Fisher was responsible for drafting the email that urged MPs to oppose Syria bombing this week.
Mr Andrews' email, sent late on Wednesday night ahead of the crucial Commons statement, stated: "Adding British bombs to existing US and other bombing campaigns will not make the difference in beating ISIS – and we believe it is being pressed solely for reasons of political expediency."
Mr Andrews, who has worked with John McDonnell on the Trade Union Coordinating Group, has a Parliamentary pass sponsored by Labour whip Grahame Morris, it is claimed.
The FBU's decision to re-affiliate to Labour today is a big boost for Mr Corbyn. Matt Wrack, FBU general secretary, said: "Firefighters recognise that the Labour party has changed for the better since the election of Jeremy Corbyn, who has given our members and supporters hope that we can shift the political debate in favour of working people."
This week Mr Wrack told a Labour meeting that attacks on Mr Corbyn in the media and by the PLP were 'absolutely disgusting'.