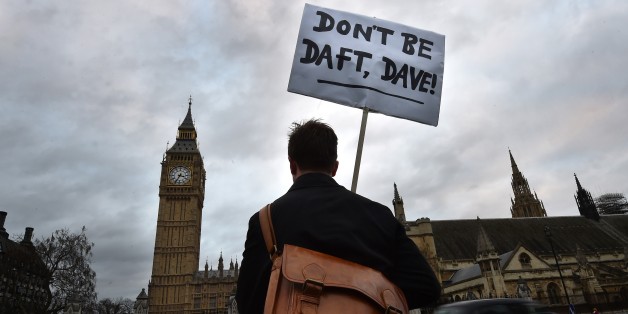 BEN STANSALL via Getty Images
Hundreds of people are rebuking the Prime Minister for calling Jeremy Corbyn a "terrorist sympathiser" over his refusal to back airstrikes in Syria.
Social media revolted at the comments, made by David Cameron to a group of Tory MPs, on the eve of an historic Commons vote that will decide whether Britain goes to war with Islamic State.
The Conservative leader, fearful of losing a vote on military intervention as he did in 2013, warned members of his 1922 committee against voting alongside a number of Labour MPs whom he alleged were sympathetic to the terrorists who recently wrought horror on Paris.
"You should not be walking through the lobbies with Jeremy Corbyn and a bunch of terrorist sympathisers," Cameron said.
The comments sparked uproar on Twitter, with journalists, MPs and anti-war campaigners all quick to lambast the suggestion that their opposition to a fresh bombing campaign equated to sympathy for Isis.
Corbyn's unofficial campaign group led the charge, branding the remark "disgraceful".
Many reports of David Cameron actually saying those opposed to bombing Syria are terrorist sympathisers. Disgraceful https://t.co/toTriqffXX

— JeremyCorbyn4PM (@JeremyCorbyn4PM) December 1, 2015
Labour MPs, including Lisa Nandy, Wes Streeting, and Jonathan Reynolds followed suit.
How utterly depressing that this man is Prime Minister. He demeans his office. https://t.co/uhDwVJEtaW

— Lisa Nandy (@lisanandy) December 1, 2015
The country deserves better than this sort of language https://t.co/e194zxYAk4

— Jonathan Reynolds MP (@jreynoldsMP) December 1, 2015
@bbclaurak The atmosphere in Parliament is febrile. But this is a time for cool heads and a debate on the merits of the argument.

— Wes Streeting MP (@wesstreeting) December 1, 2015
That is a truly contemptible comment. https://t.co/gUOLUWcodt

— Matthew Pennycook MP (@mtpennycook) December 1, 2015
Several reports also expressed their concern at "valid concerns" being rubbished.
Unbelievably un-prime ministerial. PM on brink of military action should speak for nation not party. https://t.co/7eSp0hgzIV

— Gaby Hinsliff (@gabyhinsliff) December 1, 2015
Many MPs have extremely valid concerns about Syria action - to dismiss them all as "terrorist sympathisers" is wrong https://t.co/pqslVSNI3c

— Pippa Crerar (@PippaCrerar) December 1, 2015
Polarising doesn't help convince people https://t.co/n24UkIQ5Fq

— Dan Bloom (@danbloom1) December 1, 2015
While campaigners and anti-war lobbysits also expressed their disquiet with Cameron.
Cameron calls those opposed to bombing Syria "terrorist sympathisers", conveniently ignoring the terror he plans to inflict on Syrians.

— Angry Salmond (@AngrySalmond) December 1, 2015
This is absolutely foul

December 1, 2015
this is *really* shitty conduct https://t.co/ahvyBWcjeu

— Jade Azim (@JadeFrancesAzim) December 1, 2015
The vote, scheduled to take place after a hefty 10-hour debate on Wednesday, is expected to be close, but only called by the prime minister because he expects he can win it.
At least four Conservative MPs have said they will be joining the SNP, Greens and numerous Lib Dems in opposing the government's motion, which would extend air strikes currently being employed by RAF fighter jets in Iraq to Syria.
READ MORE: