Well, that is the message Microsoft gave after it aired its Christmas TV commercial showing its employees serenading the Apple staff with carols.
Set in New York, the video begins with the computing giant's store in the city and then swiftly moves on to another familiar sight -- the palatial glass hub belonging to Apple.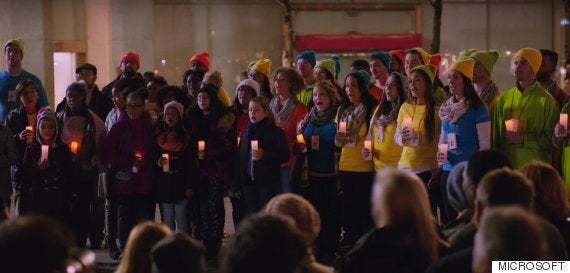 Accompanying shots of Manhattan's twinkling lights are the melodic voices of a children's youth choir in New York, singing "let there be peace on earth."
In an attempt to make the first move, Microsoft employees, robed in their trademark multicoloured uniforms, then make their way to the Apple store.
Holding candles, they sing out their message of peace to Steve Jobs and company: "Let peace begin with me, let this be the moment now."
As the performance raises a cheer from singers and the public alike, the advert ends with the words "spread harmony".
Aw guys that is so sweet. Obviously, Microsoft's call for peace is really a call for more customers. But still, it is the thought that counts.