An MP has spoken of his fears for his pregnant wife after he was sent an apparent death threat using emojis on Twitter.
Labour MP Neil Coyle was sent a tweet over his support for UK military intervention in Syria.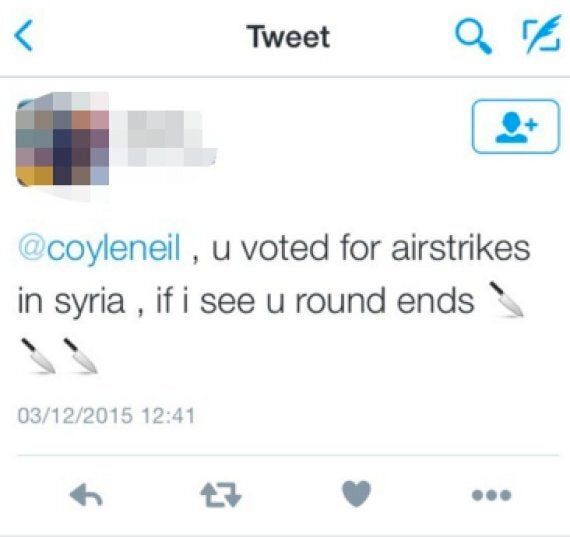 The tweet sent to Neil Coyle
He told Sky News: "My concern is also for my staff and my volunteers in the local Labour party volunteers who give their time…and are not being told we need security for our events and things like that. That's unacceptable.
"I also have my wife to worry about, my home address was put online, I have to worry about my wife who's pregnant.
"Fundamentally there is something wrong about people who think it's okay to make these kinds of threats.
"Lobbying is fine, debate is fine, dialogue is fine and reasonable dispute is fine. There is absolutely no problem with that at all, I welcome engagement and consultation and in particular, I welcome Labour party members. If people want to join my party they are more than welcome to in Bermondsey and Southwark.
"But where you draw the line is a threat of physical violence. I mean, it's childish.
"You wouldn't allow a five-year-old to do it. I do think Twitter needs to act more. I've had an extreme end of this but there are… women MPs who put up with this day in, day out. Vile abuse and threats of rape all the time from people who think that's acceptable. That is unacceptable, that is not part of reasonable discourse."
He added that he has since received an apology, although police continue to investigate the incident.
Coyle is not the only one to have received such abuse online.
Simon Danczuk, MP for Rochdale and another to have backed military intervention, also said he would be contacting police after threats were made against his constituency staff and local Labour councillors.
He told Sky News: "I think it's something that I'll be doing during the course of today."
Her Wikipedia page was edited by critics, and one user said that pictures of dead children sent to Creasy were "Previews of murders u have ordered" [sic] while another tweeted: "Shame on you."
The news comes as it was revealed that a number of MPs, including Creasy, had their Wikipedia pages altered.
Express.co.uk reported that a number of changes were made, including changed Hilary Benn's named to Hilary Bomber Benn and claiming Creasy had supported a "vindictive right wing colonial war agenda".