SEE ALSO: Tyson Fury Compared To A 'Dickhead' By BBC News Presenter Clive Myrie
Tyson Fury has quarrelled with presenter Jeremy Vine during a sensational BBC Radio 2 segment in which the boxing champion defended himself amid allegations of homophobia and misogyny.
The World Heavyweight Champion appeared on the lunchtime phone-in to address claims that he was anti-gay and anti-women, following a series of controversial interviews with the media.
The programme opened with provocative audio from an interview conducted this past weekend in which Fury is heard saying of his wife: "Her job's cooking and cleaning and looking after these kids, and she does get some choice: what she's going to cook me for dinner when I get home."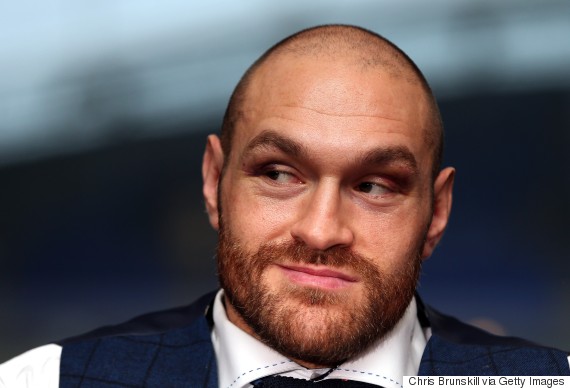 Tyson Fury appeared on BBC Radio 2 on Monday
Fury, who won the heavyweight boxing title last month, prompted outrage at his inclusion in the shortlist for the BBC's annual Sport Personality of the Year award.
A Change.org petition, launched by gay rights activist Scott Cuthbertson, argues that Fury should not be among the final names to be considered for the accolade. It has now achieved 70,000 signatures.
"I have no say on someone else's life who am I to judge?"
During the interview Jeremy Vine was left increasingly incredulous as he read out a series of past statements made by the boxer and invited him to comment on them.
Fury caused controversy in a recent interview when he appeared to liken homosexuality to paedophilia.
Vine fearlessly challenged Fury on his contention that the legalisation of homosexuality, abortion and paedophilia would signal an apocalypse.
Fury said: "I didn't say I have a problem with homosexuals, abortionists and paedophiles.
"I said that it was [what] I'm taught through my scriptures."
When Vine interjected to say the Bible does not reference abortion, Fury responded: "Well all of what I'm talking about is in there somewhere, go and check it out."
He continued: "Let's make this clear, I do not hate anybody.
"My Lord and saviour Jesus Christ does not hate anybody."
"Let's not try to make me out to be some evil person because I hate gays. I don't hate anybody.
"Tyson Fury loves everybody. I have no say on someone else's life who am I to judge?"
Jess Ennis-Hill "slaps up good"
Vine highlighted the weight of criticism for comments Fury made about the athlete Jessica Ennis-Hill, in which he is reported to have said: "Jessica Ennis-Hill slaps up good and looks great in a dress" as well as "a woman's best place is in the kitchen and on her back."
Fury responded: "Well yeah I did say that, and can you just rephrase that?
"The first statement you made, 'Jessica Ennis-Hill slaps up good,' do you know what that means? It means she looks good when she's got make up on, that was my opinion on that.
"I believe all woman look good in dresses, is that a crime?" he said, "I wasn't asked about her achievements."
"I'm a winner hands down"
Asked what message his winning the BBC award would send out, Fury said: "Listen, I believe I should be winning Sport Personality of the Year because if it's about sporting achievements and it's about personality then I'm a winner hands down.
He continued: "But if we're going to go on people's opinions and views then I have split opinions and views so if that's going to hamper my performance on winning or losing and it's clearly not a fair contest is it?"
Despite Fury appearing to believe he got hit point across....
Thanks for listening guys / girls

Hope I got my point across, no hatred from me, towards anyone of anything, God is love!🙏🙏 blessed Jesus.

— Gypsy King (@Tyson_Fury) December 7, 2015
Listeners themselves were far from convinced of Fury's performance on the programme:
Tyson Fury making everything much much worse on the Jeremy Vine show.

— Matt Brannigan (@Matthew_Who) December 7, 2015
Jeremy Vine interviewing Tyson Fury is excruciating. What a thick, blinkered, bible bashing arsehole (Fury not Vine)

— Complete Control PR (@pollybirkbeck) December 7, 2015
Radio 2 Tyson Fury on Jeremy Vine #unbelievable

— Sarah Harding (@Sassy1966) December 7, 2015
Don't think @Tyson_Fury will be winning Sports Personality after this interview we Jeremy Vine!

— Davie Williamson (@davie0000) December 7, 2015
Peter Tatchell very classy in tackling Tyson Fury on the Jeremy Vine show today.

— Ben Dirs (@bendirs1) December 7, 2015
I listened to the Jeremy Vine interview with Tyson Fury on @BBCRadio2, and now I have to buy yet another new radio for the workshop.

— Stu. (@dysondoc) December 7, 2015
Although Fury did have plenty of defenders:
@Tyson_Fury fantastic performance from you Tyson.Don't bend in your convictions.Those who you argue with have the problem not you.

— Will Riley (@willriley100) December 7, 2015
@Tyson_Fury Listening to Radio2 has only confirmed 1 thing! HEAVYWEIGHT CHAMPION OF THE WORLD & PEOPLES CHAMPION! #teamfury #furyforSPOTY

— Scott Walker (@SWalker87) December 7, 2015
@Tyson_Fury excellent. I love how the ones accusing you of being closed minded arent open to changing their opinion of you #ironic #champion

— Robert Allen (@RobAllen1981) December 7, 2015
@Tyson_Fury @BBCSPOTY congratulations bbcspoty for not being bullied into reconsidering Mr Fury's nomination. #furytowin

— Maya James (@Mayajames90) December 7, 2015
The reason @Tyson_Fury is not a politician is because politicians lie! Truth & Fact!

— Tysons Daddy (@Big_John_Fury) December 7, 2015
Listen to the full interview, above.
READ MORE: