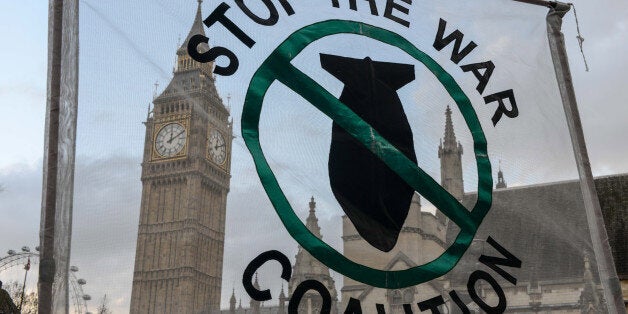 It is wrong to compare so-called Islamic State with Adolf Hitler, the Stop the War Coalition claimed today as it attacked MPs with "little grasp of history."
In a post on its website, the group also argued that "Bin Laden, Hussein, Gaddafi, Assad" should not be equated with the Nazi dictator.
Shadow Foreign Secretary Hilary Benn last week cited Hitler and Italian fascist Mussolini as he urged MPs to back extending bombing campaigns against IS/Daesh into Syria, saying the House of Commons always stood up to "fascism".
Stop the War, which organised protests against the military action, today hit back at the comparison and also accused MPs and journalists of mounting a "smear campaign" against the anti-intervention group.
Jeremy Corbyn, who stepped down as chairman of the group when he became Labour leader, still has close links with Stop the War and is attending a fundraising dinner on Friday.
Mr Corbyn's constituency office is listed at the same address as Stop the War's headquarters – 86 Durham Road, in Islington, North London – although a spokesman for the Labour leader said the two "don't share an office, they have different units in the same building that has several units."
On its website today, Stop the War posted a blog entitled "It is the war party that has a reputation problem, not Stop the War", in which it hit back at recent attacks.
The blog goes on to claim that comparing modern day dictators and terrorists to Adolf Hitler is wrong.
It reads: "We have always objected to the way that current wars are justified by reference to the Second World War.
"Bin Laden, Hussein, Gaddafi, Assad or ISIS are none of them Hitler.
"Hitler ruled one of the major military powers in the world and occupied most of Europe.
"Calls to fight fascism as a justification of these current wars might convince MPs with little grasp of history but they only serve to obscure the real situation."
The blog continues: "Stop the War is always accused of supporting those that our government opposes.
"This is far from the truth, we oppose both terrorism and dictatorship but believe foreign intervention does nothing to deal with them.
It ends by saying the "repeated attacks and witch hunts" are focused on "two mistakenly reposted articles that were quickly withdrawn and the fact that some of our supporters have had the temerity to lobby their parliamentary representatives.
"Wild claims of intimidation of MPs have been shown to have been falsified.
"This smear campaign is being pursued by MPs and journalists to discredit the anti-war case and champion the fourth war on a Muslim country in fourteen years."