This article was first published in 2016
Banksy's latest graffiti has appeared in the Calais "jungle" and depicts Apple founder Steve Jobs, who was the son of a Syrian migrant.
The work shows that Jobs - founder of the multi-billion pound company - was only able to achieve his phenomenal success because America "allowed in a young man from Homs" after the Second World War.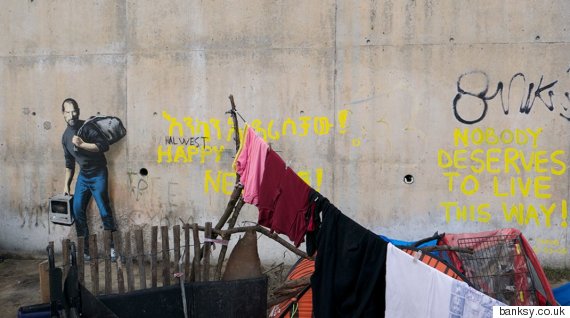 Banksy's latest artwork shows Steve Jobs in the Calais 'jungle'
The artwork shows Jobs with a black bin bag thrown over his shoulder and carrying an original Apple computer in his hand.
Banksy said in a statement: "We're often led to believe migration is a drain on the country's resources, but Steve Jobs was the son of a Syrian migrant.
"Apple is the world's most profitable company, it pays over $7 billion a year in taxes - and it only exists because they allowed in a young man from Homs."
Banksy does Steve Jobs in Jungle migrant camp in Calais reminding us Apple's hero was son of Syrian migrants #c4news pic.twitter.com/KzWg98UR6N

— Krishnan Guru-Murthy (@krishgm) December 11, 2015
Earlier this year, the anonymous street artist donated the timber and fixtures from his Dismaland Bemusement Park creation to provide shelter for refugees in Calais.
The fixtures were dismantled and shipped from Somerset across the Channel to their new home in the "Jungle", where thousands are living as they try to enter the UK.
Banksy's website also shows an image he has created in Calais depicting refugees on a crowded, wooden raft waving at a large ship in the distance, signalling for help.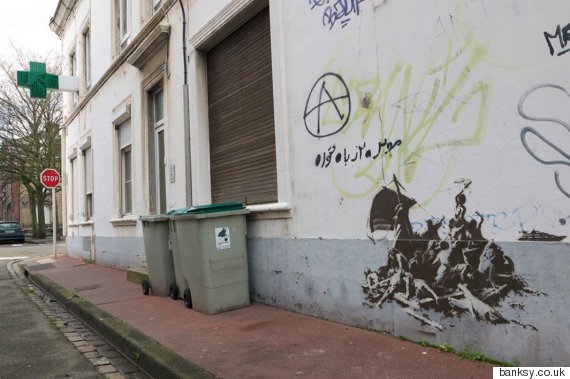 Banksy's graffiti in Calais
His latest artwork of Jobs comes at a poignant moment in the wake of the Paris attacks, as right-wing politicians from around the world call for borders to be closed to refugees fleeing war-torn states.
SEE ALSO: