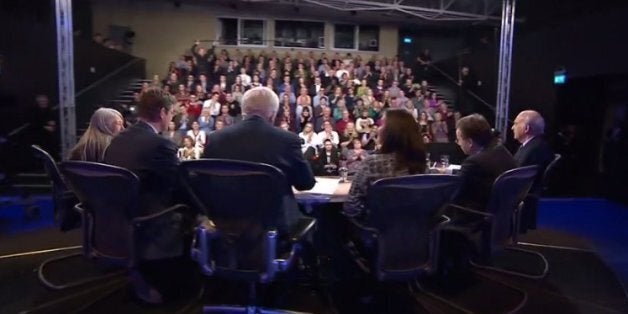 The Conservatives suffered from underwhelming support on Thursday's Question Time, as hostile audience members queued up to lambast the government but raucously applauded Jeremy Corbyn.
Quizzed by presenter David Dimbleby whether "this audience is entirely supporting Jeremy Corbyn as leader of the Labour Party", attendees at the weekly politics programme clapped and cheered enthusiastically.
Dimbleby quipped back quickly: "the Conservatives among you may be applauding just as loudly as Labour members", referring to the belief held by some that Corbyn's leadership will only strengthen a Conservative majority at the next election.
While audience members gave their vocal backing to Islington MP Corbyn, they also rounded on Quentin Letts - a Daily Mail columnist appearing on the panel.
His suggestion that the Labour Party was severely divided, pointing to a speech opposing the official Labour line by the party's own shadow foreign secretary, drew fierce criticism from attendees.
"When Hilary Benn gave that striking speech in the House of Commons he turned to his own party - at the end of this there was just this tremendous apples...
"That applause - I think I'm right in interpreting - was anti-Corbyn," rebutting to a quick interjection of boos and jeering from the audience: "I think very much it was".
He was swiftly rebuked by Labour's Caroline Flint, who admonished suggestions the heralded speech was a dig at the Labour leader.
Letts' adamant assertion - "it was pro-Hilary speech but anti-Corbyn" led to audience interjections and even one member calling out for him to "prove it", leaving the Mail columnist flustered.
An audience member was also praised on social media for issuing a withering riposte to Greg Clark, the Tory Communities Secretary who also appeared on last night's panel.
She embarked on a calm - yet no less cutting - exchange with Clark over his party's refusal to allow a free vote to MPs on whether to bomb Syria.
She said: "To what Greg Clark says about the vote for bombing Syria, you know the Labour party had a free vote?
"It was in the press for days about 'will he or will he not he allow them to vote with their hearts on such an important issue'.
"Did your leader offer that? No."
Clark responded: "No because I think on matters of war and peace like that you look to a party to have a view.
"To have the leader of the party saying one thing and the shadow foreign secretary say something else, that may be consistent with having a free vote, but this is the alternative government.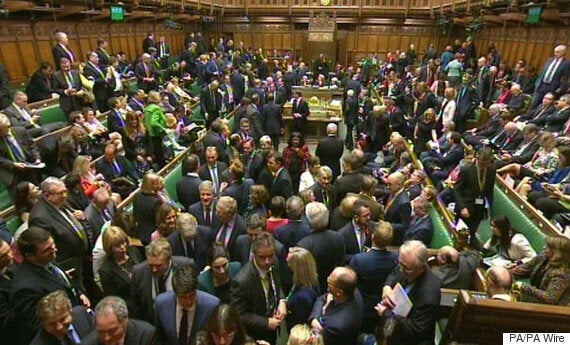 A crowded House of Commons after the Syria vote
"What would they do if they were in government?"
The woman wasted no time in responding, though, drawing waves of applause by saying: "But you are supposed to represent the people.
"By having a free vote you could speak with your heart.
"You could speak for the poor souls who are going to die as a result of it.
"But your party didn't offer a free vote and that is so, so wrong."
Separately, Cambridge scholar Mary Beard praised Corbyn for behaving with a "considerable degree of dignity" against claims he faces an overly hostile media.
The panel was asked whether his treatment during his recent rise from little-known backbencher to leader of the official Opposition has been fair in the press.
Rows with his own MPs over bombing Syria and Trident renewal, not singing the national anthem and whether he bowed at the Cenotaph have been among a welter of stories that have dominated the political news agenda - and prompted a backlash among his supporters.
But Ms Beard, one of Mr Corbyn's prominent backers in the election, welcomed his embrace of "argument not soundbites".
The TV presenter and classicist said: "I think he's having a pretty rough time. He's behaving with a considerable degree of dignity given that."
The latest media furore surrounds whether Mr Corbyn will attend the Christmas party of the Stop the War campaign group, which has been highly critical of Labour MPs who voted against the leader on airstrikes.
She said: "The poor man is going to be hung if he does, hung if he doesn't.
"Is he going to sing the national anthem? If the poor guy sings it he gets: 'Look at this. He's a republican. What a hypocrite'. If he doesn't sing it they'll say: 'He doesn't even have the decency to respect our boys and sing the national anthem like he should'.
"Quite a lot of what Corbyn says I agree with, and I rather like his different style of leadership. I like hearing argument not soundbites. If the Labour Party is going through a rough time, and I'm sure it is rough to be in there, it might actually all be to the good.
"He might be changing the party in a way that would make it easier for people like me to vote for."
Popular in the Community