Nigel Farage has claimed that Tyson Fury will win the Sports Personality Of The Year (SPOTY) because attempts to ban him from the award will "backfire".
Speaking on LBC Friday morning, the Ukip leader said that while he didn't agree with Fury's controversial comments on homosexuality, he should be entitled to his own opinion.
A petition to remove Fury from the award has now reached 134,092 supporters.
Speaking to a caller named Alison, he said: "This attempt to shut him up, this idea that he should be kicked off SPOTY - it's all going to backfire.
"I'll make a prediction, get down to Ladbrokes, get your money on, because Tyson Fury is going to win."
Farage said that he felt that "some opinions are totally acceptable and some aren't".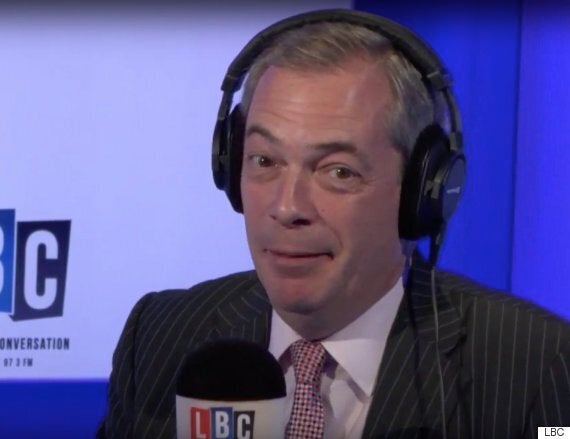 Nigel Farage tipped Tyson Fury to win the SPOTY award
"This is a man who earns his living beating other adults senseless…he's actually rather good at it, he's a brawler, he's just won the world championship. It's the first heavyweight boxing champ we've had in a couple of decades. He's a sportsman, he's a boxer, he beats people up!"
He continued: "Fury is an evangelical Christian, that is what he thinks. I think he's perfectly entitled to hold those views. It doesn't mean I share them because this is the ridiculous route we go down saying if you defend someone's right that's what you stand for. I personally wouldn't make abortion illegal but there are a lot of people out there, Alison, who think he's right about it.
"We have big religious communities in this country that hold very strong moral views. It's not just the Church of England or the Catholic Church, it's also the Muslim church and many of the evangelical churches. And these are the views people hold.
"We've got to stop hounding out people for having difference opinions."
He added: "Tyson Fury comes from a traveller community. People have all sort of prejudices and lack of knowledge about the traveller community, they're a very interesting group of people. They have a moral code that is remarkably strong, it's no sex before marriage, they're totally opposed to abortion and they believe homosexuality is wrong.
"Actually they're views that in 1950s and 1960s Britain were mainstream views and it isn't just Tyson Fury that thinks this. Virtually every Catholic priest in Britain thinks this, virtually every Muslim imam thinks this.
"People, Alison in my opinion should be able to have their views.
"I bet you that it's all the same people that want to ban Trump from coming into this country."
"One of them is homosexuality being legal in countries, one of them is abortion and the other is paedophilia. Who would have thought in the 50s and 60s that those first two would be legalised?"
He continued: "When I say paedophiles could be made legal, it sounds crazy. But if I had said to you about the first two being made legal in the 50s, I would have been looked upon as a crazy man."
He has also made a number of controversial statements about women, including saying athlete Jessica Ennis-Hill looks "quite fit" in a dress, as well as claiming: ""I believe a woman's best place is in the kitchen and on her back. That's my personal belief. Making me a good cup of tea, that's what I believe."
Despite outcry at the comments, he will not face action from police.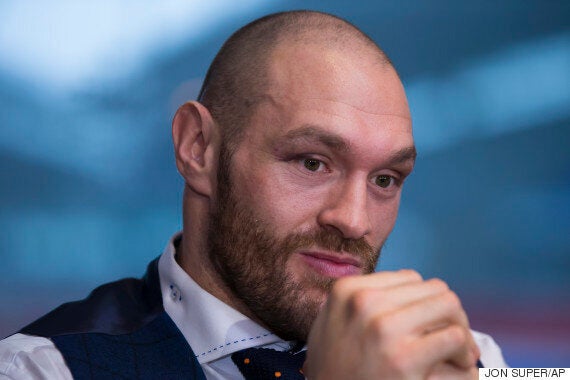 Tyson Fury compared homosexuality and paedophilia
Farage also weighed in on the reaction to Donald Trump's proposal to ban Muslims from entering the US.
He said: "I do think people have overreacted, which doesn't mean I support the tone everything Donald Trump has said because I don't.
"I've been watching this Republican contest with fascination for months and I keep thinking the next time Donald Trump goes too far, that'll be the end of it, that'll be curtains. His support will collapse.
To suggest a complete ban on all Muslims coming into America, which seems to include American businessmen who'd been abroad. Clearly a massively over-the-top reaction to what is a very serious situation, yes, and yet the poling that was out yesterday show that he was on over 40% in the Republican race.
"What I don't like are the same group of people - there are several hundred thousand of them in this country - who want to ban virtually everybody coming into Britain. A few years ago I remember the emperor Hirohito came to on a state vis to Britain, we've seen Robert Mugabe coming to Britain and now people want to ban Donald Trump.
"That seems to be to be a massive overreaction. Love him or hate him, Trump is now part of a democratic process in the West."