Jenni Regan, senior media advisor at Mind told HuffPost UK Parents: "We accompanied some of our supporters who have personal experience of postpartum psychosis to Albert Square to meet with the researchers, actors and writers.
"We have been involved with ongoing script consultation where the researchers send us different versions of the script and we feedback with comments and suggestions."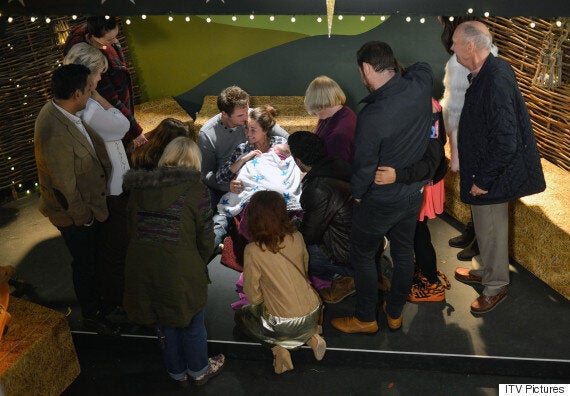 Stacey gives birth at the Nativity play
The soap's executive producer Dominic Treadwell-Collins said the focus on Stacey's mental health will be one of the "biggest storylines over Christmas and the beginning of 2016" as the show explores the effects her bipolar disorder and postpartum psychosis have on her and those closest to her.
So what is postpartum psychosis?
Women in the UK may experience mood swings following the birth of their baby, but for some women, these feelings can become increasingly severe and persistent.
Defining postpartum psychosis, Alison Edwards, senior lecturer in Midwifery, Birmingham City University said: "It is often characterised by a sudden onset of symptoms following the birth – usually within the first two weeks.
"Symptoms may include persistent feelings of elation, episodes of confusion, hallucinations and delusions.
"When things get extreme, as we might see in Stacey's case, there are signs of very erratic behaviour and possible neglect of themselves and the baby. Sadly some cases have led to attempted suicides or deaths of mothers and babies.
"These incidents are very acute and may occur within only a few days of the birth."
'EastEnders' scriptwriters implemented advice from the two charities when planning how Stacey's storyline will unravel.
Mind were keen to ensure the soap challenged some common myths about this illness, while Action on Postpartum Psychosis wanted to ensure the differences between postnatal depression and postpartum psychosis were evident.
Regan said: "We have been impressed by the dedication EastEnders have shown in portraying postpartum psychosis sensitively. One of the main aims of our input into this storyline was to ensure that we challenge the myths surrounding this illness.
"This included the idea that women who have postpartum psychosis are always a danger to their children, that the illness is a form of postnatal depression and that women never recover.
"We also advised the programme to adopt a realistic timetable to ensure that Stacey does not become unwell and then recover in the space of a week."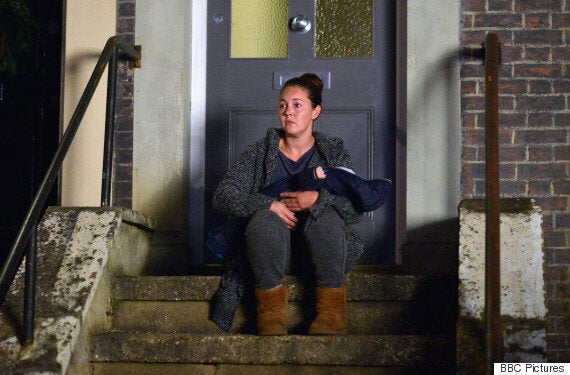 Stacey will struggle to cope following the birth of her baby
Dr Heron told HuffPost UK Parents: "Members of Action on Postpartum Psychosis who have themselves recovered from postpartum psychosis spoke to scriptwriters and met with the actress who plays Stacey, Lacey Turner, to give firsthand experiences of how the illness affects mums and families.
"Key for us was making sure the 'EastEnders' team understood how postpartum psychosis is different from postnatal depression.
"Postpartum psychosis starts quickly, usually in the first few days after birth, and its symptoms can include extreme energy, sleeplessness and talking constantly, hallucinations (seeing or hearing things that are not there), delusions (believing things that are not true), extreme confusion and other very unusual behaviour, which is frightening for women and their families.
"Risk factors, treatments required and the course of illness are also different from postnatal depression.
"Postpartum psychosis can happen to any new mum, including those with no previous experience of mental illness."
Dr Heron said every experience of postpartum psychosis is different, so Stacey's story can't represent all women, but she hopes the storyline will help reduce the stigma surrounding this mental illness and help those who develop postpartum psychosis get diagnosed and treated more quickly.
"Postpartum psychosis is a psychiatric emergency - symptoms develop and escalate rapidly," she added.
"Although it's very serious and recovery takes quite some time, women can and do get better - and go on to have a happy family life."
Regan agrees that portraying mental health problems on soap storylines encourages other to seek help.
She added: "A Mind poll found that 25% of people who were experiencing mental health problems were prompted to seek support after seeing a soap or drama cover the topic.
"Plotlines are a fantastic way of getting people to think differently about mental health, with 44% of people saying storylines had helped change their opinion about the kind of person who can develop a mental health problem and a third saying soap stories encouraged them to have conversations about mental health issues."
The storyline will begin just before Christmas.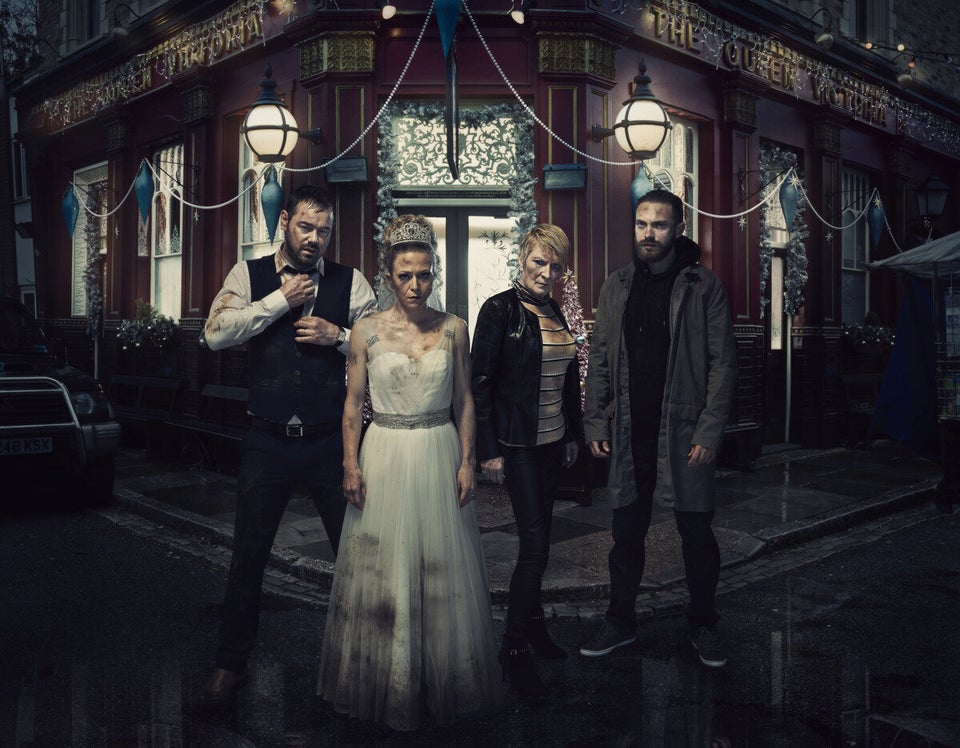 'EastEnders' Christmas 2015
Related