Footage showing journalists being violently pushed around by Chinese police outside a courthouse shows the reality of what life is really like under the rule of Xi Jinping.
During a shocking report shown on Sky News on Monday morning, Beijing correspondent Katie Stallard can be seen being pushed away from the courthouse by groups of men with masks covering their mouths.
The journalist tells these men that she is "completely legitimately allowed to be here", adding: "In China they don't want the rest of the world to see."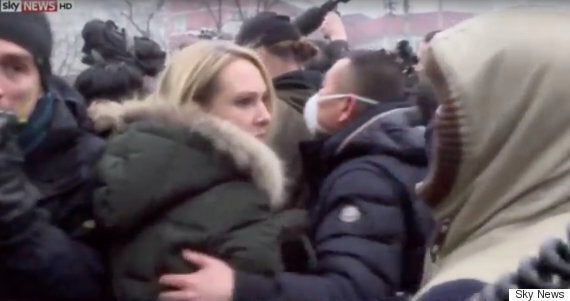 Katie Stallard is forced away from the Chinese courthouse
Speaking to Eamonn Holmes this morning, she said that the men appeared to be plain clothed policemen, but they offered no identification and did not explain who they were.
She said: "They appear to be just physically trying to clear the street outside the courthouse to physically silence us.
"At one point I had a hand right over my mouth as I was trying to speak. This was also happening to diplomats and people from different embassies here."
She added: "The people this is really serious for is for Chinese citizens. I mean for us we have accreditation, we have foreign passports, you can see what is happening to us, it is being filmed, you are talking about it now."
Members of the public were also being dealt with "very violently". Stallard added: "I think that why it is important to report on this is to show the reality of what life is really like here in China under Xi Jinping."
Images of the violence directed at journalists were shared on social media:
The BBC's John Sundworth was also caught on camera being pushed away from the courthouse, as men tried to cover cameras with their hands in a bid to prevent recording of the incidents.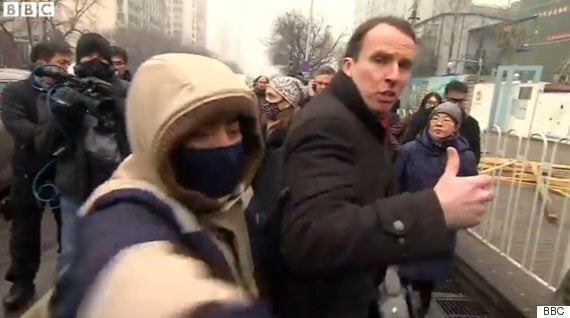 BBC's John Sudworth being pushed away from the courthouse in Beijing
Journalists were reporting on the trial of one of China's most prominent human rights lawyers, Pu Zhiqiang, who is accused of "inciting ethnic hatred" and "picking quarrels and provoking trouble".
He is in court over comments he made on social media and faces up to eight years in prison.
Pu's family said he had pleaded not guilty to all charges. His wife was allowed to attend the trial.