A Metropolitan Police firearms officer has been suspended and could be prosecuted over the fatal shooting of a man in Wood Green.
The Independent Complaints Commission (IPCC) suggested the officer be suspended as it investigated the killing of Jermaine Baker, 28, near Wood Green Crown Court on December 11.
It said it has launched a criminal homicide investigation into the death. This could see the police face murder or manslaughter charges.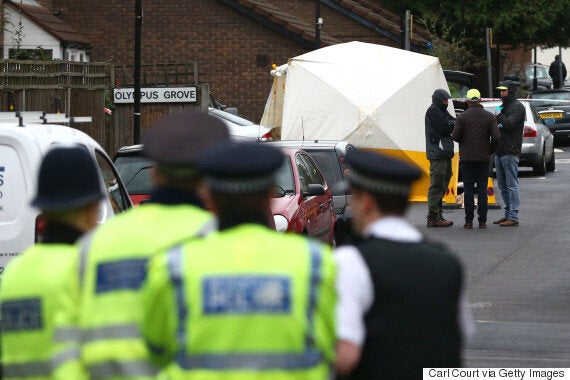 The scene where Mr Baker was shot
In a statement,the IPCC said: "The Independent Police Complaints Commission has launched a homicide investigation into Mr Baker's death. The launch of a criminal investigation does not mean that criminal charges will necessarily follow.
"As this is now a criminal investigation, the IPCC is limited on what further information can be provided."
Deputy Assistant Commissioner, Peter Terry, from Specialist Crime and Operations, said: "The exact circumstances that led to Mr. Baker's death must be thoroughly and independently examined...
"It is only through establishing the full facts, as quickly as possible, as to what took place that day that the best interests of justice and of all those affected can be served."
He added: "As this is an ongoing investigation we must all await the IPCC's findings before drawing any conclusions or speculating on what has taken place.
"All of our firearms officers, who are all volunteers, do a job that is difficult and often dangerous. They all fully understand, quite rightly, that they will need to account for their actions if they use lethal force.
"The IPCC will receive our fullest possible support with their investigation.
"All of our officers involved in Friday's operation are receiving all the possible support we can provide. This is a very difficult time for everyone affected by the death of Mr. Baker.
Nathan Mason, Gokay Sogucakli, Ozcan Eren and Eren Hayser were all arrested following the police operation in Wood Green.
Eren, 31, of Douglas Road, Wood Green, and Hayser, 25, of Kettering Road, Enfield, have now been charged with conspiracy to aid the escape of the two prisoners.
Mason, 30, of Vicarage Road, Tottenham, and Sogucakli, 19, of the Roundway, Tottenham, face the same charge, as well as possessing an imitation firearm and using a motor vehicle taken without the owner's consent.
They appeared at Highbury Corner Magistrates Court on Monday and were remanded in custody to appear at Wood Green Crown Court on January 4, 2016.
Two other men were arrested on December 11 on suspicion of conspiracy to facilitate the escape of an individual from lawful custody.
They have been bailed to a later date.
Related