"Betrayed, insulted, disgusted." That's how filmmaker and transgender activist Fox Fisher felt when a magazine stole and printed pictures of him topless, during his transition from female to male.
"I was with my parents," Fisher recalls painfully, recounting the moment he handed them a copy of an interview he'd given to the publication.
"Here you go, here's an article about me," he had told them proudly. They rifled through the magazine to discover a stolen full-page picture of their child, with his breasts exposed, accompanying an interview he'd given a reporter in advance of undergoing Gender Affirmation Surgery.
The headline spelt out little sensitivity of Fisher's emotional experience: 'Goodbye breasts, but I'm saving my lady bits for babies,' it read.
"I felt betrayed by the journalist", Fisher says about discovering the quote he never gave, the picture he never supplied and the contorting of his powerful narration.
"Nobody at the publication would even acknowledge I was upset about it. That was so frustrating. They totally fucked me."
Such was the state of affairs of Britain's media landscape, the 35-year-old campaigner comments. "Things have changed dramatically in the last 12 months, though," he adds. "Things are a lot better now in the press."
In a bid to bolster that change, Fisher is part of a team at All About Trans who work with media bosses to encourage greater sensitivity being afforded to stories concerning trans people.
"The Sun, the Daily Mail, the Observer, the BBC – we talk to gatekeepers of these organisations and give them a humanistic reference point of what it's like to be trans," he says.
Their sessions have brought newspaper and TV leaders face-to-face with people like Dr Kate Stone, a transgender woman who complained to six newspapers that they made "inappropriate" references to her transition in stories about her being mauled almost to death by a stag.
"Is the colour of my blood not sensational enough?" she hit out at the time, pointing out that her gender transition was unrelated. "I was lying on the floor in a pool of blood."
Stone forced all six papers to retract and amend their online versions of stories, peppered with references to her "sex swap" and former name, alongside the news that left her "millimeters from death".
She managed the feat by attending a meeting with Sun newspaper execs. An editor who had approved the original Sun front page, which read "Deer spears sex-swap Kate", apologised and reportedly said: "Dr Kate – I'm really sorry because we forget sometimes that there are people behind the articles we write."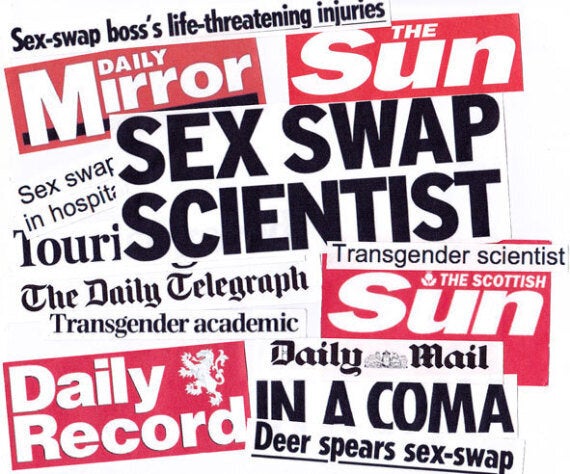 Some of the headlines Dr Stone had to endure
But asked whether insensitivity in such stories is motivated by nastiness or naivety, Fisher is torn.
"Sometimes it's malicious," he admits. "We have to be fairly patient with people – particularly on the subject of misgendering. Non-binary is a fairly recent addition to the whole equation and people are trying to get their heads around using the singular 'they'" - for people who identify as neither male nor female.
"Some journalists who are biased and transphobic will actively decided to misgender someone, but I always try and give them the benefit of the doubt and start a conversation with them."
"Newspapers that need to step it up a gear are the Mail on Sunday and the Daily Star," Fisher laments. He describes the Sun and Daily Mail as "evils".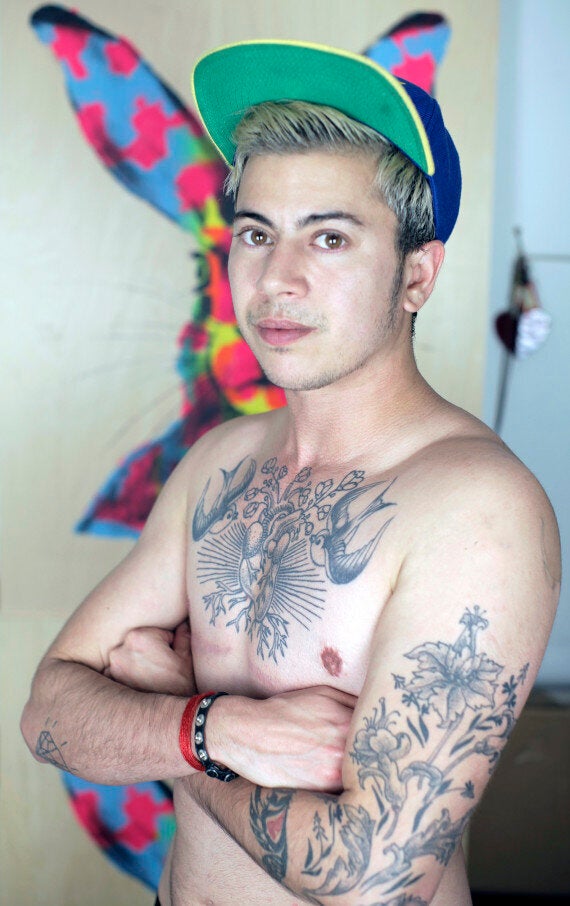 Fisher post-top surgery feeling more confident in his own skin
The filmmaker points to an "inflammatory" article in the Daily Mail on Jack Monroe, the high-profile food blogger who recently announced they were transitioning to become 'gender-fluid' and wished to be known by the neutral pronoun 'they'.
Fisher criticises the paper for misgendering Monroe all the way through the piece, claiming Mail editors tried to ramp up the female rhetoric by calling Monroe a "pin-up girl", "the queen of austerity cuisine" and using a 'she' pronoun.
The article, penned by columnist Sebastian Shakespeare, linked their news to a split from former partner Allegra McEvedy and described the break-up as a "set-back" for Monroe.
Monroe wrote a furious riposte in response entitled: "Dear Daily Mail, transitioning isn't a setback, it's a freedom (and 19 other corrections for your eight line article)," but the original article still appears in full and un-edited online.
Campaign group All About Trans lists "use the pronouns your subject prefers" among its highest-priority pieces of advice to journalists reporting on a trans person – a plea obviously flouted in this and many other instances, Fisher says.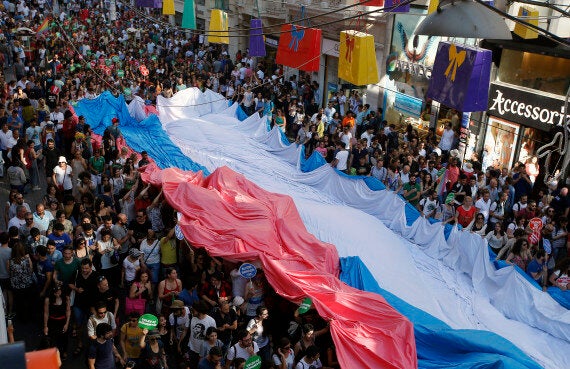 Campaigners carry a huge banner during the annual 'Trans Pride' parade in Istanbul
Does going into news buildings to talk in person with editors help? "It's nice to go to these places and look people in the eye – they'll think twice about writing something inflammatory about trans people," he muses.
Fisher has worked with media bosses for years, after he rose to prominence for featuring in Channel 4's 'My Transsexual Summer'– a documentary that coincided with the beginning of his medical transition in 2011.
He went on to co-create 'My Genderation', a documentary project exploring gender variance, and now works as an ambassador for All About Trans helping secure better representation of trans people in the media. He also featured in 'My Trans Story'.
But the activist speaks openly of his former, unhappy life under the female identity he was assigned at birth. "I started smoking when I was 11, didn't care about my body – physically, sexually - and took a lot of drugs," he recalls. "My 20s were lost years – I didn't feel comfortable in my own body and was full of self-hatred."
"I can't tell you how good it feels that I'm present and able to feel part of this world. I've never had that connection before but there are so many people that need help and support."
But there's more to do: laws should be created that ban reporters from misgendering trans subjects, Fisher argues, as one step that could improve things in 2016 and help stem the high suicide rate among trans people.
He adds that more trans journalists should be taken on in newsrooms, to change what thousands of young people struggling with their gender identity see reflected about themselves in the media.
"I'd like us to get to a point - and I'm talking myself out of a job here," Fisher says wistfully, "but where it's not a big deal to be trans and people just don't need to see these articles as much, because we've actually progressed as a population."
"Hopefully my generation will have to be the last one to start life 30 years late."
Useful websites and helplines:
Popular in the Community