A shadow minister recounted a harrowing story of a transgender woman incarcerated in a male prison who is in such a desperate situation that she injected bleach into her testicles and attempted to surgically remove her scrotum herself.
Speaking in the House of Commons on Tuesday, Cat Smith, shadow minister for women, said that she had been in contact with a trans woman currently being held in a men's prisons.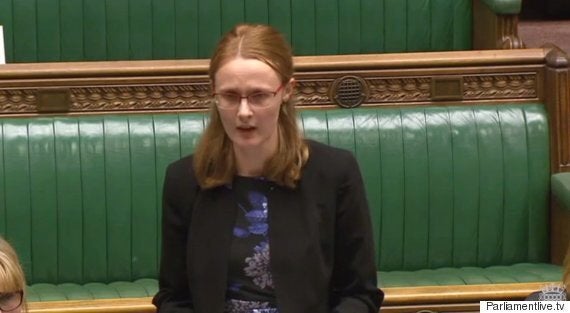 Cat Smith MP speaking to MPs at the House of Commons on Tuesday
The Labour MP told parliament that the prisoner had also been the victim of rape and sexual assault.
Smith said: "While she [the unnamed prisoner] continues to be denied this right to surgery and to be moved to a female prison, she remains extremely vulnerable and at high risk from harm.
"Examples of her self harm have included injecting bleach into her testicles, attempting self surgery to remove her scrotum."
Smith told MPs that the inmate was a "very vulnerable prisoner with recorded serious attempts to self harm and attempts at suicide".
The representative for Lancaster and Fleetwood is currently on the Women and Equalities Select Committee, which is conducting a Transgender Equality Inquiry, with the report due to be published next year.
Smith also urged MPs to look at the The Huffington Post UK's TransBritain series, which sheds light on transgender issues in the UK.
Smith said that the transgender woman decided to fully transition in 2012, but that this has not been taken into account by prison staff and governors.
She told MPs that the prisoner wrote to her, asking her for her help, saying: "I cannot take no more. I am a woman in a male prison and it is not right."
The Labour MP's comments come in the wake of increased media attention on the way that transgender prisoners are treated in the UK.
Tara Hudson who was in an all-male prison before being relocated said earlier this month that she was so frightened she was going to be raped while in HMP Bristol that she "thought of taking her own life".
The exclusive YouGov research showed that 68% of people said a transgender woman should be in a women's prison.
Only 12% of Brits think a trans woman should be sent to a men's prison, while one in five are not sure.