David Cameron asked European leaders to give British voters enough concessions to allow the UK to remain part of the EU during an impassioned speech in Brussels on Thursday. Speaking after face-to-face talks with his EU counterparts, the prime minister insisted there was a "pathway" to a renegotiated deal and that "significant progress" had been made.
However, Cameron's key demand that Britain be allowed to restrict benefits to in-work migrants from EU countries for four years looked increasingly shaky after Europe's leaders lined up to dismiss the key facet of the Tory's plan as fundamentally unworkable.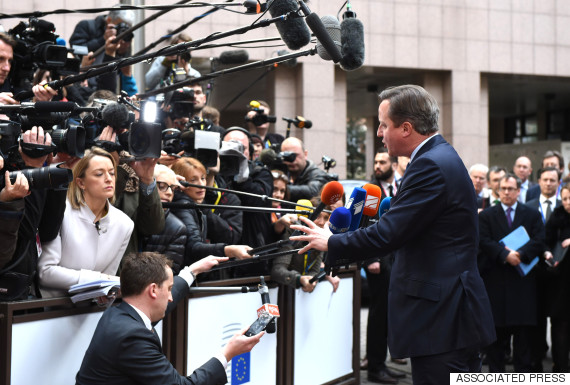 British Prime Minister David Cameron, right, arrives for an EU summit in Brussels on Thursday, Dec. 17, 2015
During the dinner, Cameron said the "unprecedented" numbers of migrants coming into the UK could result in the British public voting to leave the EU. However, German Chancellor Angela Merkel has already said she would dismiss any deal that was "discriminatory" or counter to the principle of freedom of movement.
After the summit with the British leader, the heads of several Eastern European countries, including Poland, Hungary and the Czech Republic, issued a joint statement, stating that EU laws can not be changed to discriminate against their citizens.
Lots more hard work ahead - but it's good the EU Council concluded to work for solutions in all four areas of our European renegotiation.

— David Cameron (@David_Cameron) December 18, 2015
"We consider the freedom of movement one of the fundamental values of the European Union, and proposals regarding this area remain the most sensitive issue for us," the statement read. "In this respect, we will not support any solutions that would be discriminatory."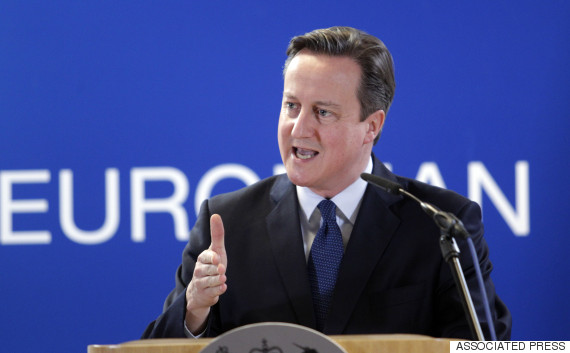 Cameron speaks during a media conference at an EU summit in Brussels on Friday, December 18, 2015
In his 40-minute address, Cameron focused on the issue of migration, asking EU leaders to place themselves in the shoes of British voters. "The levels of migration we have seen in a relatively short period of time are unprecedented, including the pressures this places on communities and public services," he said. "This is a major concern of the British people that is undermining support for the European Union. We need to find an effective answer to this problem."
Speaking at a press conference following Cameron's plea, European Council President Donald Tusk said the discussions were "substantive and constructive" but indicated the central plank of Cameron's renegotiation remains "unacceptable."
The renegotiation is well down the pecking order at tonight's EU summit. Besides, Mr. Cameron is asking for very little anyway.

— Nigel Farage (@Nigel_Farage) December 17, 2015
"Prime Minister Cameron set out in detail his position, in particular regarding benefits and free movement," said the council president, noting EU leaders willingness to compromise. However, he added that though the consultations "show goodwill of all the parties involved… it doesn't change the fact that some parts of the British proposal seem unacceptable."
With Cameron's initial hope of having a deal in place by Christmas already abandoned, February is Downing Street's new target deadline. The promised EU referendum has been mooted for June.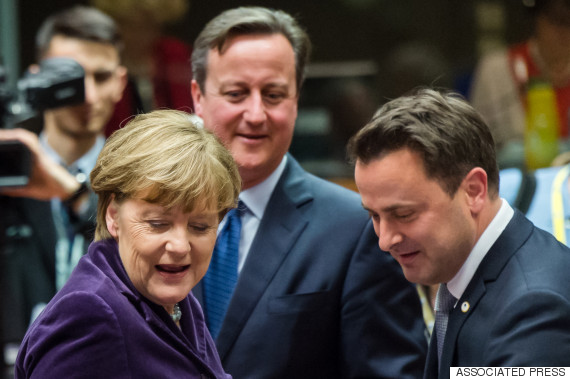 Cameron, center, and Luxembourg's Prime Minister Xavier Bettel, right, talk with German Chancellor Angela Merkel during an EU summit in Brussels on Thursday, Dec. 17, 2015
Also in Brussels, Labour leader Jeremy Corbyn responded to Cameron's EU plea by accused the prime minister of pursuing reforms solely to placate the ire of the Tory backbenches.
"He has come here for an argument without being very clear about what the argument is about," Corbyn told the BBC. "Why can't he just say, 'Well, actually, this argument really belongs within the Conservative Party', and perhaps the Conservative Party should sort out what their problem is first."
.@EmilyThornberry says David Cameron is struggling to control his own party over the EU #bbcqt pic.twitter.com/Wie1NnGzT9

— BBC Question Time (@bbcquestiontime) December 17, 2015
.@PiersMorgan is not impressed with what Cameron hopes to - or is likely to - achieve at EU negotiations. #bbcqt pic.twitter.com/lybjeWinrP

— BBC Question Time (@bbcquestiontime) December 17, 2015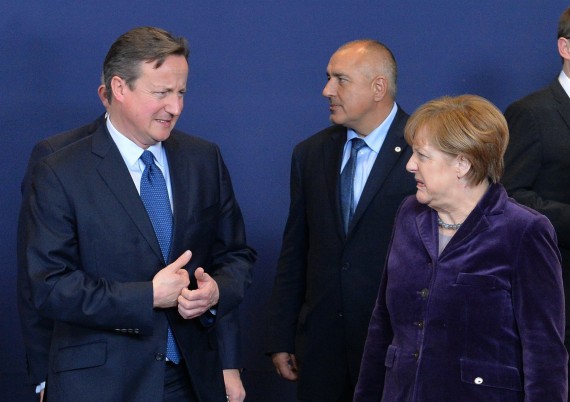 Cameron and Merkel attend the EU leaders summit in Brussels, Belgium on December 17, 2015